The Final Episodes
Sundays 10/9c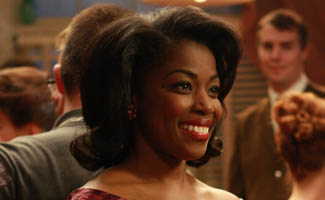 Donielle Artese plays Sheila White, the woman who dated — and then dumped Paul Kinsey (Michael Gladis). She talks to AMCtv.com about being Mad Men's first major African-American character — and which Sterling Cooper employee she characterizes as "cuddlemonkey."
Q: What was it like playing the only major African-American character on the show?
A: I don't think I realized it until after the second season was over, and I'd watched all the episodes. What really confirmed it for me was Googling my character's name. Another blog writer at Basket of Kisses said, "Girl, Google your name!" And there are pages and pages of discussions about my character and what happened. I've done other television shows, but I have never gotten this type of response at all. It is a big deal, but it's still kind of surreal to me — not to take anything away from the other characters, because there are four of us who have been on the show. But two of them play maids and one plays an elevator worker. I talked to the woman [Deborah Lacey] who plays the maid to Betty and Don, and she was really conflicted about taking that role. What made it comfortable for her was that Matt [Weiner] did not write it stereotypically. He made her a real person, a real human being, and that was her deciding factor. Because it's a tough situation in 2009 to be asked to go back to the '60′s and play a housekeeper.
Q: Have fans told you they're sorry Sheila dumped Paul because they wanted to see more of you?

A: Let me tell you, I've got people calling me, asking, "Where can I
write a letter, what can I do?" I've got fans on MySpace that send
stuff all the time. Someone created a group on Facebook that says "Save
Sheila White. Bring her back." It's kinda crazy. There's a lot of
people going, are you coming back? What's going on?
Q: What was it like to play a character that was involved in the civil rights movement?

A: It's kind of weird doing that right now. It's a 180 moment, just
to think the '60′s are not really that long ago and now we have an
African-American president. The dichotomy of me playing a role in a
time where you could die from just going to cast your ballot, to living
in a time where we have a black president — it's so close to our
generation it's eerie.
Q: How did you get along with Michael Gladis?

A: He is the sweetest, most cuddlemonkey ever. His character comes
across as a little pompous, a little put-on, but he really is really
nice. And do you know who else is super-duper, yummy, sweet, eat-'em-up
nice?
Q: Who?

A: Christina [Hendricks]. She's delicious. She really is. And
Matthew, one of the things he told me he liked about me was that I got
right in there in my scene with her and didn't seem intimidated. He
said that most people come on and are intimidated by her, which is
completely understandable. But she was just so nice that I felt such
camaraderie in my scene with her, even though she was being horrible to
me.
Q: How did you approach that scene in "Flight 1″?

A: You know, I didn't have to do a lot of work. I don't mean to
minimize the work, because I think it was fantastic work, fantastic
writing. But that's probably why I didn't have to do much. I didn't
have to dig really deep. All you had to do was listen to what was being
said. And being an African-American woman, this is not a foreign
situation, you know?
Q: So how did you handle the scene in "The Inheritance" on the bus to Mississippi when Paul is lecturing everyone?

A: Everyone thinks I'm weird when I say this, but that is my
favorite scene! I don't even have a line in it. I think my reaction's
really funny. The writing is so good. If you listen to what he's
saying, you'd have the same facial expression I had. Oh God, what a
silly! That's pretty much what I was thinking: Oh my silly boy.