The Final Episodes
Sundays 10/9c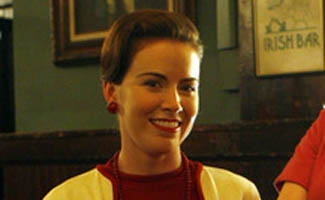 In this exclusive interview, Crista Flanagan, Lois on Mad Men (and a regular on MADtv), talks about her character's repeated mistakes like falling for a gay man and fumbling at the Sterling Cooper switchboard.
Q: Your background's in improv. Does that ever come into play for Mad Men?
A: Not so much. Not at all in terms of dialogue. There have been times when I'll say a contraction and they'll want the two words separated. They're pretty specific about that kind of thing. To be honest, I really appreciate really good writing more than anything. I'll take really good writing over mediocre improv any day…
Oftentimes the director or producer will say "pull it back a little bit," or maybe "you're a little more hurt by this" or "you're a little more clueless about this"… With my character, sometimes it's like, "OK, you're not that smart, so let it go over your head a little bit more." It's the little changes from take to take that can be pretty fun to play. Especially with my character, I think of her as sort of on a time delay. Things happen so quickly at Sterling Cooper, and she just can't quite keep up.
Q: What's it like playing Lois?
A: I have found myself take after take making a scripted mistake, like calling somebody by the wrong name, or I remember one scene I gave Don Draper the wrong papers — and it's tough the sixth take. I'm like, "Oh, I'm still making that mistake." I don't think I'm a dummy in real life and so it can be tricky to keep making the same mistake over and over.
Q: How much did you know about your character beforehand?
A: I got sides for the audition. I didn't get a complete script. I knew that I was in love with one of the guys who works in the office, and I was a new employee and I was chasing after him. That's all I knew. I thought, oh it's so sweet. I really responded to the material right away. Then I showed up on set and some of the actors came up to me and they were like, "Oh, man, your character's so great, this is so funny." And everybody kept saying, "It's so funny that you like him." And I thought, huh, I don't really see what's so funny about it because I'm a nice gal. And it was my second day at work when one of the actors came up and said, "You know the guy you're chasing after is gay on the show." I had no idea… I felt tricked, to be honest, like a practical joke had been played on me. It wasn't important for the audition for me to know how sad it was, so it was pretty fun to be there and discover — oh, I'm an idiot.
Q: How did your involvement with Mad Men come about?
A: I was shooting MADtv at the time, and I got an audition. I auditioned to play Rachel Menken's sister and that didn't work out. I went back a couple weeks later and auditioned for this part. They did know I was on MADtv and they actually had watched MADtv. You know, one of the things that really impressed me and got me excited was Matt Weiner was there in the audition and he knew a lot about comedy and sketch comedy specifically. So I knew right away that he appreciated what I did already and that was really great. He actually worked with me in the audition, and it just worked out.
Q: Is the switchboard challenging?
A: The first switchboard scene that I shot, there were three of us in the room and the switchboard was there in front of us and I thought, OK, I guess we're just going to fake this. And then there was a guy there, and he was like, "No, I'm going to teach you how to use this." This was a short scene — I thought, OK, we'll be done in an hour or two. It took hours and hours because we all had to talk over each other and then cut out and keep our hands moving. People were coming in and talking to us. It was definitely the most complicated scene that I had ever done. But it was important to them that we not completely fake it, that we actually knew how it worked.
Can't get enough of Q&As? Be sure to check out the Colin Hanks interview in AMC News.