The Final Episodes
Sundays 10/9c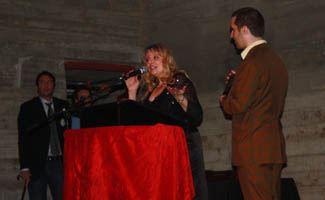 Evidently, you don't have to be part of Mad Men's cast or crew to win an award on the show's behalf. Last week at a packed bar in Brooklyn, Carri Bugbee picked up a Shorty Award in the advertising category for her fanatical efforts tweeting as Peggy Olson. She wasn't the only virtual character nominated (two Betty Drapers split the vote in the entertainment category) but her victory is certainly the most unusual addition to Mad Men's cache of awards to date. The vivacious blonde from Portland dropped the alter ego for a moment to talk about how it all began and where it's going.
What led you to becoming Peggy on Twitter?
I was already a prolific Tweeter when I saw in my Tweet stream: Don Draper is on Twitter. And I quickly thought, I want to be Peggy Olson. I was the number three character after Don (who was first) and Joan.
You currently have over 11,000 followers. When did this really take off?
Within the first couple of hours actually. I immediately thought, I have to take this much more seriously and I actually deleted a few of my first tweets because they were too snarky and Peggy's not snarky. Instead I started to tweet in her character. Within just a couple of days, bloggers were blogging that this is such a great marketing idea for AMC but I kept my identity a secret because people seemed really entertained not only by the tweets but by the speculation as well… I'm averaging about 80 to 120 new followers a day but that was the case before the Shortys as well.
How many of the Mad Men tweeters do you know?
I think about 17 of the characters are done by me and/or my colleagues… so several are in Portland. We did do a few coordinated efforts towards the end of the year. We all went to the Tom Tom Club and (a virtual) Frank O'Hara showed up. The funny thing that's happened is after all the main characters were snatched up, a bunch of people who wanted to participate took on people from the era. That's where Frank O'Hara came from, and Dick Nixon, David Ogilvy, and Dr. Spock. You can go to him for advice.