The Final Episodes
Sundays 10/9c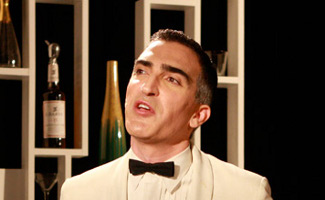 Patrick Fischler plays Jimmy Barrett, the comic whose wife has an affair with Don Draper in Season 2. He talks with AMCtv.com about Don Rickles and Joey Bishop, wreaking havoc on the Draper marriage and what it was like getting punched by Jon Hamm.
Q: You don't sound like Jimmy Barrett…
A: I don't really sound like him, no! That was all just me finding this guy. It's funny — when I heard it, I said, is that what I sound like? My wife was like, no.
Q: Did you base your performance on any comedians of that era?
A: Don Rickles is the one most people think. The Don Rickles part is just the insults; he's famous for that. I watched some Joey Bishop — I don't know if this came across or not, but I wanted [Jimmy] to be charming at the same time so he wasn't just hated. I wanted there to be some element of him being appealing to some people, and Joey Bishop had that. I remember when I got the part, Matt said you have a line coming up in a future episode where you say you've been standing behind a guy like this your whole life, about Don. That was another great key into the character.
Q: You have a short but memorable appearance in "Six Month Leave." What's it like getting punched by Jon Hamm?
A: That was a total blast. I gotta tell you, Jon throws a good stunt
punch, and I felt like I took it pretty well. That was a great little
moment. I was so bummed because I knew it was my last one and I was
like, damn, Don Draper gets the last word! It was great for the
audience because there were a lot of people that wanted me punched out
– and, at the same time, when I bounced back up and made a joke, for
anyone who didn't want me punched out, I got to have the last laugh.
Q: What's it like playing one of the few characters that gets to really tell Don Draper off?
A: Being a fan of the show, it was so excellent. My wife and I had a
trip planned with some friends, and I had to cancel it because they
called and said, "You're in this episode." The casting agents told my
agent, trust me, he's going to be so happy to cancel this trip. And the
minute I got the script, I was like, "Oh wow, I get to say this to Don?
No one gets to say this to Don!" I get stopped a lot and either people
are furious with me for being insulting to that lady, or why did I do
that to Don — which always makes me laugh because he's cheating on his
wife! — or they love what I did. No one's ever told the guy off. It
was incredibly satisfying.