The Final Episodes
Sundays 10/9c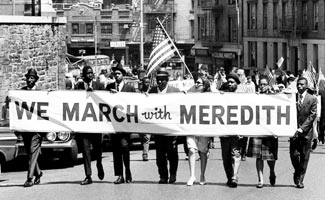 "He went down to Oxford Town, guns and clubs followed him down, all because his face was brown, better get away from Oxford Town." Those lyrics from Bob Dylan's "Oxford Town" memorialize the violent events surrounding James Meredith's integration of the University of Mississippi in 1962. After the African-American Meredith was unable to gain admission to Ole Miss (located in the city of Oxford) in 1961, he took his battle to the courts, with the help of the NAACP. Eventually, in September 1962, the U.S. Supreme Court upheld Meredith's right to enter the university. But the fight wasn't over yet.
Despite opposition from Mississippi's governor, the U.S. government sent 500 deputy federal marshals, U.S. border guards and federal prison guards to protect Meredith on September 30, 1962 when he went to register on campus. That day, Meredith was met by a mob of 2,000 people, wielding guns, bricks, bottles and Molotov cocktails. In the ensuing riots, two people died, with many more shot and injured. "People have forgotten about it, but it was, as I say, the last battle of the Civil War, actually fought on this campus that night," Constance Baker Motley, Meredith's first NAACP lawyer and later a federal court judge, said of that time.
Meredith successfully registered on October 1, 1962, and graduated the next year. He went on to a varied career writing books, advising Senator Jesse Helms, working as a stockbroker and selling used cars. And, 40 years after he entered Ole Miss, he was able to watch — in a vindication of his own struggle — as his son graduated first in his class from the university with a doctorate in business administration.