The Final Episodes
Sundays 10/9c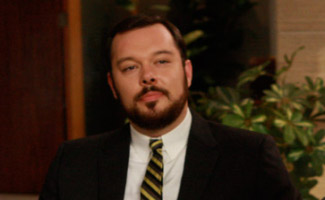 Michael Gladis plays Paul Kinsey, a typewriter thief and aspiring playwright who heads South to fight for civil rights. In this AMC.tv interview, he discusses the Emmys, the beard, and Ukrainian food.
Q: What was it like being at the Emmys this year?
A: It was like a dream. We were all so grateful that we were recognized and nominated for so many awards…Matt [Weiner] was very clear – he kept telling and re-telling us that if we won best drama that we were all to get up on stage. When they announced us, it seemed like an eternity between when he read "And the winner is…" and when he said Mad Men, and I guess I jumped five feet up in the air. It was like a dream. It was quite a view from up there.
Q: What's been your favorite scene so far this season?
A: I love in "Flight 1″ that short little confrontation with Joan in the office where she calls me out, just because anything with Christina Hendricks is a joy. In "The Inheritance," I get a really big kick out
of the bus actually, just because it's so ridiculous. That's a prime example of Paul in all of his pretentious glory. What he has done to get to that point and the roundabout way that he ends up on this bus,
maybe being slightly disingenuous in the process of getting there… but once he's there to be sitting there and preaching about the value of advertising, which is a field that he also has a little bit of disdain for, is just hilarious.
Q: How did you react when you found out your character would get involved with the Civil Rights Movement?
A: Beyond the pretension and the posing and the lies, everything that surrounded him being there — in a way it is still in and of itself a fairly brave thing for anyone to have done, black or white, to go down
there and to fight. And I think that's part of what we're about to see in this series in terms of the massive, massive swing that this country took in this one decade and the numerous social movements that were in
full force. I was just happy that Paul was a part of it at all.
Q: What's up with Paul and Ukrainian food?
A: I did a movie in Russia and didn't realize how Russian I look, even more specifically, how Ukrainian I look until I was over there. Even though I'm mostly Irish, I do have some Ukrainian or Russian
heritage. I don't know if it was a reference to that. It's also an inside joke with one of the AMC executives, Vlad Wolynetz, who's Ukrainian. And I think it's just a hilarious go-to pick-up line.
Q: There's been much talk of the herbal tobacco substitute for the cigarettes. But what do you put in your pipe?
A: Usually sativa [a type of marijuana]. I'm just kidding. I'm actually the only person who gets to smoke tobacco because you can't put the herbal substitute in the pipe because it wouldn't burn right…I have a
very specific tobacco that I like — the Continental 51 blend from The Tinder Box in Santa Monica.
Q: Now that you've finished shooting, do you still have the beard?
A: The beard is gone for me in real life… I miss it a little bit because it gave me a much stronger chin. God bless her, Debbie Zoller, the head of make-up, this whole past season she worked so hard on the
damned thing. She called me her topiary. I had no clue as to how much maintenance goes into keeping a beard looking really good. She worked long hours clipping and trimming and dying and snipping to help me look good this whole season.