The Final Episodes
Sundays 10/9c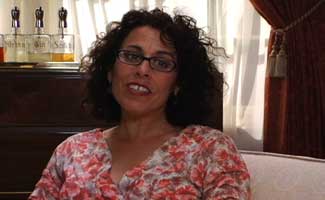 Amy Wells, the set decorator for Mad Men, has it tough. But her job is worth it, she says, because the actors are so appreciative: "Jon Hamm will often come on the set and go, 'Wow. You did it again.'" Here, she reveals the tricks of her trade.
Q: This season, there are so many new locations. Has that made your job more difficult?
A: Sometimes I read the script and get so much anxiety. We're a seven-day show, so you can well imagine what it's like. Somebody comes up with an idea, and it's like, "Great. I'm really glad you have that idea. Now I have to go find the stuff." Everybody else's job is putting words on paper, and the art director can draw things with a pencil, but my job is to literally go out there and put my hands on something. It's insane is what it is.
Q: What's been most difficult?
A: They go to hotel rooms a lot. It's like, "Can't they do it somewhere else, Matt?" How much hotel-looking furniture from that year can we really find? Also, Anita's: It was a full kitchen. Think about finding the right stove, the right sink, the right faucet. You've got to find the right thing. Every dish. Every bit of food product. Then there was the dining room and the living room. Sometimes, the sets that aren't real stylish are hard to do. You want them to look tidy, but, at the same time, not too upscale. That set really took me a lot of time.
Q: What are some of your favorite finds this season?
A: For Sal's apartment, we found them a great Danish modern-dining-room set and this huge Trojan horse that was gold, with all kinds of ornaments on it. It was oversize and really funny. That was over his couch. There's just so many things that bring me joy, because I feel like they're right for the set.
Q: Is that a real Rothko in Bertram Cooper's office?
A: After all the legal issues and the clearances, you get the image online and you reprint it. With their permission, obviously. That's how we got the Rothko. Of course, we have to destroy it after the season. It can't be circulated, because it's a direct copy.
Q: Do you have people coming out of the woodwork to tell you they have an antique you need for the show?
A: Yes. Oh my God, yeah. The greatest thing that happened is that somebody called another designer who lives in our neighborhood and said, "I have a stove that I'm taking out of my sixties house, and you guys can have it if you pick it up." It was fabulous. Those are the things that are really hard to find. Phone calls like that I really appreciate. Of course, most of the people want money, and a lot of times I don't have the money to spend. We do it lean.