The Final Episodes
Sundays 10/9c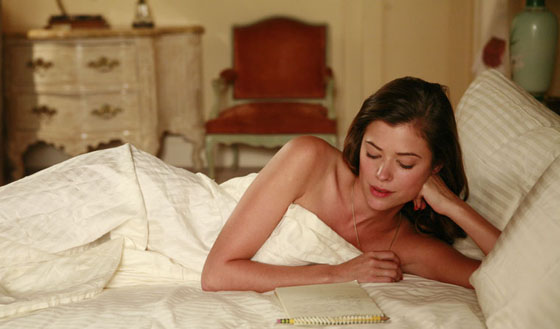 Could you pay attention to this week's episode? I had a hard time looking at anything except Joy's ridiculous bikini body, but after I recovered from the gulp of "Oh my gosh, I want your stomach," there was a big theme to discuss: Shedding skin.
While most of you are resolute fans of Don Draper, some of you have mentioned he's a bit of a snake. I suspect by that you mean he's slippery, predatory, and quiet. But he's also got another serpentine quality, and that's the ability to drop his facade and reveal another layer. It's not that he's putting on an act, exactly; it's just that he's in total control of how much he's uncovering at any given moment. And what a cool and crazy thing that ten minutes after Don Draper takes off all his clothes, he makes a phone call and says — for perhaps the second time since the series started — his real name.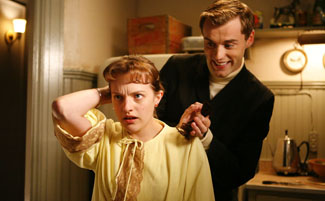 Even though Don was miles away in California, his theme connected
with the others. Peggy shed her ponytail, her reputation as the office
geek, and a bit of light on her future: If she's 23 and going
to Bob Dylan concerts, imagine the Rolling Stones madness she'll get
into a few years down the line. (Let's hope even better hair comes with
it.) Also, that cream dress with the tiny red flowers: So cute and
appropriately cut to her figure. Give us more, Peggy!
In a more literal interpretation of shedding, we saw Jane Siegel and
Roger Sterling in bed together, which is either gross or adorable
depending on your point of view. Reciting poetry post-coital was
definitely gross, but it allowed us to tune out and focus on Jane's
perfect lipstick and hair. I'll admit I don't know much about the
after-sex rituals of the early '60s, but if my hair and makeup were
that kempt after a romp, I'd be worried I wasn't doing it right.
Contrast Jane's blush and mascara with Betty Draper's smeared eyes and
bloodless lips after her impulsive return to Don last episode and
you'll see what I mean.
Oh yes, and Kurt's gay. Which wasn't really indicated by any
wardrobe moves, but still, it's good for the theme — move along, boys,
there's nothing to hide here.
On another note, I've been meaning to ask: Have you morphed your own
style because of the show? Last year, I changed my lipstick from shiny
to matte after watching Betty and her suburban playmates pretend they
were movie stars. Now my nails are red instead of black or blue, my
dresses have darts and waists instead of scandalously short A-line hems
and baggy fits, and I've been way more interested in shopping vintage
(or even from my grandmother's closet) than anywhere else. Let me know
if you've gotten into a similar habit, and just in case: I don't
recommend eBay for designer goods, but definitely for Lucite jewelry
and old costume brooches from '61-'65. Those are my favorite things to
get.