The Final Episodes
Sundays 10/9c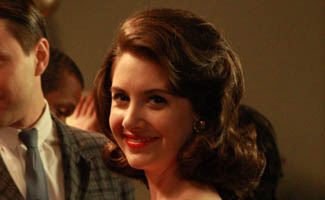 Alison Brie talks with AMCtv.com about accidentally absorbing the look of Mad Men and avoiding her character Trudy's problems.

Q: Has the show influenced your personal style?
A: I was just getting dressed the other day and I put on this dark lipstick and thought, "Gosh, I never used to wear lipstick at all." It's so funny: In the past I would just throw on jeans and a T-shirt and kind of schlep around and now I'm like, "Oh I should curl my hair today." I'm wearing more dresses and heels in the afternoon which I never used to do — I was born and raised in California and I was all sandals, all the time. Now I'm like, "What bracelet would match this blouse?" I like that Mad Men is now an adjective I use to describe clothing when I'm shopping: "I like this top. It's very Mad Men."
Q: What do people say when they recognize you from the show?
A: They don't recognize me too often. Even in
casting offices, I'll go in and they'll be like, "Oh that's right but
who do you play?" "I'm Pete Campbell's wife." "Oh, oh my god! That's
you?" What I get most of the time is that I look much younger in person,
which is flattering I suppose. It's sort of one of those back
handed compliments: Do I look really old on the show? Recently, I've
had a couple encounters with people recognizing me and the first thing
they usually ask is, "How do you like working on the show?" I
find that to be a funny question because I just don't think you could ask
for a better television show to work on. And the second thing they ask
is, of course, about the costumes. It still blows peoples' minds that we
actually wear all the appropriate undergarments and girdles, our thigh
high stockings, the pointy bras.
Q: Did Trudy's issues with fertility make you question whether or not you want to be a mother?
A: No. It didn't permeate my real life too deeply. It's so
dramatic on set I just thought I'm lucky I don't have to think about that
right now. People that are close to me have had trouble conceiving and
I've heard at length what it's like for a woman to go through that. Interestingly for me, it's not a subject I've
approached yet. These days it's
easier to put that decision off until a little bit later. Back then if you didn't have kids by the time you were 30 you
were kind of an old maid.
Q: You recently worked on the film Montana Amazon with Olympia Dukakis. What was it like working with her?
A: It was great to witness the ease with which she works — she's been at it for so long. She just knows what to do and at the same time is not afraid to ask questions and hold up a shot. Whereas someone like me, it's early in my career and if they need to get a shot I'll just do it, Olympia would be like, "No no no we need to wait. Let's get this straight." It was empowering for me to watch her do that and feel like I could too. If you have a worthwhile question, take the time to ask it.