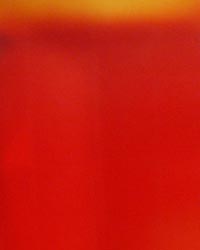 "It's like looking into something very deep. You could fall in." So says Mad Men's Ken Cosgrove while looking at the Mark Rothko painting in Bertram Cooper's office. That's a reaction the artist would have appreciated, since he described the work from his most famous period — large-format paintings of blurry-edged rectangles in complementary colors — as "intimate and intense."
Rothko, born Marcus Rothkowitz in 1903, in what is now Latvia, was often classified as an Abstract Expressionist, but it was a label he rejected, saying, "I am not an abstractionist. I'm not interested in relationships of color or form or anything else. I'm interested only in expressing basic human emotions — tragedy, ecstasy, doom, and so on." His signature style emerged in the late 1940s and early 1950s, and Rothko spent the rest of his life refining this style. By the early 1960s, the artist, who immigrated with his family to the United States in 1913, was selling paintings to the likes of the Rockefellers, and, in 1961, he attended President Kennedy's inaugural ball and had a retrospective at the Museum of Modern Art.
But by then the art world was moving away from Abstract Expressionism and toward Pop Art (Andy Warhol, Roy Lichtenstein). And Rothko's color palette grew considerably darker, as seen in the paintings he did for Houston's Rothko Chapel and a series in brown, black, and gray that he worked on from 1969 to 1970. His later work reflected his physical and mental suffering, some have suggested, and, in 1970, Rothko took his own life in his New York studio.