The Final Episodes
Sundays 10/9c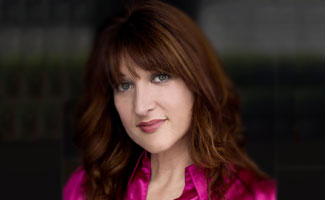 Makeup artist Debbie Zoller talks about giving Bobbie Barrett a black eye and what makes Don Draper's face flawless, in this exclusive interview with AMCtv.com.
Q: How long would it take a woman to put her face on in 1962?
A: The woman that I've spoken to, a majority of them, told me they would never let their husbands see them without makeup on. When they went to bed, they had makeup on. Then they would get up when their husband was asleep and take their makeup off and put cold cream on or moisturize their face. They slept on silk pillow cases so that their hair wouldn't get messed up. Then they would get up an hour before their husbands and put their makeup back on. These women were meticulous. I asked one, "When you had your child, did you have makeup on?" She said absolutely. She had full lashes on when she was giving birth.
Q: How did you create Bobbie's black eye for Episode 5?
A: We brought Melinda, who plays Bobbie, in before we started that
episode and we did bruise testing. We did four different stages of the
bruise on her and we would go and shoot her in different lighting
sequences because the office is fluorescent lighting and Peggy's home
would be warmer — more tungsten lighting. Doing a bruise is the hardest
thing because when you bruise yourself and look at it, it looks
horrible and it almost doesn't look real. Then when you try and
duplicate that on a television show you have to really err on the side
of caution because people are going to go, "Oh that looks so fake."
Q: What was Melinda's reaction to seeing herself look like that?
A: She loved it. That woman, I swear. She is so… first of all, she's
an amazing actress and she played it like nobody's business. For a lot
of actresses it's really hard for them to see themselves not looking
their best but she is really a true actress.
Q: Are the men on the show wearing makeup?
A: When you watch movies or TV shows from the '50s and '60s you
notice how their skin looked really perfect, probably because of the
heavy makeup they were wearing back then, you know, for under the
lights. I wanted to bring that same feel to Mad Men, but
I didn't want them looking like they had makeup on. So I pulled out a
few things from my bag of tricks and found what works best on every man
that walks into the show, with the fluorescent lights in the office.
It's a product by Laura Mercier and it's an oil-free, tinted
moisturizer. I'm telling you a man can wear it and you have no idea he
has makeup on – but his skin looks flawless.
Q: Can changing my lipstick make me look like Joan?
The motto that I live by is that every woman can wear a red
lipstick. It just has to be the right one. That's the thing — you can't
just stick on any red lipstick and think it's going to work. There are
different tones. There are blue undertones, there are orange undertones… You just have to find the right one and I swear it will transform you.
For me, I cannot make a decision before I put on lipstick. Once I have
my lips on, I can walk out the door and I can start making decisions and
go about my daily routine. But lipstick will transform you. Especially
a red one.