The Final Episodes
Sundays 10/9c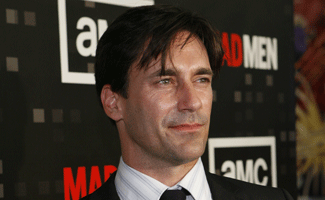 Jon Hamm is like Cary Grant in To Catch a Thief and January Jones is like Grace Kelly. That's according to Project Runway's Tim Gunn, one of Mad Men's many famous fans. "I celebrate their looks," he says in the latest issue of TV Guide. The praise doesn't end there. "There's something decidedly old-Hollywood about his charming manner, chiseled features and deep voice," the New York Post comments, about Hamm.
As for the acclaim and fame he's currently enjoying — "I feel like the kid who finally got invited to the party, and I'm determined to stay up all night so the party doesn't end," Hamm says.
His on-screen wife January Jones isn't the only actress to get nods from the media either. The other ladies of Mad Men are also getting some props. Elisabeth Moss is spotlighted in the New York Post, which says she "quietly steals scene after scene," while the Chicago Tribune remarks upon Christina Hendricks' performance: "Joan is a
complicated, guarded survivor in an era that wasn't kind to women with
professional ambitions."
As for Mad Men's growing influence, Frank O'Hara's Meditations in an Emergency shot up Amazon.com's bestseller list after Don Draper read from a passage in the drama's Season 2 premiere. "The last four stanzas of the poem 'Mayakovsky'
were exactly what I had been trying to say the entire episode," creator Matthew Weiner explained to People magazine.