The Final Episodes
Sundays 10/9c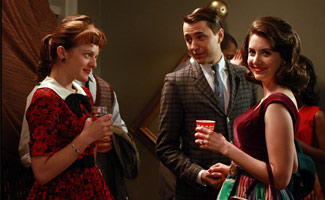 This weekly look at the fashion of Mad Men is written by Faran Krentcil, the founder of Fashionista.com who currently works at Nylon and Page Six Magazine. She thinks historical accuracy is kind of overrated, especially when dealing with hyper-stylized fiction.
And this week on Mad Men, we all saw red.
It was there at Paul's party, when Joan wielded her admired, and eventually robbed, purse. It was there the next morning, when Peggy woke up hungover, hanging over her bed, and still in her red party dress. It was there at Pete Campbell's house, when his sister-in-law managed to belie her "in mourning" outfit with a shock of blood-kissed lips. It was there in the bathroom, when Trudie Campbell sat in her towel and turban. And it was there at the very end, when Don sat in Shangri-La and didn't go home with the waitress.

The interesting thing is that costume designers love to weld red to sex. Lola in Damn Yankees gets a red dress. Madonna in Evita (and A League of Their Own, and Dick Tracy) gets a red dress. Scarlett Johansson always gets a red dress. Hell, even Jessica Rabbit gets a red dress. But this time, the red wasn't very sexy. In fact, it was sort of the opposite.
Every time we saw red, we also saw rejection. Joan's red purse gets the spotlight after she realizes, rather monstrously, that Paul has definitely moved on. Trudy wears red just before a funeral, not just before a hot
date. And the red-lit restaurant is where Don Draper throws out his client as well as his latest chance to cheat on Betty. So in a way, we've got a stoplight thing going, fueled by fabric instead of electricity.
And speaking of jolts, thanks for all your comments. I'd like to especially thank Robyn and Blanche, without whom I never would have found my new best friend: Fashionable Clothing From the Sears Catalog:
Early 1960s, a photo book of actual Sears looks that showcases overblouses (Robyn! Overblouses!) and slim pants in Kool-Aid colors. I've also been looking at period Vogues, and while I will say
that the silhouette seems closer to the body and longer than what's happening on TV (so many cinched waists and crinoline skirts this episode…), I will also say that I'm more convinced than ever that Mad Men's costume department is memorizing this period with more detail, nuance, and exploration than a med school student in surgery. No doubt you'll disagree with me in the comments section below, so carry on. Oh and yes, you're right Peggy Sue, there could be more hats, though so much of this show happens indoors…
Anyway, back to the show. Besides the red, there was one more thing that I couldn't shake after watching Episode Two, twice: The clashing of the old and the new, as embodied in the clothes. Did you see Trudy Campbell in her blue checked dress, standing right in front of a John Singer Sergeant painting? That was blinding. Peggy's clashing shape and hair and pattern next to her mom and sister? Another fashion fault line. I suspect the further that boundaries blur on the series, the further this will all get pushed, especially as winter turns to summer on the show — let's remember bikinis first started appearing on film in 1963,
with Frankie and Annette making a movie called Bikini Beach in '64. I'm totally hoping Joan goes to the Jersey Shore in Season Three, and I know I'm not the only one…
PS, Alex, Ben Sherman cuts all of its suits after Saville Row models from the '60s. Their cuts start from 1964, so you'll be a little ahead of the Mad Men, but it's
not terribly expensive and it gets the lines right.