The Final Episodes
Sundays 10/9c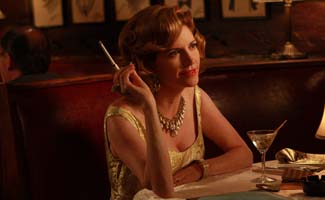 This weekly look at the fashion of Mad Men is written by Faran Krentcil, the founder of Fashionista.com who currently works at Nylon and Page Six Magazine.

Do you know who should be dressing Bobbie Barrett in modern times? Laura Bennett, the hot, but slightly stiff (and completely uppity), designer from the third season of Project Runway. Before you shoot me for bringing a reality TV reference into the hallowed fandom of Mad Men, hear me out. With her funneled skirts and high waists and hand-beading and red lipstick, there's a real affinity there for "looking like a woman." Funnily enough, Diane von Furstenberg's motto — well, one of them — is "feel like a woman; wear a dress." And I guess if Bobbie Barrett existed today, she would wear some of DVF's more opulent pieces — not the wrap dress, per se, that would be more of a '70s Bobbie Barrett — but more of Diane's structured wools, silk block prints, and jacquard coats. I think Bobbie would also wear a decent amount of Michael Kors and Carolina Herrera, though perhaps tailored to be tighter on her body than MK and CH would like.
Actually — confession — my friends and I have started a game where we pick designers who'd dress these characters, or the archetypes of these characters, in modern day.
Of course, the most fun to guess about is Betty Draper, who'd wear a
good mix of Oscar de la Renta and Ralph Lauren — maybe with some Gap
and J. Crew thrown in on the weekends. And what do you think Joan would
wear? I'm leaning towards Donna Karan and Dolce & Gabbana, and if
anyone would wear a wrap-dress to work, Joan would.
As for her wardrobe, here are some Joan facts you might like…
• Joan's bra was custom-cut from a brassiere that the costume team found at a thrift store in New Orleans. After they knew it fit Christina Hendricks perfectly, they cut the whole thing apart and then
made several just like it, using the original (and dissected) bra as a pattern.
• Joan's cocktail dresses are often cut down from vintage pieces that are five or six sizes bigger than Christina. This gives the costume department more control over her silhouette, and also contributes to the feel that the dresses are sometimes handmade — something designer Janie Bryant and her wardrobe team are very into.
• Joan's gold pen necklace was found at the Rose Bowl in California
during the open-air market, and Janie says "as soon as I saw it, I knew
it was the most perfect character accessory."
Check back later this week for an interview with Ms. Bryant about the women's wear for Season 2.