The Final Episodes
Sundays 10/9c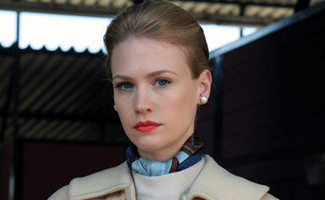 January Jones, better known as Betty Draper to Mad Men fans, talks about the changes she made in her life for Season 2 and the impact on her life of Season 1.
Q: Did you have to take horseback riding lessons for these first few episodes?
A: Yeah. I had always ridden Western before. This is the first time I ever had a chance to ride English. So I did three or four months of lessons before we started shooting, and I've really started to enjoy it….I've started to jump and everything.
Q: You probably work with children actors more than any other members of the cast. Is there a big difference?
A: Yes…Actually the little girl who plays Sally Draper is amazing: Kiernan Shipka….We're lucky that the kids that we do act with [as Bobby and Sally] are quite professional. Sometimes they're six and eight years old, so if they don't remember their lines…So do I…What am I saying? Not really, not really. It's fun. We goof around a lot.
Q: Has Mad Men made you famous?
A: Actually I don't get recognized that often 'cause I wander around town in jeans and a T-shirt and my hair in a ponytail. If I do get noticed, people will say are you Betty Draper? Oh my gosh, you look so young. Oh my gosh, you're so small. We must look so larger than life in the show. And I think I get noticed by men more than women. I don't know why. I was in Vegas with my family, and we were going to dinner; and there's this man and woman waiting to be seated. The husband said look there's Betty, there's Betty. And the wife goes oh no, no, no. That girl is much smaller. I guess the camera does add ten pounds.