The Final Episodes
Sundays 10/9c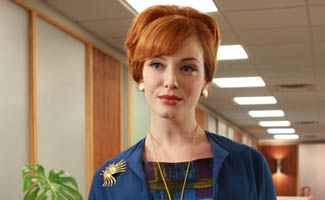 Christina Hendricks, a.k.a. office manager Joan Holloway, discusses the bright side of office politics and taking fashion cues from a squirrel in AMCtv.com's exclusive interview.
Q: In Season 1, your character lives with a lesbian and is the other woman in an extramarital affair? How much do you think societal taboos have changed since the 1960s?
A: I don't think anyone blinks an eye or cares about homosexuality these days, do they? And as far as being the other woman in an affair, I think that's been happening since humans were put on this earth. It keeps happening. It brings a lot of sadness and sorrow to relationships, but at the same time, it doesn't seem to be stopping.
Q: How has the show changed the way you look at office politics?
A: I don't work in an office, but acting is still a business, and I think the entertainment industry probably allows for a lot more inappropriate behavior than most offices. We use what we have in the office to get what we want. And that doesn't always have to be a bad thing.
Q: Joan and Peggy have a different dynamic this season. Do you miss their old relationship?
A: I don't get as many scenes with Elisabeth Moss this year, which I really miss. I love working with her. But, you know, she's rising to the top. She doesn't have time for me any more. She doesn't want to listen to me anyway. It's very disappointing — I just never got through to her.
Q: Is there a favorite scene you've done so far this season?
A: I really did like that scene with Paul at his party. I thought it was very different from the stuff that I had done last year. Paul and Joan did have a relationship, and I think they're closer than a lot of people. So she can call him on his stuff. And Paul with his little kerchief, his sad little kerchief. My God, bless his heart. He was just cracking me up with that attitude.
Q: Can you describe Joan's personal style?
A: I think Joan is definitely current in her style and reads her fashion magazines — she stays on top of it. But, she also knows what works for her so she doesn't go too into trends. She's probably one of those women that ten years down the road will still be wearing the same outfit.
Q:Is there a favorite outfit you've worn so far this season?
A: There's this little tight brown dress I wore in Episode 1 — and I've worn it again since then — that reminds me of a Chip and Dale squirrel from the cartoon. We call it the naked squirrel dress because it's so skintight I look naked, but it also looks like a squirrel. There was a naked mouse outfit last year. We're going through all the rodents, I guess.