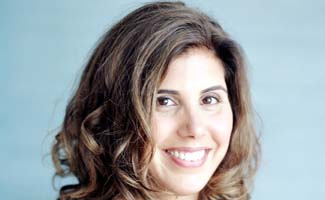 Mad Men's music supervisor Alex Patsavas talks about delving into the music of the '60s and what she takes into consideration when choosing a song.
Q: So much is said about the meticulousness of Mad Men. Is it the same with the music?
A: Yes. Like in every area of the show, Matt [Weiner] certainly was very precise about the type of music that he was interested in putting in the show. There's a great deal of music that is, of course, from the period, but occasionally we do step out — like a Cranberries song that was featured in Season 1. And there are at least one or two tracks that are contemporary that will be featured in Season 2. It's important that the spirit of the track be appropriate — and not always the year that it was produced or written.
Q: Can you talk about a song from an episode and why you chose it?
A: A good example would be "Manhattan" by Ella Fitzgerald. Anytime you get a music supervision gig, you begin to delve into the world, especially if it takes place in another era. It's an exciting research project. We focused on songs about New York and that was one of the first things that we really looked into — a song from the era about the city — and that was one of the gems that I came across. It's the vocal performance; it's the timelessness of Ella's voice and the lyrics. I find that it's about how a song feels first and then the lyrical content next. Because even if the lyrics are perfect, but the song doesn't feel right, you never get to that point.
Q: Do you ever hear songs in the course of your daily life that you really want to use on the show?


A: Oh, definitely. I find myself choosing to put on music from the period, listening to some McGuire Sisters, who did the best version of "Volare" that I've heard in awhile.
Q: As the show has progressed further into the '60s, how does the music change?
A: The '60s were a time of great change in American music. We're about to experience the beginnings of folk. It's a little later than '62, but it's about to start. When we began the '60s, it was Rosemary Clooney… And at the end of the '60s, music transitioned to an entirely different place.