Returns April 5 at 10/9c for the
Final Episodes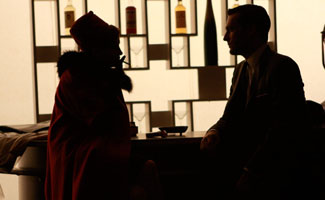 This weekly look at the fashion of Mad Men is written by Faran Krentcil, the founder of Fashionista.com who currently works at Nylon and Page Six Magazine. She wonders when Urban Outfitters will launch a Mad Men collection…
I had to rewind my TiVo this week because I got so distracted by an extra. She was the woman holding the script in the first scene, the one wearing huge resin-rimmed glasses that were so chic that I couldn't stop staring. Similar glasses popped up on runways this season — Michael Kors did some; Dior did some. You can also snag them at Target or Fred Flare so they'll run you anywhere from $5 to $350, depending on how snobby you want to be about it. Some girls in the NYLON office wear theirs without lenses at all (a trick Lucille Ball used in the early '60s to keep the glare off her face during filming).

But alas, the spectacle of spectacles wasn't the main visual theme of this episode. Instead, all the clothes had a sense of drama. There were frills; there were chills; there were thrills. The comedian's wife in her opening scene wore a cape and a coat that made her look almost papal. As to her fur nightgown, it was devouring more than dreamy. Don Draper's rain hat was similarly menacing. (It cast a good shadow over his eyes so you couldn't quite tell what he wanted. Very Dick Tracy, huh?)
As for things you can wear in this episode, without looking like you're in period costume, here's a quick rundown:
1. Betty Draper's riding blazer. Ralph Lauren still makes it. It's still gorgeous, and great over jeans. You should modernize it with a T-shirt underneath, though. That yellow blouse and bow could come across as a little too precious nowadays.
2. Tara Montague's black leather gloves. Karl Lagerfeld, look out.
3. Harry's super-skinny tie. APC carries great ones; very modern rock star.

4. Everything Sally Draper is wearing. Seriously, I'm sorry, that girl is a style icon. This time around, she goes Blair Waldorf on Gossip Girl with the pink crewneck, the Peter Pan collar, and the plastic bow barrette in her hair. You can get this entire ensemble at Marc by Marc Jacobs, and you will look like a vicious WB heroine. Highly recommended.
5. Mrs. Crane's plaid shirt dress, which you can find at Trovata or Vivienne Westwood, or in any issue of British Vogue ever. The one at right is from the UK designer Graeme Black.