The Final Episodes
Sundays 10/9c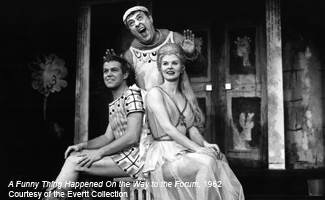 The 1960s Handbook takes a closer look at the cultural references that appear in each week's episode of Mad Men.
"Noisy, coarse, blue and obvious like the putty nose on a burlesque comedian." That's what the New York Times said about A Funny Thing Happened on the Way to the Forum, the Stephen Sondheim musical that opened at Broadway's Alvin Theatre on May 8, 1962. The production ran for more than two years and garnered six Tony Awards, including Best Musical and Best Actor in a Musical for Zero Mostel (just one year after Mad Men's Robert Morse won in the same category for How to Succeed in Business Without Really Trying).
The show itself is based on the works of ancient Roman playwright Plautus and concerns a slave out to win his freedom by helping his master's son get the girl. Hijinks ensue. With nods to both Shakespeare and vaudeville, this farce is full of gags, puns, mistaken identities, and double takes. It's also worth noting that, so far, every actor to open on Broadway in the lead role of Pseudolus has won a Tony: Mostel, Phil Silvers and most recently Nathan Lane. Mostel himself — blacklisted for several years in the 1950s for purportedly
being a Communist — was a three-time Best Actor Tony winner: one for Ionesco's Rhinoceros (1961), one for A Funny Thing… (1963) and one for Fiddler on the Roof (1965).