The Final Episodes
Sundays 10/9c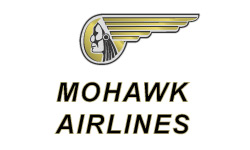 The 1960s Handbook takes a closer look at the cultural references that appear in each week's episode of Mad Men.
Though today many mega-airlines whisk globetrotters around the planet, the horizons were a little less crowded in the early 1950s. Helmed by company president Bob Peach since 1954, Mohawk Airlines began as a local carrier based in New York where it conducted intra-state travel as well as trips to Boston and Newark. Peach wasted no time in making Mohawk a viable force in the industry. And as business boomed, he outfitted his Convair 440 planes with black and gold stripes to underscore how cosmopolitan air travel had become. His success was short-lived however.
A series of flight attendant strikes set business back in the early sixties, and loosened Peach's tenuous grip on his company even as flight continued to thrive as the way to travel. Virtually bankrupt, Mohawk was purchased by Allegheny with a no-cash deal that merged the airline with its former competitor. Peach, bereft and unemployed since the merger, committed suicide soon thereafter. Mohawk continued in its new form until 1972, when the airline was again absorbed via a high-stakes merger, this time becoming part of present-day US Airways.