The Final Episodes
Sundays 10/9c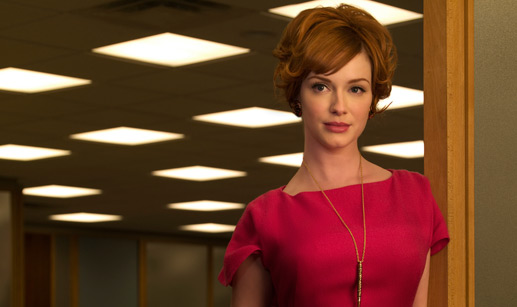 This weekly look at the fashion of Mad Men is written by Faran Krentcil, the founder of Fashionista.com who currently works at Nylon and Page Six Magazine. Faran promises to try and use a photo of Joan in every post.
I love watching Mad Men for its shard-sharp writing, its class warfare, its trapped characters, and its flagrant use of cigarettes. But the truth is, I can also watch with the sound off and The Stones playing. Why? Because I'm totally and completely obsessed with the clothes.
This season starts, quite literally, on its ass.
The first shot is Joan's "Valentine heart" of a booty, swathed in red satin and swaying dangerously close to the camera. From a fashion standpoint, the effect was a sewn-up stun gun — we don't get many curves on runways these days, and this butt in this dress was unreal. Actually, maybe it was a little too real, but either way — incredible. I'd be lying if I said your bottom could look that good without genetics and/or a personal trainer, but there are ways to fake it:
A pencil skirt with stilettos is a good push in the right direction; a dress with Lycra and a back-running zipper also works. Moschino makes amazing bombshell dresses quite similar to Joan's, but if you'd like to stay on this side of the exchange rate, try Cynthia Rowley or Club Monaco. Think long, think tight, think "just enough."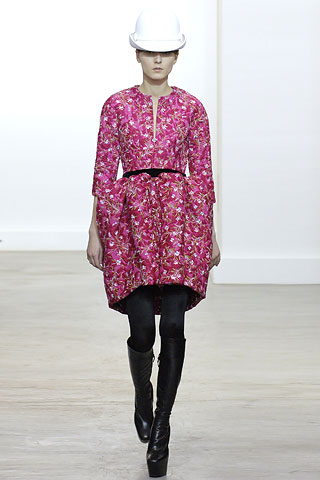 Next, we cut to Betty Draper, whom we could talk about all day. The
Barbie-pink dress she wore to go dancing? Whoa. The Playboy Bunny black
lingerie? Double whoa. But maybe the most interesting scene of Betty's
is when she's horse-bound. Her boots and blazer could have been a
uniform, except for the gleam of red lipstick under Betty's helmet.
That turned the whole thing from sportswear into showmanship, the same
way Betty can slice her domestic duties into something less chore and
more art. Hermes reinvented the horseman's uniform by doing just that,
but a boy's blazer from Brooks Brothers will work too (it'll look
shrunken on you – very sexy), and try Sigerson Morrison for those impossibly straight and tall boots. But good luck walking in them — it took me three months and a thunderstorm before I broke mine in.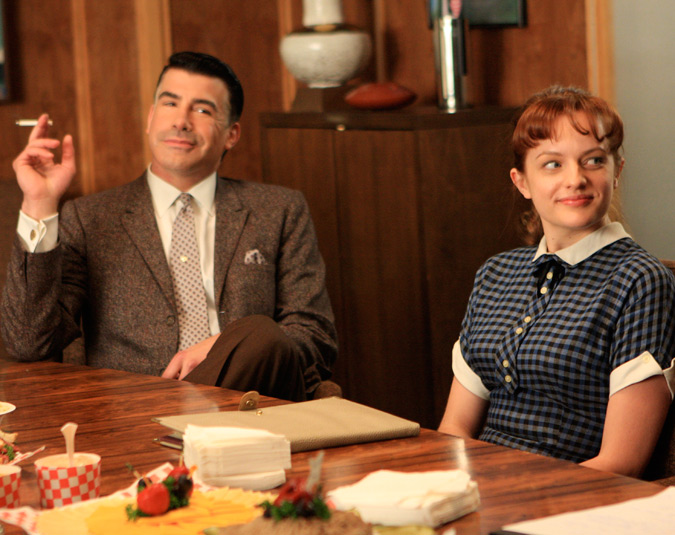 So
now everyone wants to talk about Peggy Olsen, yes? Her stringy bangs,
her oddly proportioned plaid jumpers, the way all we do is root for
her, all the time. Okay, but on the topic of Peggy's style, I'm only
gonna say one thing: Marc Jacobs could base an entire collection around
her character. The sideways hems, the clashing colors, the defiant
cuteness, the uptight waist — it's wrong in a way he wants.
We could discuss whether Peggy's insistently dowdy appearance
affects the respect she gets from the boys, but… well, that would be
depressing. Instead, I'll tell you to look at Marc by Marc Jacobs for his tartan coats and smocks
- enough Peggy to express admiration, enough style to keep your
distance. But I suspect the further into the '60s we get, the cooler
Peggy's going to look, especially if her character gets more assertive
or even more rebellious. Anyone else think so?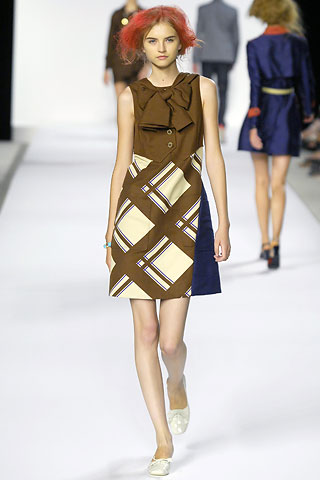 As for the most "modern" look in this week's episode, you might yell at me, but I swear:
Little Sally Draper wearing her mom's equestrian boots with a pink party dress was a little bit Balenciaga, a little bit Burberry, a little bit Luella Bartley, and exactly how I'm going to dress this fall.
If you're not as cool / crazy / infantile (circle one), here's
something easy you can do to pay homage to your show without looking
like an AMC extra:
Go buy one of Poppy King's new opaque lipsticks.
It doesn't matter what color — the lack of sheen and depth of pigment
was created to mimic the makeup of the '50s and early '60s, and it
looks both modern and MGM Classic.
Oh, and one last thing: How cool was Jackie Kennedy's television
appearance? It was really exciting but also pretty foreboding: Get
ready Don, Betty and Joan… things are about to hit the fan.