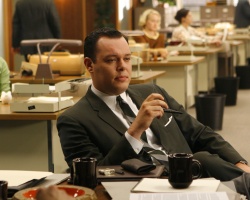 He looks like Orson Welles, smokes like Albert Einstein and wants to be Ernest Hemingway. Michael Gladis was born to play bohemian ad man, Paul Kinsey.
Q: Your character is compared to Orson Welles. You've played Orson on stage. Is this an ongoing theme?
A: I remember at like six-years-old my grandmother saying you look like a young Orson Welles and I had no idea who that was. I had to turn to my mother and be like is that a good thing or a bad thing? She said no sweetie it's a very good thing. My whole life there has been comparisons drawn. I was cast to play Orson in a film that didn't get made and I was heartbroken.
Q: Did that have anything to do with casting you as Paul?
A: That came up in the audition. Matt Weiner, at the beginning of the season (I think referencing our conversation in the audition room) said some time this season someone is going to make note of your resemblance to Orson Welles. Mark my words. And I never heard anything else about it. I'd see every script and there was nothing there. Finally, Joan makes the reference in Episode 12 and Matt says see you thought I forgot didn't you? He stuck it in.
Q: Is there anything else you can tell us about his one-act, Death Is My Client?
A: What little we saw – maybe it wasn't the best writing ever but I like to believe that Paul has potential. Great potential. I think he wants to be Hemingway, personally. At least, I'd want him to be Hemingway. I don't know what Paul thinks.
Q: How about the pipe?
A: I actually love smoking a pipe and I'm very happy that Paul does. Does that mean he takes himself too seriously? No. You know what it means? It means he's a man who appreciates quality and he takes time to enjoy the things he enjoys. Cigarette tobacco is so cheap and you're always just sucking them down to get a fix but a pipe is an event…My big goal for season two is that Paul should have more than one pipe because it's not good to smoke the same pipe everyday. It's a nice accessory actually. Is today the bent pipe day or is it the straight
stem day? Is it the black pipe or the brown pipe? It could go with the suit. There are all sorts of possibilities.
Q: Has working as a copywriter on the show changed your view of advertising?
A: Yes in that I definitely look at the craft of ads. I look at the wording of ads, I look at the imagery of ads and how they are constructed. Usually, that's when it's not working well. When advertising works well you don't even know you're being spoken to in a way. The illusion just happens.
Q: Don Draper's campaign for Kodak is so good that even he falls for it. For a moment he thinks he can have the picture perfect family.
A: We got the scripts dropped off at our trailers. Of course we're all waiting for the season finale and the first copy that we got had Don coming home to his family saying, "I'm here" and "We're all going to go together" and the kids are running up to him and hugging him. It was only at the table read
when we were all given new copies that they added in the reality where all of sudden it cut and Don walks into an empty house. There's nobody there and he calls out hello a couple times and then sits down on the
stairs and that's how it ends. I remember this collective sort of gasp at the table and I just thought it was so brilliant. It was a really lovely moment actually.