The Final Episodes
Sundays 10/9c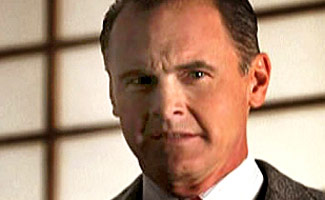 Actor Mark Moses talks about growing up as the son of an ad man and addresses the questions surrounding his character, the hard-charging new addition at Sterling Cooper.
Q: How difficult was it to put yourself in the mindset of 1960?
A: Actually, my father was an advertising man on Madison Avenue in the '60s. He sold advertising for the Chicago Sun-Times, and he kind of lived the life that those guys were living on Mad Men. I grew up with guys like Duck Phillips and Don Draper.
Q: What did your father tell you about that era and the advertising industry then?
A: I asked him about Duck Phillips coming from England, and he said, "Well, he's going to have a Tattersall vest," and I showed up on the set and I had a Tattersall vest. He knew about hats: how he wore his hat, what he did with it… He had to make sure that he could sit in the automobile with his hat on. It was one of the prerequisites for buying an automobile. My dad has so many stories of guys who couldn't make the sale and ended up just crashing. Their lives were ruined because they just couldn't keep up with sales. They couldn't keep up with the young bucks; they couldn't keep up with the advertising world. It was a hard world to live in. They drank a lot, they smoked a lot, and there were a lot of casualties from it. These were my father's colleagues, and they were very, very entertaining men. My parents would always say the best parties were either with actors or salesmen because they had great stories.
Q: What was it like joining the show towards the end of the season?
A: It sort of feels as it would if you came into a new office and you were being hired and you didn't know anybody. And you're being hired not only to come in but to tell everybody what to do, really to hold sort of an ax over people's heads. That's what he's hired for, to make sure people do their work. So he had to come in kind of as the boss. And so coming into the show, everyone's very comfortable with the whole environment and for at least an episode or so I was kind of finding my way.
Q: You had a great line in the final episode, "The Wheel": "Good luck at your next meeting." Did you know when you were filming how moving the scene would be?
A: I actually thought that Matt had found the story in the archives of the Kodak Carousel. But he actually just made it up and did a great job. What I liked about is Don Draper and Duck Phillips are not only selling the advertisement to Kodak, but he was also going into Don's life and it also had relevance with Harry, who just had separated from his wife. It's great when they're not just pitching something in the show, but it means a lot on many levels, including the lives of the people on the show. And I knew that line was a terrific line. You just had to underplay it a little bit.