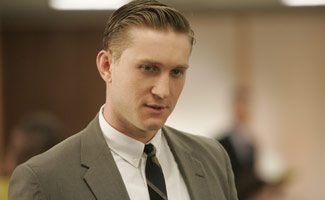 Aaron Staton's character was the object of envy when he got a short story published in Atlantic Monthly. The actor discusses being in a show that elicits similar feelings from fellow actors.
Q: Do you see any similarities between you and Ken?
A: I do, especially his fun-loving side. Actually, it hit me about the fourth or fifth episode, when we were hanging out and just having a good time and Elisabeth started putting on this fat suit and we were all making jokes… We've been referred to at times as the frat boys, the three of us (Michael Gladis, Rich Sommer and me), and I was like, you know what, this really isn't all too different — it's just that when the camera rolls, we get to say things that are a lot smarter.
Q: Are you ever shocked by what people actually said aloud back then?
A: I don't think I find it terribly shocking. In a work environment it's hard to imagine, but honestly as far as men talking about women, it doesn't really seem all that different to me unfortunately. What I find shocking is not so much what my character, what the other male characters say. It's more what the women say about themselves and what they say about each other… At one point Joan has a line where she says, "They made it so easy that a woman could do it."
Q: I understand that you originally read for the part of Pete?
A: I did. My first audition was horrible. It was so bad. I'm not exactly sure what happened. But I got to come back in. I did a better job. Again I read for Pete. I obviously did not get the part. A few days before the first read-through, I got a call and they said, hey, would you play this other part — it's a guest star and possibly could be a recurring role if it gets picked up. I kind of remembered the part actually from reading it. Rich (Sommer), who plays Harry, and Michael (Gladis), who plays Paul, and Bryan (Batt), who plays Salvatore, we all were on those guest star, possible recurring, contracts. When the show got picked up, Matt called all of us individually and told us that he wanted us to be in the show, in every episode as series regulars, so that was really cool.
Q: Of all the scenes you've been in, what's been your favorite?
A: I would have to say the scenes in the last episode in the recording booth when we were auditioning the girls for the commercial. It was really, really a pleasure working with Elisabeth (Moss). I really enjoyed those scenes. I thought that they were sort of sad but really funny. Peggy revealed her true colors. It was really fun to watch and it was really fun to do.
Q: Ken seems to be fairly supportive of Peggy and her ambitions.
A: I think he kind of respects her. I think that he sees her at this point as one of the guys because she put on all this weight and no longer is she an option for dating. She's really smart and capable and she's got a lot of potential. I do think it'll be interesting to see what happens later down the line if she loses the baby weight, if his views change of her and she's attractive again, if he'll be able to look past that.