The Final Episodes
Sundays 10/9c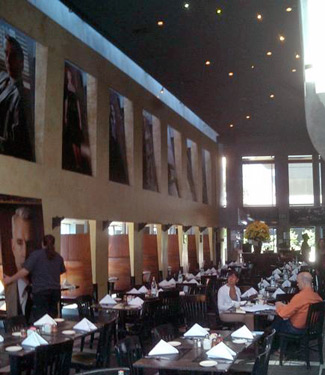 At first glance, the Hollywood restaurant Kate Mantilini's seems an unusual backdrop for life-sized pictures of Mad Men, a show set in 1960s New York. That is, until owner Marilyn Lewis provides the back story.
Q: What's the history behind Kate Mantilini's and why did you put up the Mad Men display.
A: It's been 21 years since we opened Kate Mantilini's, which I named after my Uncle Rob's mistress. My mother wouldn't let me speak to her, nobody would allow us to mention her name, but she was a very strong woman and I wanted to name my restaurant after her. My husband was under contract with Warner Brothers, and he did 50 films in the 1940s before we went into the restaurant business. The studios loved Kate Mantilini's because it had excellent comfort food, and they did their premiere parties there. We have a proscenium wall that goes about thirty feet high, and we had pictures of these very sensuous faces of actors from a premiere show. I never changed those pictures, even when other studios begged me to let them put up different pictures. Then one day I heard Matthew Weiner describing Mad Men, and I couldn't wait until I saw it. It was love at first sight. I said, "We've got to get those faces up on Kate Mantilini's wall, all of them!"
Have the cast and crew seen the display?
It went up about four weeks ago… Matt arranged it so that after the Hailey awards, 75 members of the cast and crew from Mad Men would celebrate at Kate Mantilini's. No one was expecting anything, so they were astonished when they all walked in and saw their faces up on the wall. They put their hands on their hearts, their mouths dropped open. It looked like they were saluting the flag.
What was your impression of the cast?
The cast of Mad Men is very old Hollywood, very friendly and down-to-earth. I've never seen a sweeter, more lovable group of people in my life. The other day, the mother of Christina Hendricks [Joan] was taking photos of her daughter standing 6 feet tall on my wall.
Is there a character with which you identify?
Darling, I was like Helen, the divorcee. The other women were always talking about me because I owned a business when I was very young, I was very successful, and they were wondering what that was all about. And they were very jealous that I was out in the world with all those men! Did you notice how Helen wears pants and not skirts? One time I was stopped from going into a hotel because I was wearing a pant suit, and the man says, "Ma'am, if every woman looked like you did in pants, we'd let you all wear them inside, but I'm afraid it's against our dress code." So I drew them a diagram to prove that I was wearing a suit, not just an odd pair of pants, and suits were professional enough to be allowed on both men and women. They let me in. They named the exception to the rule after me.