The Final Episodes
Sundays 10/9c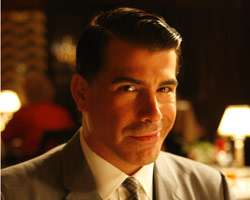 Q: Did you have a favorite scene from last season?
A: I would have to say the Hobo Code episode — the scene when the character of Elliot (Paul Keeley) was trying to pick me up in the restaurant. It shows Salvatore's smart. He's not going to let his guard down. It's just instinctual that he's protecting himself. Because in those days, people did not come out. It really was not an option, especially if you had a professional life.
Q: How do people describe your character to you?
A: You know this is so wild. I've gotten a variety of comments. A lot of people thought I was kind of sleazy. And that is the furthest thing from my mind. But then another woman in New Orleans said, "I'm just so sad for you. I'm so sorry for you." And I asked her "What for? Why? What happened?" And she said, "On the show. Why can't you just be happy with who you are?" That's the kind of response I like.
Q: Has the look of the show had any influence on you outside of the series?
A: Actually, I have always been infatuated with the clothing of that
time (1960) and as the sixties progressed. When I was in kindergarten,
I wanted a pair of flared pants. And you couldn't get them in the States
so I asked my parents if I if could get some the next time they went to London. That's where I
knew that you could get them. Plus, I've always been fascinated with
the Man in the Gray Flannel Suit look as well as the architecture and
design of the era. It's the last original American look of the 20th
century. After that, everything was kind of repeated.
Q: Did you draw on any films of the period for inspiration?
A: Actually, no. I spoke some friends and acquaintances who actually
were art directors in that era about what it was like, how they had to
be careful who they were. One was actually married with children and
realized later that he was gay. I was lucky in that I was able to meet
with people from that time who were important and very similar to
Salvatore. So that was how I researched. I went to real people, not
characters in film.
Q: What are you doing during your downtime?
A: I have a business for home furnishings down here in New Orleans,
which is where I'm from. It's called Hazelnut. It's on Magazine Street,
a wonderful street for shopping. I also do a lot of post-Katrina
fundraising and benefits for Broadway Cares / Equity Fights AIDS.