The Final Episodes
Sundays 10/9c
1960s Handbook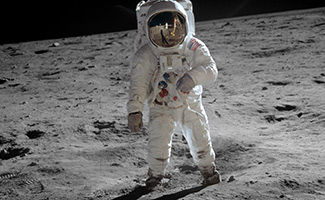 This week's Mad Men 1960s Handbook looks at the Apollo 11 mission, which takes place over the course of the Mid-Season Finale, "Waterloo."
On the evening of July 20, 1969, an estimated 125 million U.S. television viewers — 61 percent of the country — witnessed Neil Armstrong become the first human to set foot on the Moon. Armstrong, commander of the Apollo 11 space mission, memorialized the accomplishment with his historic pronouncement, "That's one small step for man, one giant leap for mankind."
Edwin A. "Buzz" Aldrin and Michael Collins accompanied Armstrong on the Apollo 11 mission, which began on July 16, 1969, when a three-stage Saturn V rocket lifted off from NASA's Kennedy Space Center in Florida. Atop the rocket sat the Apollo 11 command module, Columbia, and the lunar module, the Eagle.
Continue reading "Mad Men's 1960s Handbook – The Apollo 11 Mission" »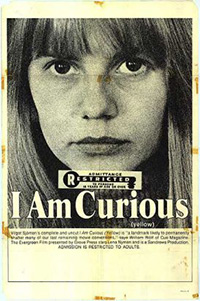 This week's 1960s Handbook takes a look at the film I Am Curious (Yellow), which left Don Draper "scandalized" in Season 7, Episode 6, "The Strategy."
I Am Curious (Yellow), a 1967 Swedish film about sex and politics, became a media sensation – and the catalyst for a groundbreaking court case – after the U.S. Customs Service confiscated it on obscenity grounds. Shot in black-and-white in a quasi-documentary style, the film tells the story of Lena (played by Lena Nyman), an inquisitive young actress whose director-boyfriend (played by the film's director, Vilgot Sjöman) records her political, intellectual, and sexual explorations.
The film's opening sequences revolve around people-on-the-street interviews Lena conducts about topics that include the class system in Sweden and nonviolence as a political strategy. Olof Palme, later elected the country's prime minister, appears briefly to address the class issue, and Martin Luther King Jr. discusses nonviolence.
Continue reading "Mad Men's 1960s Handbook – I Am Curious (Yellow)" »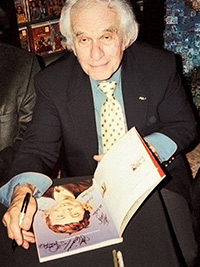 This week's 1960s Handbook takes a look at the MAD Magazine caricaturist Mort Drucker, whom Stan Rizzo confuses with comic-strip artist Mort Walker in Season 7, Episode 5, "The Runaways."
MAD Magazine has entertained several generations of kids and adults with its parodies of movies, TV shows and plays, many illustrated by caricaturist Mort Drucker. Renowned for focusing as much on his subjects' gesture and body language as on their facial features, Drucker scored early successes in the 1960s illustrating spoofs of James Bond, beach-party movies and the TV shows Bonanza and Batman.
Drucker's drawings for "East Side Story," a 1963 Cold War parody of West Side Story, featured a gang-style rumble at the United Nations that revealed Drucker to be equally adept at caricaturing politicians, from Kennedy to Mao to Khrushchev. Three years later, Drucker illustrated the "MAD Musical" satire on Lyndon B. Johnson's presidency to the tune of My Fair Lady.
Continue reading "Mad Men's 1960s Handbook – MAD Magazine Caricaturist Mort Drucker" »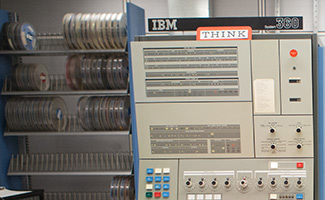 This week's 1960s Handbook takes a closer look at the IBM System/360-30 mainframe computer installed at Sterling Cooper & Partners in Season 7, Episode 4.
The IBM System/360, introduced in 1964, was the first mainframe computer to incorporate a unified system of hardware and software adaptable for multiple purposes. Prior to the debut of the S/360, as the product was also known, computers were designed for specific commercial or scientific uses. Because those earlier computers' instructions were integrated into their hardware, every time a user wanted to add a new function, the hardware (or the computer) had to be replaced.
In what Fortune magazine later described as a $5 billion bet — about $38.5 billion in today's dollars — IBM's chairman, Thomas J. Watson Jr., authorized a plan to research and develop a family of computers of that would interact with each other and that could be programmed for any use. He chose the number 360, representing the number of degrees in a circle, to emphasize the product's flexibility. The "System" part of the title was intended to call attention to the compatibility of the disk-storage drives, printers, and other peripherals.
Continue reading "Mad Men's 1960s Handbook – The IBM System/360 Computer" »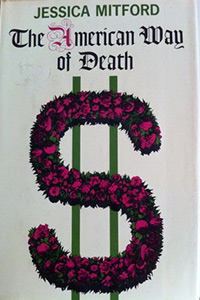 This week's 1960s Handbook takes a closer look at The American Way of Death, the book which Jim tells Harry "we can all learn something from" in Season 7, Episode 3, "Field Trip."
One of the most influential books of the 1960s, Jessica Mitford's The American Way of Death satirically exposed the predatory practices of the U.S. funeral industry. Mitford investigated the subject at the urging of her husband, a labor lawyer who had observed that there seemed to be a correlation between burial costs for deceased union workers and their widows' death benefits. Mitford discovered that such pricing strategies did indeed exist, and concluded from further research that the industry employed "Madison Avenue language" and fake mythology to play a "huge, macabre, and expensive practical joke on the American public."
Mitford's tart humor and deft incorporation of material from industry publications enabled her to turn a dry, taboo subject into a captivating read. A memorable excerpt from a Mortuary Management magazine article described a divide-and-conquer solution for funeral directors to the "problem" of a clergy member steering a bereaved family toward a no-frills casket and service. In another chapter of The American Way of Death, Mitford quoted from an industry tome criticizing morticians who displayed caskets in price order instead of subtly arranging them to influence grieving customers to select expensive ones as a way of expressing their love for the deceased.
Continue reading "Mad Men's 1960s Handbook – The American Way of Death" »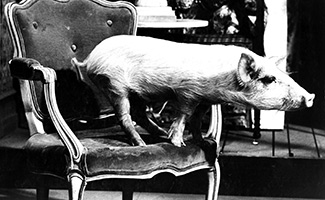 A host of eccentric characters populated Hooterville, the fictional setting of the hit 1960s TV sitcom Green Acres about a lawyer named Oliver Wendell Douglas who flees New York City to pursue his pipe dream of rural life. Hooterville's daffy denizens included Sarah, the elderly switchboard "oppa-ray-TOR" who tended to turn calls through the town's antiquated party-line system into a variation on the telephone game.
In the character's debut episode, Sarah (played with guileless gusto by Merie Earle) began her day by patching her percolator in to the switchboard slots for two neighboring towns — perhaps the reason she misdirected all her subsequent calls. She also insulted her new boss at the Hooterville Phone Company, Mr. Douglas (played by Eddie Albert), who'd purchased the enterprise from Sarah's brother, Roy, only to learn he'd acquired a dilapidated, money-losing operation. To the annoyance of Mr. Douglas, Sarah never rose above her initial level of incompetence.
Continue reading "Mad Men's 1960s Handbook – Green Acres and the Hooterville Telephone Operator" »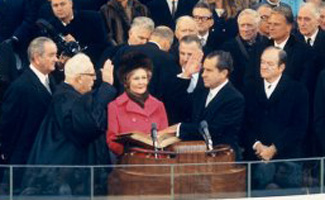 Richard M. Nixon was sworn in as the 37th U.S. president on Jan. 20, 1969. Earl Warren, the Chief Justice of the United States, administered the oath of office in front of assembled dignitaries including outgoing president Lyndon B. Johnson and his vice president, Hubert H. Humphrey. Nixon had defeated Humphrey in the previous November's presidential election, and Humphrey's loss was widely interpreted as a repudiation of Johnson's conduct with the Vietnam War.
As Nixon wrote in one of his memoirs, peace — both domestic and international — was the main theme of his 17-minute inaugural address, which referenced the ongoing Cold War against communism, the Vietnam conflict and racial turmoil. In one of the speech's oft-quoted passages, Nixon sampled Abraham Lincoln's inaugural address, suggesting that good things transpire when Americans listen to "the better angels of our nature." Referencing antiwar and civil rights protests, like the acts of defiance that took place in the nation's capital immediately before and after the inauguration, Nixon declared that Americans should "lower our voices." Nixon promised that in response, the U.S. government under his administration would listen better.
Continue reading "Mad Men's 1960s Handbook – Richard Nixon's Inaugural Address" »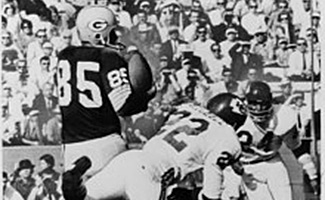 You've probably already stocked up on chips and guac in preparation for this Sunday's Super Bowl. But while Peggy prepped ads for the "big game" in Mad Men's Season 6 premiere, the annual tradition has only been around since 1967. The game's origins lay in the mid-'60s, as the National Football League faced growing competition from the American Football League (which debuted in 1960). Rather than divide the marketplace, the two leagues merged, then created a championship game which pitted each league's winner against the other's.
Today, the Super Bowl is big business — the average cost of a 30-second commercial is around $4 million — but the first AFL-NFL World Championship Game didn't even come close to attracting a sellout crowd. Far from it: On Jan. 15, 1967, only 62,000 fans showed up at Los Angeles Memorial Coliseum, leaving 35,000 seats empty. The game was close in the first half, but the NFL's Green Bay Packers ended up beating the AFL's Kansas City Chiefs 35-10. For the first and only time in Super Bowl history, two networks broadcast the event: CBS representing the NFL, and NBC the AFL.
The second Super Bowl was played Jan. 14, 1968, in Miami's Orange Bowl. The Packers emerged victorious again: 33-14 over the Oakland Raiders. The "Super Bowl" became the official name for the third game — memorable for quarterback "Broadway" Joe Namath's pre-game guarantee that the New York Jets would beat the Baltimore Colts. They did: 16-7.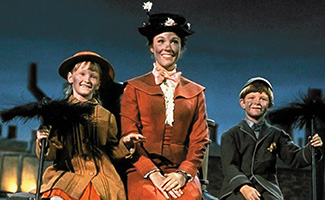 Alluded to in Mad Men Season 4 Episode 12, the film Mary Poppins opened in theaters September of 1964. Starring Julie Andrews and Dick Van Dyke, the movie was a major hit with audiences as well as critics, who swooned over the visual effects. Never before had live-action characters appeared alongside animated characters to such a believable degree.
Bringing Mary Poppins to the big screen was no easy feat for Walt Disney, who spent 15 years wooing Travers before she reluctantly agreed to let his studio adapt her stories. In return, she received $150,000, a percentage of the gross and approval of the script. She also demanded that the movie be live action, not animation. As production progressed, however, Disney and Travers' relationship grew strained. Travers was ultimately unhappy with the final product, believing that it strayed too far from the spirit of her books.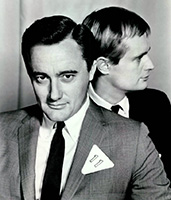 The Man from U.N.C.L.E. was a spy television series that aired on NBC from September 1964 to January 1968. Described by the New York Times as a "smooth, bland brew of contemporary sleuthing that stirs in a heady serving of James Bondish fantasy, gadgetry and voluptuous girls," the show helped launch the careers of its stars, Robert Vaughn and David McCallum.
The show followed the adventures of Napoleon Solo (Vaughn) and Illya Kuryakin (McCallum), agents in an international organization called U.N.C.L.E. (United Network Command for Law and Enforcement). The series was originally conceived as a solo vehicle for Vaughn, but when audiences responded positively to McCallum's role as a Russian agent in the series pilot, he was soon promoted to co-star status. Some considered it a bold move to pair up an American with a Russian agent at the height of the Cold War.
Poor initial ratings prompted MGM, which produced the series, to tweak the writing and shift the air date from Monday to Tuesday nights. MGM also sent the handsome stars on a nationwide tour to promote the series. It worked: "The reaction to their visits has been clamorous," wrote the Associated Press. "Industry sources credit these tours with playing a large part in achieving a renewal of U.N.C.L.E. for next season." By January of 1965, 20 million fans were tuning in every week.
Continue reading "1960s Handbook – The Man From U.N.C.L.E." »