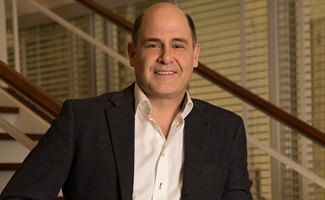 In this interview with amc.com, Matthew Weiner, the Series Creator and Executive Producer of AMC's Mad Men, talks about watching the cast's audition tapes and reveals his process for writing the series ending.
Q: A lot of fans are re-watching the entire series to get ready for Season 7. What did you do to prepare?
A: I planned to watch the entire show before I started writing Episode 7 [the finale of Season 7: The Beginning] and did not make it. It is a lot of hours.
Q: How far did you get? And how did it strike you watching it back again?
A: I made it through the end of Season 4, and my children are watching the whole thing right now, which is interesting because Martin, who's in it, and Charlie's been in it too (two of my boys), they hadn't really seen it because it wasn't really appropriate for them. I'm really proud of it… I'm proud of the commitment to change on the show… There's a respect for the audience. If Sal gets fired, Sal is fired. Don is starting a new agency, we're going to build a new set. If Betty has a new life, her husband is going to be a character.
Q: What's your favorite obscure character or character who was only on the show for a short time?
A: There are some clients we've had that are just in one or two episodes. Obviously, Conrad Hilton. That was really a pleasure to watch Chelcie [Ross] again. I loved Ho Ho, who's the jai alai client. In the first season, there's Walter, the guy from Bethlehem Steel. It's interesting to me to look at these actors who are not necessarily famous and even though I cast them and wrote it and even directed some of them, they feel like those real guys to me.
Q: Do you have any coping strategies to deal with stress when you're writing?
Continue reading "Q&A – Matthew Weiner (Series Creator and Executive Producer)" »