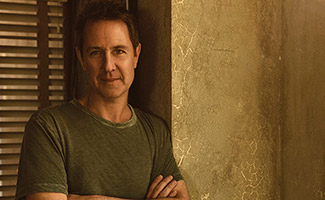 Low Winter Sun Executive Producer, Showrunner and Writer Chris Mundy talks about other places he considered setting the series, making the decision to kill off a major character, and how his background in journalism influenced the show.
Q: I'm a former D.P.D. cop. Do you or anyone of your staff have current police input on content? ­– Mark H.

A: I spent a whole lot of time in Detroit in the time leading up to it, and there were a couple cops who were really helpful in terms of talking me through stuff and taking me around to see parts of the city that you wouldn't normally get to see. One guy, Ira Todd — who ended up being our technical advisor later — the first thing he said to me was, "Do you want to see Detroit, or do you want to see the real Detroit?" I was lucky to get pretty hands-on. There was a guy named Manny Martinez that used to run homicide, he took me around a fair amount and introduced me to a lot of people. There was actually a benefit for an officer who was involved in a very controversial shooting there that they had at the Gaelic Hall, the same place where we filmed Brendan's wake in Episode 3. Manny took me there, and there were hundreds of cops there. Ira took me on a raid of a blind pig. He was the lead undercover, and there was a SWAT takedown at about four or five in the morning of a blind pig just off Woodward Avenue. Even while we were filming the Pilot, all the actors and [director] Ernest [Dickerson] and I went up to Ira's house for a cookout with ten or so cops. We sat around eating and drinking all day and trading stories. I feel like the access we had to people to get the truth and the real stories was pretty great.
Q: Can you expound upon the depth of Frank's desire or obsession for Katia?  ­– Will
A: For us, one of the central things is that there's not a lot from the original, which was only two parts. For us it was always sort of a two-pronged thing. The scene with his wife in Ann Arbor in Episode 9, we talked about that in the first week when all the writers were together. We wanted to understand that in some ways, emotionally, his obsession with Katia was about this failed marriage with his ex-wife, and wondering if he could only love something that was broken, and whether or not other people were going to be able to love him.
Q: What were some other cities you considered setting the show in? – ITal
Continue reading "Low Winter Sun Executive Producer Chris Mundy Answers Fan Questions" »