Press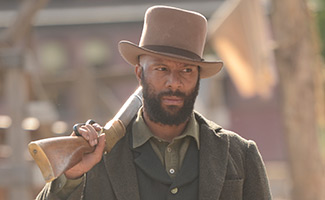 This week, Common says he still can't believe he's an Oscar winner. Plus, Anson Mount and Colm Meaney show up in movie trailers for The Forger and Where the Devil Hides, respectively. Read on for more:
• Common tells Variety he's still marveling at his best song Oscar: "It's the greatest achievement I've had as a professional in my life. Some days I walk by and I can't believe this is here with my name on it. It's such an amazing feeling and I really want to use the energy and the platform to do more."
• Catch Anson Mount at MovieWeb in the trailer for The Forger, a movie starring John Travolta that will be available exclusively to DirecTV subscribers on March 26 before it opens in theaters and on VOD platforms on April 24.
• Check out Colm Meaney at Dread Central in an exclusive clip from Where the Devil Hides, a movie that was recently released on DVD in the U.K.
Continue reading "Common Still Marveling at Oscar Win; Anson Mount, Colm Meaney in Movie Trailers" »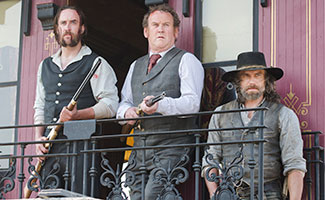 This week, the Orange County Register spotlights Hell on Wheels and other TV shows with retro settings. Plus, there's an upcoming Hell on Wheels screening and Q&A. Read on for more:
• The Sheet reports that writers and cast members from Hell on Wheels will appear at a screening and Q&A at the Edison Theatre in Mammoth Lakes, Calif., where John Wirth has a home.
• The Orange County Register spotlights TV shows like Hell on Wheels that are set in the past.

• CBC/Radio-Canada reports that MacKenzie Porter (Naomi Hatch) has been nominated for a Juno Award for Country Album of the Year.
To stay up-to-date with all the latest Hell on Wheels news, sign up for the weekly Hell on Wheels Telegraph.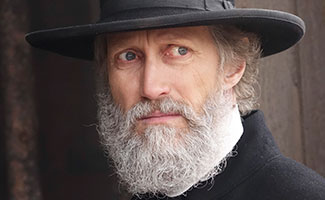 This week, Common talks Hell on Wheels with The Wall Street Journal, while Bustle spotlights Christopher Heyerdahl. Plus, Colm Meaney is cast in a Syfy miniseries. Read on for more:
• Common tells The Wall Street Journal that Hell on Wheels was "a wonderful experience for me as an actor" and describes some of the challenging things on set.
• Bustle features Christopher Heyerdahl who "can't help but be evil on TV," spotlighting his recent role on Fox's Gotham and of course Hell on Wheels, where "he shows his evil side by murdering an entire family, taking on the patriarch's identity, and becoming the head of a Mormon ward."
• Deadline reports that Colm Meaney has joined the cast of a Syfy miniseries titled Childhood's End.
Continue reading "Common Talks Hell On Wheels With WSJ; Bustle Spotlights Christopher Heyerdahl" »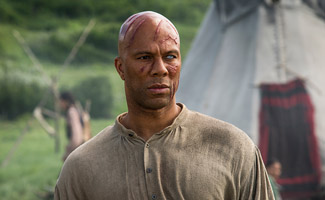 This week, TV.com says goodbye to Elam and Ruth, while Christopher Heyerdahl will appear on Fox's Gotham. Plus, Hell on Wheels will start shooting again in Calgary in April. Read on for more:
• TV.com bids adieu to the major TV characters who died in 2014, including Elam and Ruth.
• CarterMatt is eager for Christopher Heyerdahl's upcoming appearance on Fox's Gotham on Jan. 19 and suggests that viewers watch the first two episodes of Hell on Wheels Season 4 for "a master class performance" from him.
• The Calgary Sun reports that Hell on Wheels will return to Calgary in April to shoot 14 episodes for Seasons 5 and 6.
Continue reading "TV.com Says Goodbye to Elam, Ruth; Christopher Heyerdahl to Appear on Gotham" »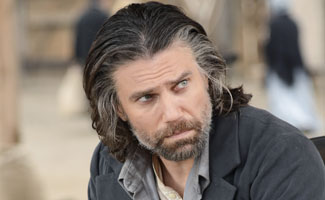 This week, Hell on Wheels is voted the year's most underrated show by CarterMatt's readers, while TV Fanatic takes another look at Season 4. Plus, The Huffington Post has expectations for the last season. Read on for more:
• CarterMatt's voters deem Hell on Wheels the year's most underrated TV show, which had "a tremendous fourth season that included wonderful performances, beautiful sets, and several emotional moments that probably had you welling up."
• TV Fanatic looks back at Season 4 and declares, "The series may be headed towards its final season, but it's not looking to go out with a whimper."
• On the heels of the Season 4 finale, The Huffington Post writes, "As the producers and writers recalibrate Hell on Wheels for next season, to satisfy faithful viewers they must be in agreement on one thing. There has to be a final showdown" between Cullen and the Swede.
Continue reading "Hell on Wheels Voted Most Underrated Show in CarterMatt Poll; TV Fanatic Revisits Season 4″ »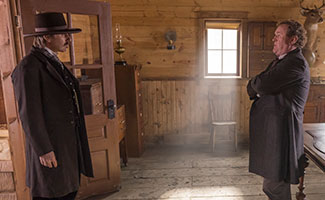 This week, John Wirth teases Season 5 to CarterMatt. Plus, Gotham News was impressed with Season 4. Read on for more:
• John Wirth tells CarterMatt that Cullen's search for his family is "one of the things that is going to be driving him early in the season next year."
• Wirth also talks to CarterMatt about shifting the Hell on Wheels story in Season 5 to the Central Pacific section of the railroad from the Union Pacific.
• CarterMatt nominates Hell on Wheels as one of the year's most underrated shows, declaring that it "brought us the strongest episodes that we've seen to date. Anson Mount raised his game, and the emotional conflicts of all of the characters became a little more present."
Continue reading "John Wirth Teases Season 5 to CarterMatt; Gotham News Praises Season 4″ »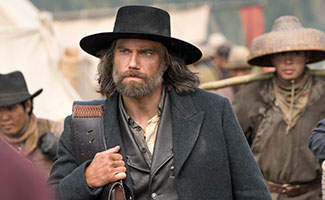 This week, Anson Mount shares with Entertainment Weekly some advice he once received from Jon Hamm, while TV Fanatic is already eager for season 5. Plus, The Huffington Post is still lamenting Ruth's death. Read on for more:
• Anson Mount tells Entertainment Weekly a story about receiving advice from Jon Hamm (that involves bumming a cigarette from Aaron Paul).
• TV Fanatic, reviewing the season 4 finale, remarks that season 4 "definitely came back with a vengeance proving that this western television series has still got it. And it's certainly got me ready to take that final journey with Cullen and company."
• The Huffington Post wasn't ready for Ruth to die or for Hell on Wheels to lose its "courageous spiritual overseer."
Continue reading "Anson Mount Shares Jon Hamm's Advice; TV Fanatic Ready for Season 5″ »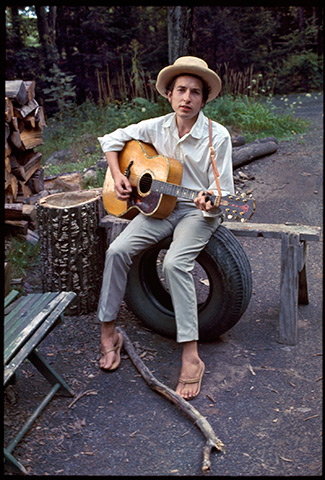 Anticipation is rising for the Season 4 finale of Hell on Wheels this Saturday night. Here's one more thing to look forward to: The finale will feature the song "I Shall Be Released (Take 2)," taken from the brand new album The Basement Tapes Complete, performed by Bob Dylan and The Band and written by Bob Dylan.
The origins of the song are legendary in the annals of rock 'n roll. In the summer of 1967, Bob Dylan ensconced himself in the basement of a small house in West Saugerties, New York along with Robbie Robertson, Rick Danko, Richard Manuel, Garth Hudson and Levon Helm. Over the course of several months, the collective, which came to be known as Bob Dylan and The Band, recorded more than a hundred songs, including the future classic, "I Shall Be Released."
Several of the songs soon surfaced as unofficially-released bootlegs, but the recordings remained commercially unavailable until 1975, when 16 of them appeared on an album named The Basement Tapes. Over the years, the remaining songs from The Basement Tapes sessions haunted and perplexed fans, with the original recordings themselves representing a holy grail for Dylan enthusiasts. On November 4, The Basement Tapes Complete was finally released, bringing together every salvageable recording from the tapes for the first time ever, including "I Shall Be Released (Take 2)."
Keep an ear out for "I Shall Be Released (Take 2)" during the Season 4 finale. Missed it, or want to hear it again? The Basement Tapes Complete is available for purchase on iTunes and Amazon.
The Season 4 finale of Hell on Wheels, "Further West," airs this Saturday, November 22 at 9/8c on AMC.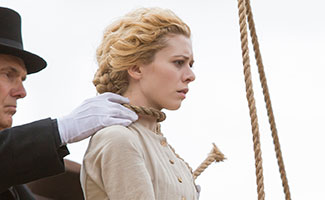 This week, Entertainment Weekly and Cowboys & Indians interview Kasha Kropinski. Plus, Anson Mount talks about Westerns. Read on for more:
• Entertainment Weekly, speaking with Kasha Kropinski about her pivotal scenes in "Thirteen Steps," calls Ruth and Cullen's jailhouse conversations "beautifully written, lit, staged, and acted" and thinks they're "some of the best scenes of the series."
• Kasha Kropinski, talking to Cowboys & Indians about Ruth and Cullen's jailhouse scenes says, "To be engulfed in that darkness is liberating, and I think gives Ruth the courage and freedom to speak her heart and her mind."
• Anson Mount, interviewed by Key West (Fla.) Citizen, calls Westerns, like Hell on Wheels, "America's martial arts films."
Continue reading "EW, Cowboys & Indians Interview Kasha Kropinski" »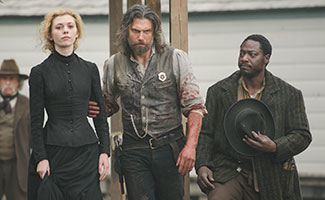 This week, Hell on Wheels wins a Season 5 renewal, while John Wirth speaks with the Calgary Herald about the good news. Plus, Basket of Kisses praises Anson Mount's acting. Read on for more:
• Hell on Wheels will return for a final Season 5, with seven episodes airing next summer and the final seven in summer 2016, according to The Hollywood Reporter. Crave Online, Deadline, Den of Geek, The New York Times, TV.com, TV Guide, TV Overmind, Variety and TheWrap also report on the renewal.
• John Wirth tells the Calgary Herald that it's "really nice to be able to know that we're working toward the end and take the time to consciously approach that."
• Basket of Kisses applauds Anson Mount's acting because "he is conveying so much with such sparse elegance."
Continue reading "Hell Announces Season 5 Renewal; John Wirth Speaks With Calgary Herald" »