Music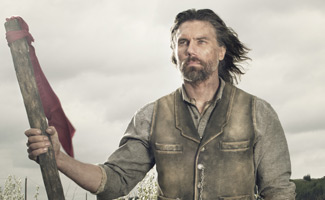 Hell on Wheels' original score is composed by Kevin Kiner, and its Emmy-nominated theme by Gustavo Santaolalla while the show's music supervision is by Linda Cohen. Below is a list of the musicians and songs featured in Season 2.
Songs from Season 1 are collected on the Hell on Wheels Soundtrack, available for purchase through iTunes.
SEASON 2 MUSIC:
Episode 1: Viva la Mexico
The Dead Weather, "Will There Be Enough Water"
Buy on iTunes | Buy on Amazon
"Dixie" (public domain), sung by Cullen in the prison wagon
"The Bonnie Blue Flag" (public domain), sung by Rebel bandits in the tavern
Episode 2: Durant, Nebraska
David Lindley, "Soul Of A Man"
Buy on Amazon
Beck, "Iron Horse"
Unavailable for Purchase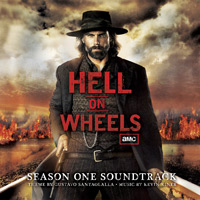 The Hell on Wheels soundtrack is now available online. The collection features an extensive list of music from the series' first season including the Emmy-nominated theme song by Gustavo Santoalalla and music by Kevin Kiner. Check out the complete list of songs below.
Track Listing:
1. Hell on Wheels Theme
2. Weak of Heart
3. Cullen the Hero
4. Survey Lily
5. Going to Church
6. Ruth and Joseph Kiss
7. Black Powder is Here
8. Searching Johnson's Tent
9. Elam Victorious
10. Drink to Feed Fire
Continue reading "Hell on Wheels Season 1 Soundtrack Now Available Online" »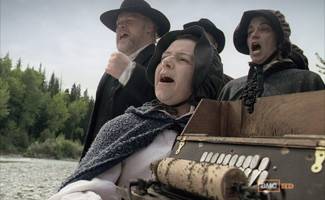 Who could forget Cullen singing "Dixie" to Reverend Cole or the haunting song that opens Episode 9, "Timshel?" There's a good reason why the music of AMC's Hell on Wheels is lauded by fans and critics alike. Below is a list of Season 1′s soundtrack for those who have been asking.
Episode 1: Pilot

Dead Weathers, "So Far From Your Weapon"

Ralph Stanley, "Twelve Gates to the City"

Maura O'Connel, "Stor Mo Chroi"
"Believe Me If All These Endearing Young Charms"

"Do Not Pass Me By"

"Shuck That Corn"