Interviews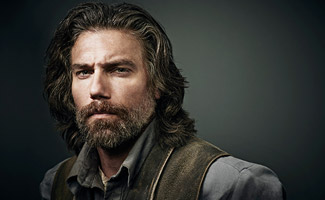 Anson Mount, who plays Cullen Bohannon on AMC's Hell on Wheels, talks about the challenges Cullen will face in Season 4 and the biggest lesson he's learned from playing the role.
Q: With three seasons now under your belt, has your approach to playing Cullen changed at all? 
A: Yes. My approach to Cullen has to change every season if you expect to have a character that's going to develop at all — a character that has the same conflicts or the same issues all the time is going to grow very boring. Walter White was described as a man who transforms from Mr. Chips to Scarface, and I thought that was brilliant. I'm not sure if I can define an arc as clearly as that for my character, but my touchstone word this year is "maturity." To Cullen, that means one thing towards the beginning of Season 4, and his approach towards that runs the risk of hamstringing him later in order to get through an interesting arc. I think it's interesting because, in a way, Bohannon and Durant will be crossing paths this season — Durant's going to the dark side, and Cullen is trying to pull himself out of the muck and do something that is beyond himself.
Q: Has it gotten easier or harder to play Cullen? Are you still discovering new things about him? Continue reading "Hell on Wheels Q&A – Anson Mount (Cullen Bohannon)" »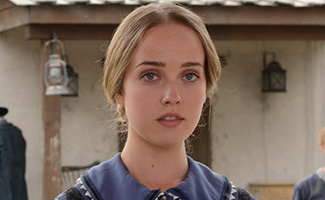 Siobhan Williams, who plays Naomi Hatch on AMC's Hell on Wheels, talks about her unique audition process and an eerie surprise on set.
Q: You've said that you received a "fake script and character breakdown" during your audition. What exactly does that mean?
A: When I went in for my audition, I was given a scene where I was playing a character who I didn't know too much about. In the scene, she had fallen off of her horse and [Cullen] Bohannon was there. She was being abrasive with him and not necessarily taking his advances very well, but by the end of the scene, she was really flirting with him. I think what they wanted to see was basically the chemistry between them.
Q: When did you find out which character you'd actually auditioned for?
A: I found out about a week later that I was in contention for the role of Naomi. Around that time, they mentioned that it was possible that my character would end up pregnant later in the series. They didn't say whose baby it was. I still didn't know that I was going to be getting together with Bohannon, so it wasn't until after I actually booked the role that I found out.
Q: Were you surprised at how Naomi's story eventually played out? 
A: I was very surprised. I didn't know until the finale that I was going to be married. That was a shocker to me. I had gone over, in my head, all of the possible directions that I thought the character could go by the end of the season and getting married was definitely not in the cards when I was thinking through. I was surprised in a very pleasant way.
Q: What was it like wearing the pregnancy prosthetic?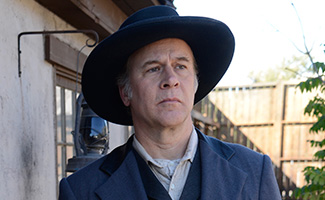 James Shanklin, who plays Aaron Hatch on AMC's Hell on Wheels talks about trending on Twitter and the realities of life in the 1860s.
Q: You've had a number of soap opera roles. How does shooting a Western compare? 
A: Soap opera is actually one of the hardest things I've had to do because – and I'm not going to be popular for saying this – but the writing is not very good. [Laughs] A lot of people probably know that. The fact that it's not very good makes it extremely difficult to memorize.
When you have good writing – and on Hell on Wheels, it's some of the best writing I've ever worked with – it's such a joy to work on and learn the lines. When you do something that is period, from the past, from our history, there's so much more at stake. It was life or death just to wake up and start your day with these people. The characters are just so rich, and what kid would not want to be in a gun fight in the Old West?
Q: You also have several "doctor" credits. How much do you know about medicine from the Old West?
A: Just that about everything was pretty painful. When you got injured, it was a major life-changing event back then. Life expectancy wasn't very long.
Q: How much were you told about your character's storyline this season?
A: They had told me that I would be reoccurring later on in the season, but I had no idea how I would come back or what the story was going to be. When I received the script, I had no idea what Aaron Hatch was going to be doing, so when I read about the rough riders and the shootout, I was like, "This is going to be so fun!"
Q: You originated a hashtag on Twitter, #WorldsWorstTVDad. How did that come about?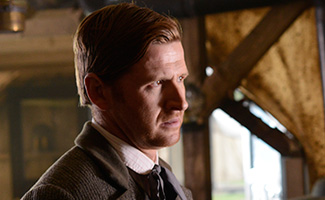 Damian O'Hare, who plays Declan Toole on AMC's Hell on Wheels, compares the show's themes to Shakespeare and talks about bonding with fellow Irishmen Phil Burke and Colm Meaney.
Q: You're a big Western fan. What's your favorite thing about the genre?
A: Most of the universal themes in Westerns are actually very Shakespearean, like revenge and love. Also, the settings and the new land — it's so epic and vast. It's beautiful territory where everyone is finding themselves in this brave new world. It lands itself in such great storytelling — and of course, with Hell on Wheels, it's a true story as well.
Q: You appeared in Hatfields & McCoys, another Western period drama. Did that help with your work on Hell on Wheels?
A: It did, and it was great in terms of research. It was the same time period, when the war had just finished, so it's the same people trying to live their lives amidst this newfound democracy.
Q: Did you know about the history of the Irish on the Transcontinental railroad before Hell on Wheels?
A: I was familiar with it, but not to the encyclopedic level. It was great to delve into that more and get to know the conditions these men worked with. The framework is so meticulously researched [by the production], so you can just do your job and not worry about historical inaccuracies.
Q: Were you aware of the Irish custom of marrying your brother's widow? Continue reading "Q&A – Damian O'Hare (Declan Toole)" »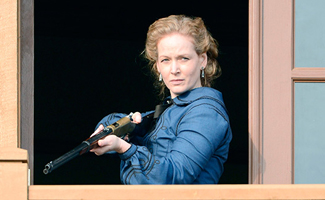 Chelah Horsdal, who plays Maggie Palmer on AMC's Hell on Wheels, talks about the evolution of her character and her love-hate relationship with corsets.
Q: You were on AMC's The Killing. Did that role lead to this one?
A: For The Killing, it was a very small role in the second season doing a Diane Sawyer-type character, interviewing Mayor Richmond after he had been shot. It didn't come up that I had done The Killing when I was in contention for Maggie Palmer, although I had been trying to get onto Hell on Wheels since the first season because I'm just such a big fan.
When I did the initial audition, it was for one scene in one episode. Ultimately, John Wirth [Showrunner/Executive Producer] and Mark Richard [Senior Writer/Co-Executive Producer] decided to develop the character a bit more. So, when I went into it, I had no idea what was going to happen with Maggie Palmer or if she was even going to come back. I was really excited when they told me.
Q: You're a prolific actor. How do you fit in the time to shoot a recurring role on a television show like this?
A: For a show like Hell on Wheels, I just like it so much that I was willing to sacrifice other shows to keep myself available for it. I put some things aside and said no to gigs that would have conflicted. It was all a surprise as things unfolded throughout the summer.
Q: You've tweeted about wearing corsets on set. Did you ever get used to dressing in period attire?
A: It was the first time I'd worn a corset for a show, and I can't say that I'm thrilled that the current series I'm working on also has corsets. However, Carol Case, who is the costume designer for Hell on Wheels, is such an unbelievably gifted artist that I would put on anything that she told me to. Maggie's costumes are built from the ground up and they really serve the era. Because of the corsets and the way they fit, it forces a different kind of beat in the way that one carries themselves.
Q: Maggie's quite the sharpshooter. Had you handled a gun much before Hell on Wheels?  Continue reading "Q&A – Chelah Horsdal (Maggie Palmer)" »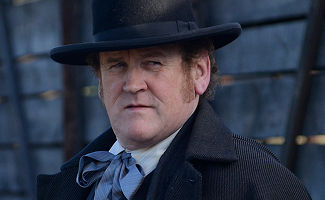 Colm Meaney, who plays Thomas Durant on AMC's Hell on Wheels, talks about surviving the "twists and turns" of Season 3 (and a shave from Anson Mount).
Q: After the events of Season 2, were you worried that Durant might have less of a presence in Season 3?

A: I thought Durant could possibly never be seen again after we shot the end of Season 2. [Laughs]… I think that's the interesting thing about a good drama show, is that there are many possibilities and things can go in any direction… The Swede certainly looked like he was dead, when he went off that bridge. How do you survive that? So I think it's good writing. It's good to see those surprising twists and turns.
Q: How much of Durant's schemes are you told in advance?
A: This season, I sat down with Mark [Richard] and John [Wirth], and he more or less said to me in broad terms, this is the arc we see for Durant this season, and that it's about him trying to claw his way back to Hell on Wheels. He starts out in jail and is marginalized from the front lines, but he starts to fight back from Episode 1.
Q: Have you ever been surprised by how Durant manages to get himself out of a bind?

A: Durant is a little bit of a Houdini, all right. [Laughs] He's very resourceful. That's one of the things I like about him. He thinks quickly. He thinks on his feet. He can adjust and he can pivot very quickly, and this is a great attribute in business and in the situation that he's in. I think it's become a quite amusing and very interesting character trait.
Q: There's a scene in Episode 308 where Cullen gives Durant a straight razor shave. What was it like to shoot that?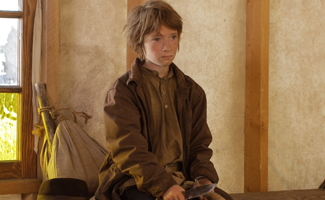 Tayden Marks, who plays Ezra Dutson on AMC's Hell on Wheels, shares acting tips from Anson Mount and talks about his favorite scene.
Q: You were initially going to appear as Cullen's son in a flashback. How'd you end up playing Ezra instead?
A: We originally did that scene a long time ago back in Season 1, but it ended up getting cut. Then, the role for Ezra came along and I think the producers knew that I had it in me to get that part.
Q: Is it weird watching yourself on TV?
A: Yeah, it's fun, though!
Q: Do your friends watch you too?
A: Yes. It's really cool because one of my friends' dad is a drama teacher.
Q: Ice hockey was a big part of your childhood. What made you decide to be an actor? 
A: My brother and sister both did ice hockey, so I started doing it. When I was doing it, I didn't really like it too much. I used to always like getting costumes and playing around, so I asked my parents if I could be an actor.
Q: Is it tough having to act without being able to talk?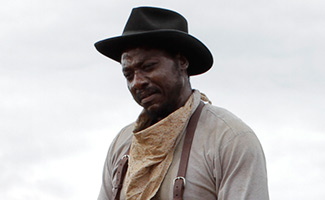 Dohn Norwood, who plays Psalms on AMC's Hell on Wheels, talks about his real-life relationship with Common and the fight scene he kept going between takes.   
 Q: For a bit last season it looked like Psalms might not make it. What did you think when you found out that you'd be promoted to series regular for Season 3?
A: Like all actors, it's great to have the upgrade from recurring to regular… I was looking forward to some meatier moments for Psalms.
Q: Cholera hits Hell on Wheels this season. Were you worried for Psalms?
A: No. At this point, with them investing in me being a regular, I hope the pendulum is no longer swinging over my head, you know what I mean? I knew that there would be some dangers that come, whether it be the Mormons, the natives, or disease… I just knew that it was another one of the hardships that the characters have to endure.
Q: What have you learned from the show as an actor?
A: James Dean said that the best acting class is in front of the camera, and I think anyone, whether they be a trained actor such as myself or a novice, can only get better by performing in front of the camera… [Director of Photography] Marvin Rush does a great job of bringing certain things to our attention. For example in Episode 305, there was some sunlight that was taking place… and he was letting me know that when I lean forward at certain points, it would highlight my eyes or my mouth and that I could sort of play with that to create an effect or a moment.
Q: Last season you said there was one late night where you had to do pushups to stay awake. Any nights like that this season?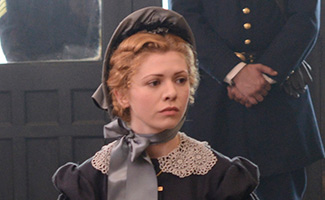 Kasha Kropinski, who plays Ruth on AMC's Hell on Wheels, talks about acting in the elements and her favorite piece of Ruth wisdom.
Q: You've done quite a bit of acting while standing in a river…
A: It's sort of like my natural habitat now, wading around in that river. What I always find amusing is — just to regulate our body temperature and protect the actors — we have to wear wetsuits and other sort of water gear. For example, during the Baptism scene last season, I had this flesh-colored unitard underneath all my clothes. It makes it extremely difficult to walk, especially when you're wearing a corset. [Laughs] I felt like Gumby.
Q: Robin McLeavy said that filming the river scene in Episode 5 this season was difficult for her. How did you get through it?
A: Robin was enormously helpful to me in that scene. She's a very spiritual person, and that was such a valuable asset just to feel that radiating off her… We couldn't get in the water to rehearse because of the costumes, and they couldn't have our dresses getting wet, so we stood on the bank and we talked about it. Just to be in that space, amongst nature — I was glad that that scene didn't take place in the city or amongst the tents because it added this sort of extraterrestrial aspect to it.
Q: Ruth reveals that she was pregnant with Joseph Black Moon's baby. Were you surprised?
Phil Burke, who plays Mickey McGinnes on AMC's Hell on Wheels, talks about working with noted playwright Neil LaBute on the show and why he prefers being a modern day bartender.   
Q: Mickey's now running a successful whorehouse and saloon. Are you as good a businessman as your character?
A: [Laughs] I'd like to think I could run it a little bit better. But under the circumstances, Mickey is doing a pretty damn good job.
Q: You've actually bartended a lot in real life. Do people recognize you from the show while you're bartending?
A: Yeah, it's weird when somebody gives you an iPhone picture of yourself. You're like, okay, great, so that's two pints of Guinness and two shots of Jameson and did you guys want to eat?
Q: Is it more fun to bartend in the 1860s or today?
A: They don't give me any real alcohol or any real customers [on the show]. [Laughs] So I'm going to have to say bartending in 1867 is not something that I've actually enjoyed, just because I haven't actually sold anything. I think that the mark of any good bartender is to actually make a sale and get some tips.
Q: Would you have been a bartender if you'd lived in Hell on Wheels?
A: No. I definitely don't think I would have. I think I would have been more on the laboring side, just because it's a steady job. All you're doing is you show up every day, work 10 or 12 hours a day, and then you get your money… Either that or I would make my way up to Sheriff.
Q: What would Common have to say about that, as the current Chief of Police?