Interviews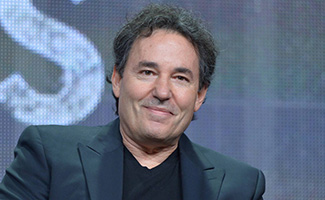 In this interview comprised of questions from Hell on Wheels fans, showrunner John Wirth talks about what to expect in Season 5 and his favorite scenes from the series' first four seasons.
Q: In Season 1, the focus was Cullen's search for vengeance for his family. Now it's the search for his family. Did you go back and study Season 1 when planning Season 4? Also, how do you balance Cullen's desire for family with his addiction to the railroad? — Speech Girl
A: In life, we sometimes go in circles when we don't necessarily want to. It is a common theme that runs through the series. Cullen's search for his family now is more about healing himself and becoming a whole person, as opposed to just trying to get the anger and anguish out. We've seen his attachment to the railroad in the past. In the finale this season, he ends up quitting, but then joining the [Central Pacific] railroad in order to find his family. What Huntington said is a good question for Cullen: How badly do you want to find your family?
Q: A script can possibly and suddenly evolve into a storyline you had not previously pondered. Has this been the case with Season 4 of Hell on Wheels, or did you have a clear understanding from beginning to end as to how this current season would play out? — Cathy P.
A: The writers have a lot of lead time before we begin production, so we have a pretty good road map before we get started. This season, a couple of things surprised me. The death of Sidney Snow [in Episode 411] and the decision to amputate his leg to try to save him was something that came up. We didn't plan on that. The hanging of Ruth [in Episode 412] was also not something we planned on early in the season. We thought Sidney might shoot Cullen. As we started to move through the season, we knew Ezra would be killed, and it emerged that Ruth would be Sidney's killer — then we decided where to go from there with her character.
Q: Do you know what will happen to each character by season's end, or do you allow the characters a chance to develop with the storyline as the season progresses? – Marie
Continue reading "Hell on Wheels Q&A – Showrunner John Wirth Answers Fan Questions" »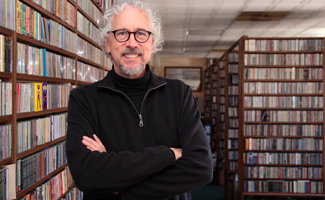 Rick Clark, Music Supervisor on AMC's Hell on Wheels, talks about selecting music for Season 4 and featuring a Bob Dylan song in the season finale.
Q: This is your first season as Music Supervisor for Hell on Wheels. What interested you most about working on the series?
A: I really enjoy well-conceived, well-written westerns. Hell on Wheels, in my book, is one of the best. The writing on the show is extraordinary, as is the acting. All around, it's a top-notch show with rich, detailed characters and powerful moral dilemmas.
Q: The Season 4 finale features a just-released alternate take of a Bob Dylan classic, "I Shall Be Released." How did you come to select that song as an appropriate one to use in the episode's closing moments?
A: John Wirth, the showrunner, called me up with an idea for putting a piece of music in at the very last scene. He suggested the song, but performed by a different artist. I liked the song, but that particular version didn't communicate what I felt was most effective for the scene. What it all comes down to is what works for what's at hand. I don't care what the song is or who it is – all I want to do is feel something. I just want to support the power of the moment. There's an emotional nakedness to Dylan's performance of this song, and when I put it up against the picture, it worked.
So, I called the guys at Dylan's office and we arrived at this recording that, at that point, had been previously unreleased. I listened to it and immediately thought it was a perfect fit. A lot of people would have gone for a grand, big finish for the final scene, but to me, Dylan's more personal feeling performance left enough air in the scene to allow Anson [Mount]'s acting to really breathe. They complemented each other. The final look on Cullen's face, combined with this beautiful song, is pretty powerful.
Q: Talk a little bit about the process for arranging for the rights to use a song in an episode. Were there any unique challenges with arranging for the use of "I Shall Be Released (Take 2)"?
Continue reading "Hell on Wheels Q&A – Rick Clark (Music Supervisor)" »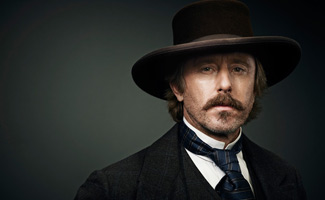 Jake Weber, who plays John Campbell on AMC's Hell on Wheels, talks about his love for playing bad guys and his fight scene with Colm Meaney (Durant).
Q: What was it like to join the cast of a show that was entering its fourth season? Did anyone in particular make you feel at home on set?
A: I've known Anson [Mount] for about 10 years. He gave me a heads up that it would be a terrific group of people, a terrific writing staff, and a well-organized machine that I was joining. That proved to be the case. It was seamless. I felt welcomed and encouraged.
Q: How does feeling comfortable on set help when acting with your castmates?
A: It's always nice to like the people you're acting with. That always helps. I think Anson provides great leadership and makes it clear that no misbehavior or prima donna-like antics will be indulged.
Q: What appealed to you most about the role of John Campbell? Was there anything in particular about the character that stood out to you?
Continue reading "Hell on Wheels Q&A – Jake Weber (John Campbell)" »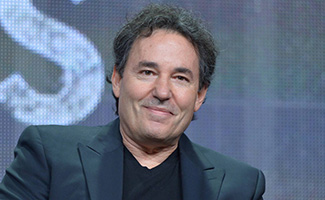 Got any questions about Hell on Wheels? Here's your opportunity to get the inside scoop on the show, straight from Show Runner and Executive Producer John Wirth. Post your queries in the comments section below by Monday, November 24 at 9AM ET. Then check out John's fan Q&A, which will be posted exclusively on amc.com later that week, to find out if he answered yours.
The Hell on Wheels Season 4 finale airs Saturday, November 22 at 9/8c.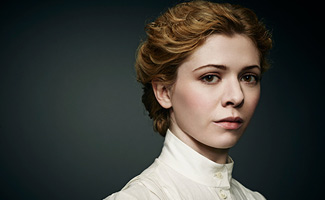 Kasha Kropinski, who plays Ruth on AMC's Hell on Wheels, talks about shooting her final scene and a surprise from the crew on her last day of filming.
Q: When you began shooting Season 4, how much did you know about Ruth's storyline in the upcoming season?
A: I knew absolutely nothing at the start of the season. They were very secretive and I couldn't get any story out of them, so everything was a surprise. As each script came through, I read and performed it, and I experienced the evolution of Ruth this season as it happened. When I first read about Sidney Snow, I thought, oh gosh, here's a bad guy to stir things up in town. I didn't know what was to come.
Q: Did you find that being kept in the dark helped your performance?
A: There's spontaneity when you don't know what you're going to be given the next week. If I knew throughout the entire season that Ruth was going to die, I think that would have affected my performance in a negative way. I would have been obsessing over it and worrying, and I think that can dictate your choices as an actor. I think it's beneficial to have the freedom of ignorance.
Q: Ezra dies in the church fire set by Sidney Snow in Episode 409. Have you gotten close off-screen with Tayden Marks after having had so many scenes together?
Continue reading "Hell on Wheels Q&A – Kasha Kropinski (Ruth)" »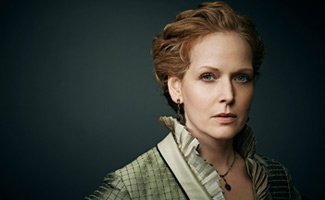 Chelah Horsdal, who plays Maggie Palmer on AMC's Hell on Wheels, talks about how her character has influenced her life and what she would name her own hotel.
Q: You've previously acted in various genres, from horror to sci-fi to comedy. What's unique about being in a Western, and what's been unique about being on Hell on Wheels, in particular?
A: What's not unique about Hell on Wheels? One of the things that drew me to this project, beyond just the awesome material and being a fan, was the character and the strength of Maggie Palmer. I feel like the great thing about this show is that every character — despite the fact that they may have challenges and insecurities — is very strong. I think that comes from the need to survive during that era, and I think that's almost genre-specific to the Western. Every character is so driven towards their own goals, and it makes it interesting to play with.
Q: Maggie is a no-nonsense business woman. Has she taught you anything about your own self?
A: I started playing Maggie just before I turned 40. It's hard to say if she's influenced the woman that I continue to become, or vice versa, if the woman I continue to become influences Maggie. I definitely feel much more connected to a woman like her in how I'm grounded. She's so strong and seemingly unafraid of most things, and I believe that to be how I live my life.
Q: Talk a little bit about the scene in Episode 411, "Bleeding Kansas," in which Maggie helps Cullen amputate Sidney's leg. Was it challenging to film such a graphic scene?
Continue reading "Hell on Wheels Q&A – Chelah Horsdal (Maggie Palmer)" »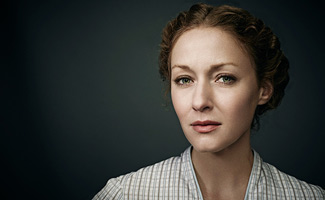 Jennifer Ferrin, who plays Louise Ellison on AMC's Hell on Wheels, talks about handling an authentic printing press and how her character has inspired her.
Q: You were a newcomer to Hell on Wheels last season. What has surprised you the most about being on the show so far?
A: I've never worked on a Western. It's a very specific genre. How well everything was written and the quality of production was a good surprise.
Q: You're now in your second season of playing Louise Ellison. What kinds of things has your character taught you about women during the 19th century?
A: I actually really love playing women in period because there's so many social constraints that are driving these characters. But underneath all that is the same kind of humanity and human nature that we all have, no matter the time period. Women in particular were expected to behave and act a certain way and keep everything buttoned up. To play a woman who doesn't really exist within any of those confines was great. Her job as a reporter is very much in a man's world, as well as her liberal mind in her personal life. Knowing that she worked in this real, hard-nosed profession isn't too far off from the way women have to compete now.
Q: You've got a new workspace this season. How do you like The Cheyenne Leader office set? Continue reading "Hell on Wheels Q&A – Jennifer Ferrin (Louise Ellison)" »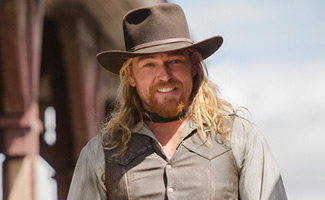 Jonathan Scarfe, who plays Sidney Snow on AMC's Hell on Wheels, talks about his first day on set and spending 14 months off the grid.
Q: How would you describe Sidney Snow in one word?
A: Snake-charmer. I think he's a charming sociopath freed from the shackles of a conscience. [Laughs]
Q: What was your first day on set like? Was it intimidating to join the cast of a show that's already in its fourth season?
A: Well, sometimes it can be, and I've definitely had that experience before. But from the moment I got the job – I think about five minutes after my agent called and told me I got the job – Anson [Mount] called my cell phone and said, "Hey, I want to welcome you to the family. I hope you like rehearsing. We have barbeques every weekend out here, we're so happy to have you, and we can't wait to meet you in person." I couldn't have felt more welcomed. It was just great.
Q: Talk about the scene at the beginning of Episode 405, "Life's a Mystery," when we first meet Sidney. Was it unsettling to film with your head in a noose?
Continue reading "Hell on Wheels Q&A – Jonathan Scarfe (Sidney Snow)" »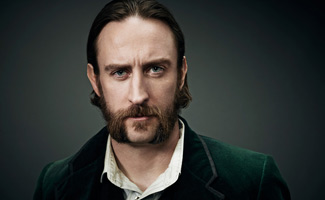 Phil Burke, who plays Mickey McGinnes on AMC's Hell on Wheels, talks about naming his own casino and working with Neil LaBute.
Q: How has Mickey evolved as a character since we met him back in Season 1 in his Magic Lantern tent?
A: The whole thing about Mickey is, he's a survivor. The railroad moves forward, and I think Mickey has jumped on that train, for lack of a better phrase. As the railroad goes, Mickey's going too. He's learning from people like Bohannon and Durant. He's picking up the ways of the world and what it takes to survive out in the West.
Q: Mickey begins the season running Cheyenne's casino. Do you like to gamble? Any favorite games? What would your casino be called if you owned one?
A: Fortune's Fool Casino and Burlesque Extravaganza! I'm not a huge gambler, but when I am in a casino, I love the crazy video slots. I think it's the bright lights and the sounds. I went to Atlantic City, and I remember hitting for $800 and said, "Get up, quick! Before they realize we're winning!"
Q: Did Hell on Wheels teach you that?
A: Yes. Run before they take it from us!
Q: Mickey is involved in several fight scenes this season. Talk a little bit about how you prepared for the fight in the mud with Jessup in Episode 405.
Continue reading "Hell on Wheels Q&A – Phil Burke (Mickey McGinnes)" »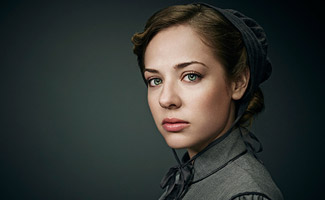 MacKenzie Porter, who plays Naomi Bohannon on AMC's Hell on Wheels, talks about composing music inspired by the show and acting with a baby.
Q: You're originally from southern Alberta, where the show is filmed. Did you feel at home during production? Do you know Calgary well enough to tip your castmates off about great local places?
A: I know Calgary pretty well and I felt close to home. On the weekends, I could go home to my parents and be with my family. But the cast had already been there for three years, so they knew more hot spots than I did!
Q: You grew up on a cattle and bison ranch. Do a lot of things on set feel like second nature to you? For example, are you experienced with riding and handling horses?
A: Yeah, definitely. It's such a whole different world on set because of the era that we're creating, but the horses and even the mud were very similar to the ranch I grew up on. I did feel comfortable and safe. Although, I was only around horses in a couple of scenes, it did feel like second nature.
Q: In Episode 408, Naomi says goodbye to Cullen and takes baby William back to the Mormon fort. Do you think she made the right choice? If you were in her shoes, what might you have done?
Continue reading "Hell on Wheels Q&A – MacKenzie Porter (Naomi Bohannon)" »