Interviews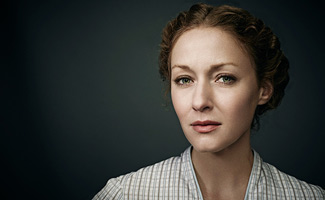 Jennifer Ferrin, who plays Louise Ellison on AMC's Hell on Wheels, talks about handling an authentic printing press and how her character has inspired her.
Q: You were a newcomer to Hell on Wheels last season. What has surprised you the most about being on the show so far?
A: I've never worked on a Western. It's a very specific genre. How well everything was written and the quality of production was a good surprise.
Q: You're now in your second season of playing Louise Ellison. What kinds of things has your character taught you about women during the 19th century?
A: I actually really love playing women in period because there's so many social constraints that are driving these characters. But underneath all that is the same kind of humanity and human nature that we all have, no matter the time period. Women in particular were expected to behave and act a certain way and keep everything buttoned up. To play a woman who doesn't really exist within any of those confines was great. Her job as a reporter is very much in a man's world, as well as her liberal mind in her personal life. Knowing that she worked in this real, hard-nosed profession isn't too far off from the way women have to compete now.
Q: You've got a new workspace this season. How do you like The Cheyenne Leader office set? Continue reading "Hell on Wheels Q&A – Jennifer Ferrin (Louise Ellison)" »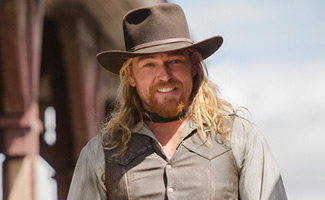 Jonathan Scarfe, who plays Sidney Snow on AMC's Hell on Wheels, talks about his first day on set and spending 14 months off the grid.
Q: How would you describe Sidney Snow in one word?
A: Snake-charmer. I think he's a charming sociopath freed from the shackles of a conscience. [Laughs]
Q: What was your first day on set like? Was it intimidating to join the cast of a show that's already in its fourth season?
A: Well, sometimes it can be, and I've definitely had that experience before. But from the moment I got the job – I think about five minutes after my agent called and told me I got the job – Anson [Mount] called my cell phone and said, "Hey, I want to welcome you to the family. I hope you like rehearsing. We have barbeques every weekend out here, we're so happy to have you, and we can't wait to meet you in person." I couldn't have felt more welcomed. It was just great.
Q: Talk about the scene at the beginning of Episode 405, "Life's a Mystery," when we first meet Sidney. Was it unsettling to film with your head in a noose?
Continue reading "Hell on Wheels Q&A – Jonathan Scarfe (Sidney Snow)" »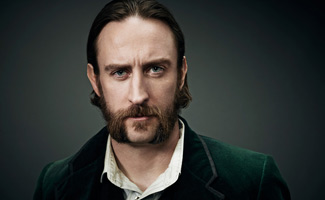 Phil Burke, who plays Mickey McGinnes on AMC's Hell on Wheels, talks about naming his own casino and working with Neil LaBute.
Q: How has Mickey evolved as a character since we met him back in Season 1 in his Magic Lantern tent?
A: The whole thing about Mickey is, he's a survivor. The railroad moves forward, and I think Mickey has jumped on that train, for lack of a better phrase. As the railroad goes, Mickey's going too. He's learning from people like Bohannon and Durant. He's picking up the ways of the world and what it takes to survive out in the West.
Q: Mickey begins the season running Cheyenne's casino. Do you like to gamble? Any favorite games? What would your casino be called if you owned one?
A: Fortune's Fool Casino and Burlesque Extravaganza! I'm not a huge gambler, but when I am in a casino, I love the crazy video slots. I think it's the bright lights and the sounds. I went to Atlantic City, and I remember hitting for $800 and said, "Get up, quick! Before they realize we're winning!"
Q: Did Hell on Wheels teach you that?
A: Yes. Run before they take it from us!
Q: Mickey is involved in several fight scenes this season. Talk a little bit about how you prepared for the fight in the mud with Jessup in Episode 405.
Continue reading "Hell on Wheels Q&A – Phil Burke (Mickey McGinnes)" »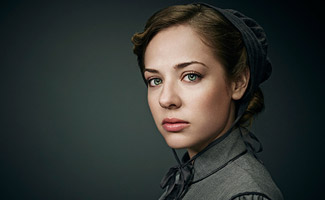 MacKenzie Porter, who plays Naomi Bohannon on AMC's Hell on Wheels, talks about composing music inspired by the show and acting with a baby.
Q: You're originally from southern Alberta, where the show is filmed. Did you feel at home during production? Do you know Calgary well enough to tip your castmates off about great local places?
A: I know Calgary pretty well and I felt close to home. On the weekends, I could go home to my parents and be with my family. But the cast had already been there for three years, so they knew more hot spots than I did!
Q: You grew up on a cattle and bison ranch. Do a lot of things on set feel like second nature to you? For example, are you experienced with riding and handling horses?
A: Yeah, definitely. It's such a whole different world on set because of the era that we're creating, but the horses and even the mud were very similar to the ranch I grew up on. I did feel comfortable and safe. Although, I was only around horses in a couple of scenes, it did feel like second nature.
Q: In Episode 408, Naomi says goodbye to Cullen and takes baby William back to the Mormon fort. Do you think she made the right choice? If you were in her shoes, what might you have done?
Continue reading "Hell on Wheels Q&A – MacKenzie Porter (Naomi Bohannon)" »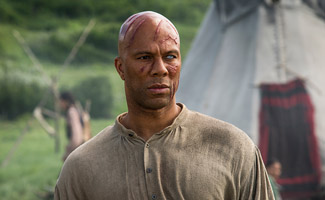 Almost being hanged, gaining and losing a baby, surviving a bear attack — it hasn't been an easy journey for Hell on Wheels' Elam Ferguson. AMC asked actor Common to share his insights on some of his character's most memorable moments. Find out what makes these scenes special and watch clips of the moments themselves.
Cullen Saves Elam From Hanging – Season 1, Episode 7, "Revelations"
"The scene at the campfire between Elam and Cullen Bohannan really was the first time you saw the two men open up to each other, so it was a pivotal moment — and the hanging scene was really tough to be a part of."
Continue reading "Hell on Wheels' Common Shares Five of His Favorite Elam Ferguson Scenes" »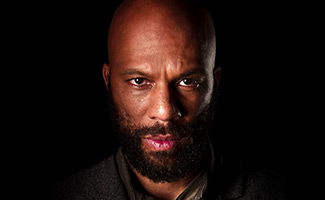 In this interview comprised of questions from Hell on Wheels fans, Common talks about a memorable blooper on set, his final scene, and what it was like to let go of Elam Ferguson.
Q: How difficult was the transition from music to acting? — Burnside
A: It was difficult because it was something I had never done before, but at the same time, it was so invigorating and energizing and so inspiring that it really wasn't difficult. Because I love it so much, and I feel like it's a blessing to do, I'm always excited about it. When you love something, it's not as difficult. One difficult aspect, though, was having people within the film and television industry see me as an actor and not just Common, the rapper. Being able to be seen as the actor that I am and let my work do the talking – that was difficult. I definitely know that I'm growing. It's a journey, but I'm with the journey.
Q: When you're immersed in playing your character, how much of Elam is drawn from historical interpretation, and how much is drawn from your own experiences? — Snake Eyes
Continue reading "Hell on Wheels Q&A – Common (Elam Ferguson) Answers Fan Questions" »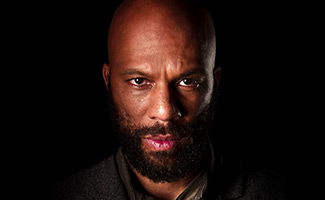 Got any burning questions for Common about playing Elam Ferguson on AMC's Hell on Wheels? Here's an opportunity to ask! Submit your query in the comments section below by Monday, September 15 at 9AM/8c. Then check out Common's fan Q&A, which will be posted exclusively on amc.com later that week, to find out if he answered yours.
Hell on Wheels airs Saturdays at 9/8c on AMC.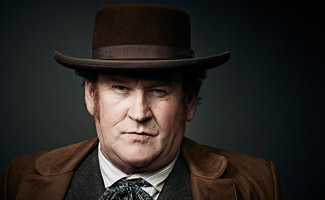 Colm Meaney, who plays Thomas Durant on AMC's Hell on Wheels, talks about the evolution of his character and the relationship between Durant and Eva.
Q: You're now in your fourth season of playing Thomas Durant. In what ways do you think Durant has changed most since the series began?
A: Well, I think it's been a tough journey. He's been battered and bruised, he's been shot and nearly died, he's been broke, he's been in jail — a lot of stuff has happened to him that he probably didn't anticipate. It's been a rough ride, and I think now he's much more realistic about what he can get done. He still has that burning ambition to get the railroad done and get it through, but I think he's aware that it's not as easy as he thought.
Q: Though the arrival of John Campbell in Cheyenne would seem to present a major challenge to Durant's authority, Durant dismisses him as "nothing more than a bureaucrat." Do you think Durant feels at all threatened by him?
A: Durant has dealt with much more senior people than Campbell. What we haven't seen a lot of in the last few seasons is Durant operating in Washington. He has a number of senators and various high-card people in his pocket, so I don't think he's threatened. I think Campbell is an irritant, but I don't think Durant is up at night worrying about him particularly. Durant has dealt with much more powerful people than Campbell.
Q: In Episode 404, Durant goes out of his way to help Eva and wants nothing in return, telling her they're "friends." What do you think his motivations are for looking out for her?
Continue reading "Hell on Wheels Q&A – Colm Meaney (Thomas Durant)" »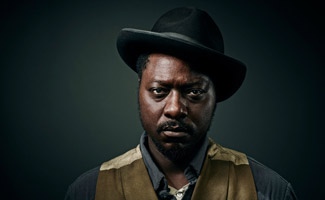 Dohn Norwood, who plays Psalms on AMC's Hell on Wheels, compares himself with his character and shares his techniques for staying focused while on set.
Q: What were you most looking forward to when you started filming Season 4?
A: Revisiting the character of Psalms, and further development of the character. When he was introduced, he was a Freedman, and you didn't think that there would be anything new or different from the other guys. Now, he's starting to see things differently as he becomes head of labor on the railroad. To see him go from being property to being in charge is a huge leap. It's a major arc: He went from being this angry, bitter guy who looked out for himself to looking out for others.
Q: You've been playing Psalms for four seasons now. In what ways are you most similar to Psalms? In what ways are you the most different?
A: We're similar in that he's a good storyteller and he looks out for others and his fellow man. Taking the time period into consideration, African Americans were very limited in the choices that they had, so I would imagine Psalms had a more tenacious personality. It's not that I'm not tenacious, but you had to do a lot more then. That was probably a drive that you had and didn't even know it. At that time, you had no idea if you would live to see the next day. You counted your blessings.
Q: You've had your share of fight scenes on the show. Do you enjoy doing them? Were you hoping there would be more this season? Continue reading "Hell on Wheels Q&A – Dohn Norwood (Psalms)" »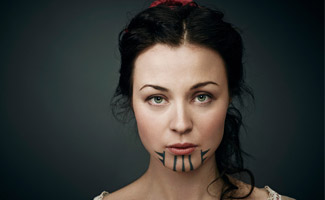 Robin McLeavy, who plays Eva on AMC's Hell on Wheels, talks about the evolution of her character and why her chin tattoo is so iconic.
Q: You're now in the fourth season of playing Eva. What's the most interesting thing you've learned about your character so far?
A: The most interesting thing I've learned about Eva is how resilient she is, and how much of a romantic she is as well. She started out really tough in Season 1, and then, of course, the whole Elam and Eva love affair was a big milestone in her life and in her evolution. It really allowed her to get in touch with the more human, softer, feminine side of herself. Giving away baby Rose was a real destruction point, and I found it fascinating that part of her survival mechanism in giving away the baby was that she did it not just to protect the baby, but also to protect herself and Elam from a community and an environment that might not be nurturing of a child belonging to a mixed-raced couple. She did that, and yet she still wanted to keep the relationship with Elam. That didn't happen, so her resilience had to come into play. That's what I'm exploring this season: How does Eva bounce back from her lowest point possible and build herself a new identity?
Q: Has the new season presented any new challenges for you?
A: Yes. I had a really strange experience at the start of the season, where I just felt really numb and I couldn't figure out if it was me, as an actor. I figured out eventually it was because Elam isn't in scenes with me anymore.
Q: So did being without Elam affect both Eva and you, as an actor, as well?
Continue reading "Hell on Wheels Q&A – Robin McLeavy (Eva)" »