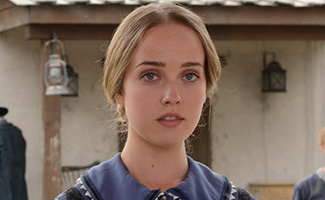 Siobhan Williams, who plays Naomi Hatch on AMC's Hell on Wheels, talks about her unique audition process and an eerie surprise on set.
Q: You've said that you received a "fake script and character breakdown" during your audition. What exactly does that mean?
A: When I went in for my audition, I was given a scene where I was playing a character who I didn't know too much about. In the scene, she had fallen off of her horse and [Cullen] Bohannon was there. She was being abrasive with him and not necessarily taking his advances very well, but by the end of the scene, she was really flirting with him. I think what they wanted to see was basically the chemistry between them.
Q: When did you find out which character you'd actually auditioned for?
A: I found out about a week later that I was in contention for the role of Naomi. Around that time, they mentioned that it was possible that my character would end up pregnant later in the series. They didn't say whose baby it was. I still didn't know that I was going to be getting together with Bohannon, so it wasn't until after I actually booked the role that I found out.
Q: Were you surprised at how Naomi's story eventually played out? 
A: I was very surprised. I didn't know until the finale that I was going to be married. That was a shocker to me. I had gone over, in my head, all of the possible directions that I thought the character could go by the end of the season and getting married was definitely not in the cards when I was thinking through. I was surprised in a very pleasant way.
Q: What was it like wearing the pregnancy prosthetic?