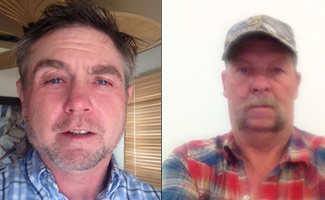 Ken Wills and Justin Onofriechuk, Prop Masters for AMC's Hell on Wheels, talk about replicating authentic props and the gun Ruth used to shoot Sidney Snow in Episode 410.
Q: Season 4 includes a number of new sets, including the casino, the Palmer hotel, the railroad office, and the Cheyenne Leader office. Were there any sets that were especially challenging to provide props for?
KW: I think the printing press was the biggest challenge this year, and that was a matter of having to show the actors who were working in there how to run it. We had to teach Jennifer Ferrin (Louise), and she was brilliant. We taught her once, and that's all it took.
JO: I personally got lucky because Ken had already established that set, so I ran away from it as far as I could. [Laughs] I walked in and everything was set up for me. My favorite set was the casino because it had all the liquor in it. I enjoy doing food scenes, and a lot of props guys don't. I enjoy serving the food, having the food look good, and watching the people actually enjoy it.
Q: Talk a little about the press. Where did you find it?
KW: We were lucky enough to have some help. Pieces were found from museums and all over the U.S. It's original stuff.
Q: Are there any other notable props on any of the sets that fans should be sure to notice?
Continue reading "Hell on Wheels Q&A – Ken Wills and Justin Onofriechuk (Prop Masters)" »