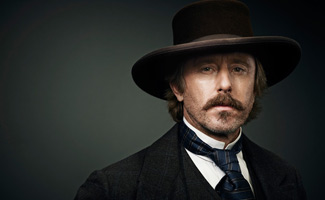 Jake Weber, who plays John Campbell on AMC's Hell on Wheels, talks about his love for playing bad guys and his fight scene with Colm Meaney (Durant).
Q: What was it like to join the cast of a show that was entering its fourth season? Did anyone in particular make you feel at home on set?
A: I've known Anson [Mount] for about 10 years. He gave me a heads up that it would be a terrific group of people, a terrific writing staff, and a well-organized machine that I was joining. That proved to be the case. It was seamless. I felt welcomed and encouraged.
Q: How does feeling comfortable on set help when acting with your castmates?
A: It's always nice to like the people you're acting with. That always helps. I think Anson provides great leadership and makes it clear that no misbehavior or prima donna-like antics will be indulged.
Q: What appealed to you most about the role of John Campbell? Was there anything in particular about the character that stood out to you?
Continue reading "Hell on Wheels Q&A – Jake Weber (John Campbell)" »