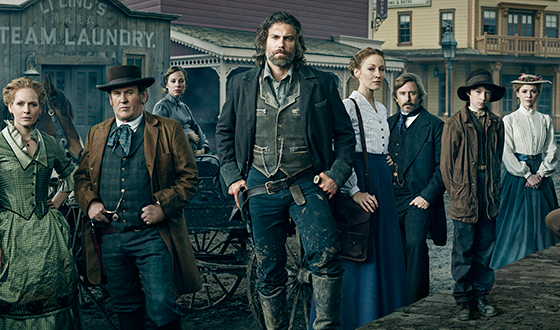 Season 4 of Hell on Wheels premieres this Saturday, August 2 at 9/8c. Does the wait feel as grueling as the construction of the transcontinental railroad? Here are ten ways to kill your time:
1. Find out what lies ahead by watching "A Look at Season 4," featuring interviews with cast members including Anson Mount (Cullen Bohannon), Robin McLeavy (Eva), MacKenzie Porter (Naomi Hatch), Jake Weber (John Campbell), and Phil Burke (Mickey McGuinnes).
2. Get a video introduction to the new characters you'll be meeting in Season 4, including Naomi (MacKenzie Porter), John Campbell (Jake Weber), Marshal Jessup (Peter Benson), and Heckard (Billy Wickman).
3. Take a video tour of Season 4′s Cheyenne set led by Anson Mount for the inside scoop on featured locations including the Palmer House hotel and the offices of the Cheyenne Leader, as well as an up-close look at the amazing amount of detail put into each set.
4. Preview the new season with 12 sneak peek photos, plus a Season 4 cast gallery.
5. Get to know more about the upcoming season by reading an exclusive interview with Anson Mount in which he discusses the challenges Cullen will face and the biggest lesson he's learned from playing the role.
Continue reading "Ten Ways to Get Ready for the Hell on Wheels Season 4 Premiere This Saturday at 9/8c" »