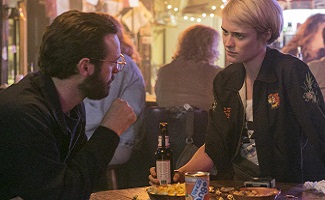 This week, viewers can catch Scoot McNairy and Mackenzie Davis in some new movies, while Halt and Catch Fire is TBI's show of the week. Plus, Indiewire calls Halt a highlight of television this summer. Read on for more:
• Variety reports that Scoot McNairy has been cast in Our Brand is Crisis, a film starring Sandra Bullock.
• TheWrap, asserting that Mackenzie Davis "has caught fire thanks to her performance as computer whiz Cameron Howe," reports the actress is starring in Sophia Takal's Always Shine, is also currently filming Anna Axster's A Country Called Home, and is up for a role in a Ridley Scott movie.
• TBI spotlights Halt and Catch Fire as the show of the week, declaring, "Amid a glut of procedurals and a resurgence of period drama on TV, Halt & Catch Fire has trodden new drama ground."
Continue reading "Scoot McNairy, Mackenzie Davis Book Movie Roles; Halt is Show of the Week" »