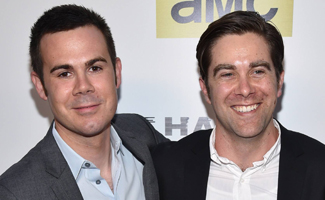 Christopher Cantwell and Christoper C. Rogers, creators, co-executive producers and writers of AMC's Halt and Catch Fire, talk about their inspiration for the series and why Lee Pace is the perfect Joe MacMillan.
Q: How long have you two been writing partners? 
CR: Chris and I met when we were working together in social media. We were working together for about a year before we went out for beers and realized we were both dream-deferred writers and saw a chance to make a run at this.
Q: What inspired the creation of this show? Why did you want to tell this story?
CC: My father was in the computer field in the early '80s. He actually moved my family down from Chicago to Texas when I was six weeks old or so and took a job in system software. I saw his story and his experiences on a day-to-day basis with his job, and Chris and I were trying to figure out what to write next. We talked about the different relationships [my Dad] had with these brass knuckle bosses, like John Bosworth, and sales engineers he'd partner with like Gordon Clark. That informed some of the relationships [on the show] and gave us a depth of the world. From there, Chris and I started to research what was going on in computers in general at the time in Texas and we stumbled upon this reverse engineering story. We thought this would be a story people didn't know and an interesting way into the world that we're all familiar with.
Q: Chris Cantwell, how did you pull from your own personal experience when working on this show? Continue reading "Halt and Catch Fire Q&A – Christopher Cantwell & Christopher C. Rogers (Creators, Co-Executive Producers and Writers)" »