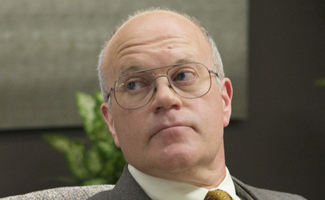 Mike Pniewski, who plays Barry on AMC's Halt and Catch Fire, talks about his favorite piece of technology and which role he's always wanted to play.
Q: You've played a football coach, a detective, and now you play a lawyer. Is there any other type of role or character you haven't played but have always wanted to?
A: The only one that ever comes to mind when people ask me that question is some day, I want to get the girl. I always play the best buddy or the guy next door or the brother of the handsome guy who gets the girl. Someday, I hope to get the girl, but at this point in my career, it's probably going to be some nursing home movie.
Q: Did any bits and pieces of the '80s resonate with you after working on the show?
A: A lot of it did. A lot of the clothes did, the glasses that I wear — I had a pair of glasses very similar to those in the '80s. The clothes felt very similar to a lot of things I wore. Just looking around, it was almost like time travel. I got out of college in '83 so I was in my 20s in the '80s. Your senses are very alive at that time. You remember that time very vividly. All of it felt very real and very much like I was back in my 20s again.
Q: Were there any challenges that were unique to your role as Barry?  Continue reading "Halt and Catch Fire Q&A – Mike Pniewski (Barry)" »