Press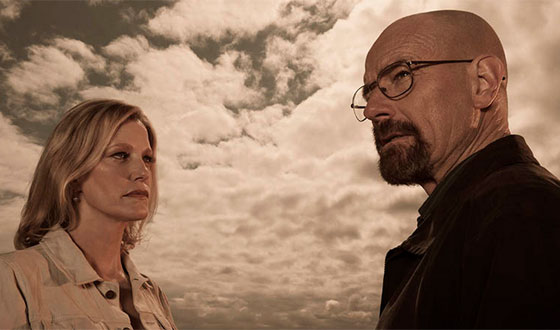 Today the Screen Actors Guild announced their nominees for the 20th Annual Screen Actors Guild awards and AMC has garnered five nominations. Breaking Bad received nods for outstanding performances in the television drama category for Anna Gunn, Bryan Cranston, the ensemble cast and the stunt team, while The Walking Dead nabbed a nod for stunt team, as well.
The cast of Breaking Bad's competition includes PBS's Downton Abbey, Showtime's Homeland and HBO's Boardwalk Empire and Game of Thrones.
Bryan Cranston faces off with Boardwalk Empire's Steve Buscemi, The Newsroom's Jeff Daniels, Game of Throne's Peter Dinklage and House of Cards' Kevin Spacey. Anna Gunn, for her part, is up against Downton Abbey's Maggie Smith, Homeland's Claire Danes, American Horror Story: Coven's Jessica Lange and Scandal's Kerry Washington. Dead share their second nomination and some tough competition: Showtime's Homeland and HBO's Boardwalk Empire and Game of Thrones.
In the stunt category, both Breaking Bad and The Walking Dead are in the running. Also nominated are Showtime's Homeland and HBO's Boardwalk Empire and Game of Thrones.
The SAG Awards will be held on Sat., Jan. 18.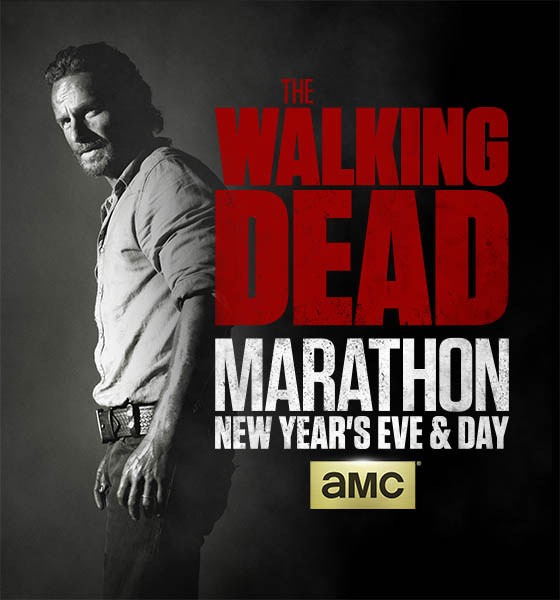 AMC has announced it will air two back-to-back marathons of its Emmy Award-winning original dramas Breaking Bad and The Walking Dead. A four-day Breaking Bad marathon, which kicks off at noon ET/PT each day from Fri., Dec. 27 through Mon., Dec. 30, will feature every episode from the series' critically acclaimed five seasons, making AMC the only destination for cable subscribers to watch every Breaking Bad episode for free. On New Year's Eve day, Dec. 31, at 9AM/8c, AMC will air a two-day marathon of The Walking Dead.  Beginning with the pilot, episodes will air back-to-back in chronological order until 5AM/4c on Jan. 2, 2014.
From acclaimed writer, producer, director Vince Gilligan and produced by Sony Pictures Television, Breaking Bad follows the story of a desperate man who turns to a life of crime to secure his family's financial future. The series capped its historic run on Sep. 29, delivering a series-record 10.3 million viewers, including 6.7 million adults 18-49.
Breaking Bad has garnered ten Emmy Award wins – including the 2013 Emmy Award for Outstanding Drama Series – and a Peabody, and been named to the American Film Institute's (AFI) list of the "Top 10 Programs of the Year" (2008, 2010, 2011, 2012). Heralded as "one of the greatest dramas in TV history," (The Hollywood Reporter), Breaking Bad stars three-time Emmy Award-winner Bryan Cranston; two-time Emmy winner Aaron Paul; Emmy-winner Anna Gunn; Dean Norris; Betsy Brandt; RJ Mitte and Bob Odenkirk.
The Walking Dead continues to be the #1 show on all of television among the coveted 18-49 demographic and remains the highest-rated series in the history of cable television. The first eight episodes of its fourth season delivered an average of 13 million viewers and 8.4 million adults 18-49.
Based on the comic book series written by Robert Kirkman and published by Image Comics, The Walking Dead tells the story of the months that follow after a zombie apocalypse. The series Entertainment Weekly called the "greatest thriller ever produced for television" stars Andrew Lincoln, Steven Yeun, Norman Reedus, Chandler Riggs, Lauren Cohan, Danai Gurira, Emily Kinney, Chad L. Coleman, Sonequa Martin-Green and Lawrence Gilliard Jr. The Walking Dead is executive produced by showrunner Scott M. Gimple, Kirkman, Gale Anne Hurd, David Alpert, Emmy-winner Greg Nicotero and Tom Luse.
The Walking Dead will return for the second half of its fourth season at 9/8c on Sun., Feb. 9, followed by a new episode of Talking Dead at 10/9c.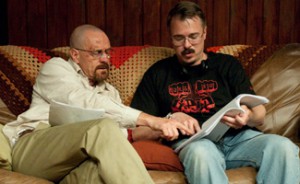 This week, Breaking Bad and Vince Gilligan make it onto Adweek's Hot List, while Gilligan is one of Made Men's 2013 Men of the Moment. Plus, Skyler and Jesse are now popular baby names. Read on for more:
• Vince Gilligan and Breaking Bad are two of Adweek's Hot List TV winners.
• Made Man does a video interview with Vince Gilligan as part of an end-of-the-year program honoring outstanding men's achievement.
• More parents are naming their children "Skyler" and "Jesse" because of Breaking Bad, according to Sky News.
• Breaking Bad notches a Producers Guild of America award nomination in the category of "Outstanding Producer of Episodic Television, Drama," says The Hollywood Reporter.
Continue reading "Adweek's Hot List Winners Include Vince Gilligan, Breaking Bad; Made Man Honors Gilligan" »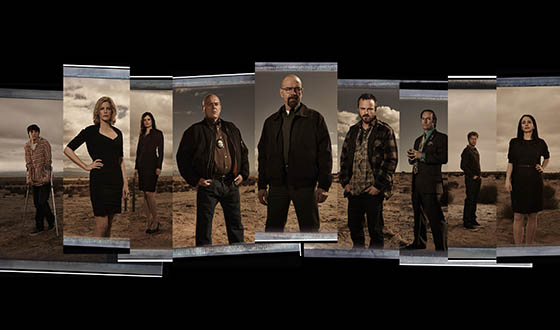 Today, the Producers Guild of America announced their nominees for the 25th annual Producers Guild Awards, and Breaking Bad was honored with a nomination for the prestigious Norman Felton Award for Outstanding Producer of Episodic Television, Drama.
Breaking Bad's producers — Melissa Bernstein, Sam Catlin, Bryan Cranston, Vince Gilligan, Peter Gould, Mark Johnson, Stewart Lyons, Michelle MacLaren, George Mastras, Diane Mercer, Andrew Ortner, Thomas Schnauz and Moira Walley-Beckett — will face formidable competition for the award: The creative teams behind PBS's Downton Abbey, Showtime's Homeland, HBO's Game of Thrones and Netflix's House of Cards are also in the running.
The winners will be announced during a ceremony at the Beverly Hilton Hotel on Sun., Jan. 19.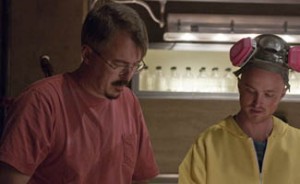 This week, Vince Gilligan is interviewed by GQ for its man of the year feature, while Variety reports that Aaron Paul will star in a film with Russell Crowe. Plus, Bryan Cranston will open on the Great White Way in March. Read on for more:
• GQ interviews Vince Gilligan, the magazine's Kingpin of the Year, calling him the "geeky, self-effacing, devious mastermind behind Breaking Bad."
• Aaron Paul has booked a new film, according to Variety, which reports that the Breaking Bad actor will star in Fathers and Daughters, alongside Russell Crowe and Amanda Seyfried.
• Bryan Cranston is set to open on Broadway in All the Way, about President Lyndon Johnson, on March 6, The New York Times reports.
• Rolling Stone attended a screening of No Half Measures, the making of Breaking Bad documentary — and stayed for a Q&A with Bryan Cranston, Vince Gilligan, Dean Norris, RJ Mitte, Bob Odenkirk and Lavell Crawford. HitFix, Los Angeles Times and Variety share their thoughts on the documentary.
Continue reading "GQ Names Vince Gilligan Man of the Year; Aaron Paul Books Film Role" »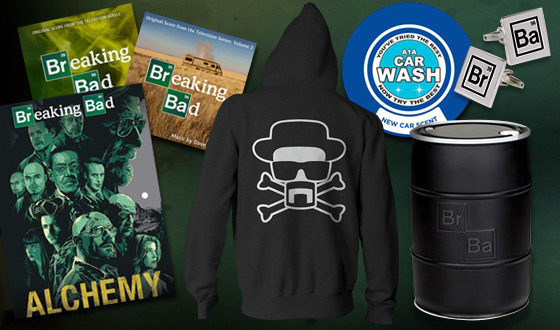 The holidays are here and with them, the stress that comes with trying to find the perfect present. Stuck for ideas? Here are some great holiday gift ideas for your fellow Breaking Bad fans.
Breaking Bad: The Complete Series Collector's Set: Indulge the binge-watcher on your list with all six seasons, plus 55+ hours of special features.
Breaking Bad Original Score, Volume 1: Switch up your seasonal soundtrack with  original music from series composer Dave Porter. Already have Volume 1? Then get Volume 2.
Breaking Bad: Alchemy iBook: This iBook features over 120 pages of original content and hundreds of interactive elements that allow a new way to experience the series.
Breaking Bad Official Store: T-shirts, jewelry, cuff links, sweatshirts and even an A1A Car Wash Air Freshener are for sale.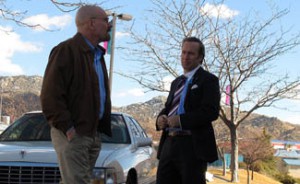 This week, watch Bryan Cranston and Aaron Paul read the script for Breaking Bad's last episode, while The Daily Beast and other publications talk to Bob Odenkirk about Breaking Bad and Better Call Saul. Plus, Cranston chats about portraying President Johnson on stage. Read on for more:
• Entertainment Weekly features a clip of a seminal moment for Bryan Cranston and Aaron Paul — when they read the script of the series finale ending for the first time.
• The Daily Beast talks to Bob Odenkirk, who calls his time on Breaking Bad "the juiciest, most awesome role, with people who were unbelievable professionals, like Bryan Cranston." Odenkirk chats with BlackBook about Better Call Saul.
• Bryan Cranston talks to Austin's KTBC about playing President Johnson in All the Way.
Continue reading "Bryan Cranston, Aaron Paul Read Final Breaking Bad Script; Bob Odenkirk Talks Saul & Spin-Off" »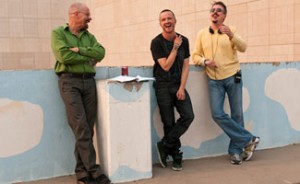 This week, David Blaine does a card trick for Bryan Cranston and Aaron Paul, while Vince Gilligan tells FOX Business about the Saul spin-off series. Plus, The New York Times talks speculation surrounding TV shows, like Breaking Bad. Read on for more:
• People has a clip of David Blaine impressing Bryan Cranston and Aaron Paul with "quite the card trick."
• Vince Gilligan tells FOX Business that the Saul Goodman spinoff will be a prequel and "should be pretty funny."
• Using Breaking Bad as an example, The New York Times declares, "Speculation is the new spoiler."
• In a related article, The New York Times talks to NPR's Linda Holmes about the speculation surrounding the Breaking Bad series finale on her website, "Claim Your Cockamamie Theory."
Continue reading "David Blaine Wows Bryan Cranston, Aaron Paul; Vince Gilligan Talks Saul Goodman Spin-Off" »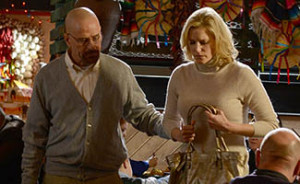 This week, it's reported that Anna Gunn and Vince Gilligan are slated to appear on The Mindy Project and Community, respectively, while Gilligan speaks to the importance of Breaking Bad's Albuquerque location. Plus, Bryan Cranston is AskMen's third-most influential man. Read on for more:
• Watch for Vince Gilligan to make his acting debut in an episode of Community, joining Giancarlo Esposito and Jonathan Banks on the NBC sitcom's roster of guest stars, Entertainment Weekly reports.
• E! News reports that Anna Gunn will make a guest appearance on FOX's The Mindy Project this season.
• Vince Gilligan tells a panel that shooting Breaking Bad in Albuquerque "really helped make the show a post-modern sort of western," according to Variety.
• AskMen ranks Bryan Cranston No. 3 on its list of the 49 most influential men, citing his "undeniably masterful" performance in Breaking Bad.
Continue reading "Vince Gilligan, Anna Gunn Set for Sitcom Appearances; Gilligan Salutes Albuquerque" »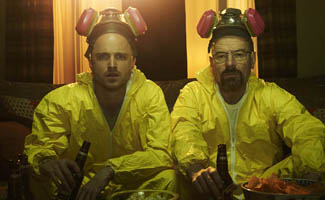 The fans have spoken and Breaking Bad has earned two nominations for the 2014 People's Choice Awards including Favorite Series We Miss Most and Favorite TV Anti-Hero.
Breaking Bad must beat out formidable competition for the awards. Also competing for Series We Miss Most is NBC's 30 Rock and The Office, Showtime's Dexter and Fox's Fringe. Walter White will compete against Dexter Morgan (Dexter), Jaime Lannister (Game of Thrones), Norman Bates (Bates Motel) and AMC's own Rick Grimes (The Walking Dead) for the Anti-Hero award.
If you love Breaking Bad, make sure the series takes home the wins. Cast your vote between now and Thu., Dec. 5 at 11:59 PM | 10:59c in the following ways:
• Log on to the People's Choice website
• Visit the official People's Choice Facebook app
• Tweet a specific series of hashtags: #missmost #peopleschoice
Winners will be announced live from the Nokia Theater Wed., Jan. 8 on CBS.