Press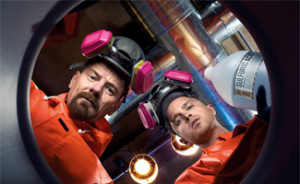 This week, Bryan Cranston compares his newest character, President Lyndon Johnson, with his most well-known, Walt and Jonathan Banks is cast in a new movie. Read on for more:
• According to The Wall Street Journal, Bryan Cranston, starring on Broadway as Lyndon Johnson, says the 36th president and Walt were "both very powerful, strong-willed, smart, damaged. In both cases, ego had a large part of what downfall they had."
• Jonathan Banks has been cast in Term Life, a crime thriller to be directed by Peter Billingsley, according to The Hollywood Reporter.
• Hypable taps Aaron Paul as a future Oscar nominee, calling him "one very busy man, jumping from project to project and covering almost every genre on the way."
Continue reading "Bryan Cranston Compares Walter White to LBJ; Jonathan Banks Cast in New Movie" »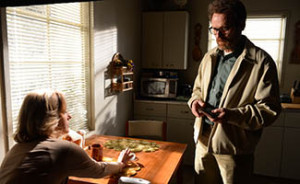 This week, Bryan Cranston is featured in a new trailer for Godzilla, while Anna Gunn is celebrated on the cover of More. Plus, Entertainment Weekly administers its pop culture personality test to Betsy Brandt.Read on for more:
• Check out Bryan Cranston in the trailer for Godzilla, which, according to Complex, "features Cranston screaming and channeling his inner Walter White."
• Anna Gunn appears on the cover of More and calls the Breaking Bad pilot "one of the best scripts I'd read." The New York Post has more from Gunn's cover article.
• Betsy Brandt takes Entertainment Weekly's pop culture personality test, where she professes her love for Elvis Presley, The Cosby Show, It's Complicated and When Harry Met Sally…
Continue reading "Bryan Cranston in Godzilla Trailer; Anna Gunn Graces More Cover" »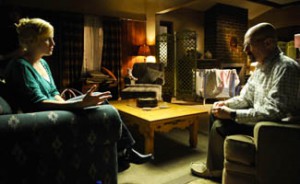 This week, Vince Gilligan and the show's writers talk about putting Breaking Bad together, while Anna Gunn shows up in a photo from her new series, Gracepoint. Plus, Breaking Bad wins an award for make-up. Read on for more:
• Vince Gilligan and Breaking Bad's writers sat down for a two-hour talk that was part of an event for The Writers Guild Foundation — and Indiewire has the video.
• Entertainment Weekly has a first look at Anna Gunn, along with David Tennant, in FOX's Gracepoint, noting that "it's like seeing a Time Lord and Skyler White team up to solve a mystery!"
• The Los Angeles Times reports that Tarra Day and Sheila Trujillo Gomez won a Make-Up Artists and Hair Stylists Guild award for contemporary makeup.
Continue reading "Vince Gilligan, Writers Talk Breaking Bad; EW Has First Look at Anna Gunn in Gracepoint" »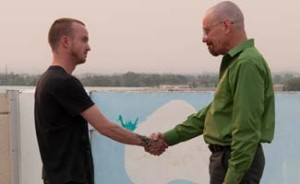 This week, Bryan Cranston is interviewed by The New York Times about his Broadway debut, while Aaron Paul talks about leaving Jesse behind. Plus, Breaking Bad captures more awards, for writing and editing. Read on for more:
• Bryan Cranston talks to The New York Times about playing President Lyndon B. Johnson on Broadway in All the Way, calling the 36th president "legitimately larger than life." The New York Observer also interviews Cranston about his move to Broadway.
• Sitting down with WLIW Arts Beat, Bryan Cranston characterizes Walt as "a troubled, troubled, despicable man, caught up in his own ego and hubris."
Continue reading "NY Times Talks LBJ, All the Way With Bryan Cranston; Aaron Paul on Leaving Jesse Behind" »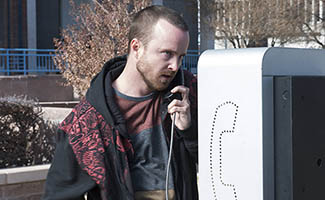 This week, Aaron Paul speaks with The Wall Street Journal about his burgeoning movie career and, of course, about Breaking Bad, while the series was honored with two awards from the Writers Guild. Plus, the New York Daily News takes a look at the A-listers, like Bryan Cranston, who can be seen on stage this season. Read on for more:
• Talking to The Wall Street Journal, Aaron Paul discusses "what was so great about Breaking Bad—it really felt like an independent film every single week."
• According to The Hollywood Reporter, Breaking Bad won two Writers Guild Awards, for drama series and Season 5′s "Confessions" (written by Gennifer Hutchison).
• The New York Daily News highlights the A-list actors who can be seen on Broadway this season, including All the Way's Bryan Cranston, "whose run as the monarch of blue meth in Breaking Bad has made him red hot."
Continue reading "Aaron Paul Chats With Wall St. Journal; Breaking Bad Wins Two Writers Guild Awards" »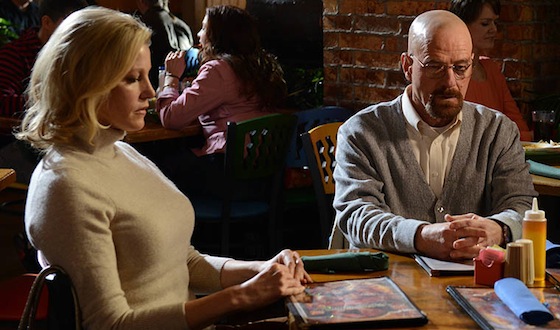 On Sat., Feb. 1, the Writers Guild of America announced the winners of the WGA Awards, and Breaking Bad nabbed two top honors in the TV categories: Drama Series and Episodic Drama. This marks the third time that Vince Gilligan and fellow writers Sam Catlin, Peter Gould, Gennifer Hutchison, George Mastras, Thomas Schnauz, and Moira Walley-Beckett have won for Drama Series. Breaking Bad's competitors this year in this category were Mad Men, Homeland, House of Cards, Game of Thrones and Boardwalk Empire.
Continue reading "Breaking Bad Wins Two Writers Guild Awards" »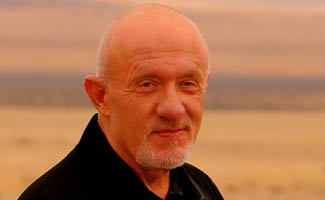 This week, Jonathan Banks joins Bob Odenkirk on Better Call Saul, the Breaking Bad spin-off, while Bryan Cranston talks about playing President Lyndon Johnson on Broadway in All the Way. Plus, Vince Gilligan wins a directing award while Aaron Paul will show up on Super Bowl Sunday in a Need for Speed ad. Read on for more:
• Deadline reports that Jonathan Banks has joined the cast of Better Call Saul as a series regular, reprising his role as Mike.
• Variety reports that Vince Gilligan won the Directors Guild of America award in the dramatic series category, for the series finale.
• Rolling Stone interviews Bryan Cranston, who talks about his upcoming turn as President Johnson as well as being open to appearing on Better Call Saul, saying, "It'd be fun to go back into the New Mexico desert and play with all my old friends."
• Talking to the New York Daily News about All the Way, Bryan Cranston compares LBJ with Walt, calling them "very powerful, strong and strong-willed men, very determined, accomplished, smart and with character flaws that are very present." Cranston also chats with Reuters about his Broadway debut.
• Bryan Cranston tells USA Today he's looking forward to focusing solely on All the Way for the next few weeks: "It makes my life a little simpler, to just do the play and then go home, eat well, take my vitamins, get some sleep and come back to rehearse some more. I'm living like a monk."
• According to Variety, Super Bowl viewers will be able to catch an ad for Need for Speed, which stars Aaron Paul.
• Aaron Paul talks to HitFix about Hellion, which premiered at the Sundance Film Festival, and Better Call Saul, saying, "Whenever they want me, I'm there, because it would be nice to jump into Jesse again in his lighter days."
• Check out Aaron Paul in the trailer for A Long Way Down, adapted from Nick Hornby's book of the same name.
• Speaking with E! Online, Mindy Kaling reveals that Anna Gunn will guest-star as a rival doctor in an upcoming episode of FOX's The Mindy Project.
• TV Fanatic selects Breaking Bad's nine most badass episodes, starting with the series pilot.
• Den of Geek includes Walt on its roster of TV's good guys gone bad, saying, "Walt long ago earned his place on everyone's favourite good guy gone unbelievably, irretrievably bad list."
• Lavell Crawford talks to The St. Louis American about winning a Screen Actors Guild award and how his stint on Breaking Bad is "like getting a key to Hollywood."
• Breaking Bad's script supervisor speaks with her hometown paper, the Journal Star of Peoria, Ill., about the nature of her job and calls Bryan Cranston "one of the most pleasant, kindest, funniest, most talented men I've ever had the pleasure to work with."
• A stylist writes in Los Angeles Magazine about choosing a suit (a midnight blue Ted Baker tuxedo) for Michael Bowen (Uncle Jack) to wear to the Screen Actors Guild awards ceremony.
• Backstage observes that Bryan Cranston thanked Breaking Bad's casting directors, Sharon Bialy and Sherry Thomas, during a Screen Actors Guild awards acceptance speech.
• Broadway World reports that Betsy Brandt will be a presenter at the Writers Guild Awards ceremony on Feb. 1.
• One upcoming TV highlight, according to The Philadelphia Inquirer, is FX's Fargo, which starts airing April 15 and features Bob Odenkirk.
• Flesh and Bone, a ballet-centered drama from Breaking Bad's Moira Walley-Beckett, has been ordered to series by Starz, according to The Hollywood Reporter.
• To stay up-to-date on the latest news about Breaking Bad, sign up for the weekly newsletter Breaking News.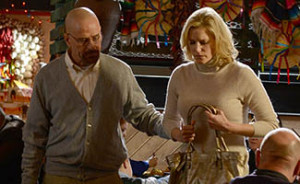 This week, Breaking Bad's cast and Bryan Cranston took home prizes from the Screen Actors Guild awards, while Aaron Paul reveals he's watching the show from the beginning. Plus, Anna Gunn accessorizes with a bag sporting the "BrBa" logo. Read on for more:
• "What a way to go out in style!" Bryan Cranston proclaims while accepting Breaking Bad's Screen Actors Guild award for outstanding performance by an ensemble in a drama series, The Associated Press reports.
• The Hollywood Reporter notes that Bryan Cranston delivered two "memorable" speeches at the ceremony. E! Online has an account of the second one, for his win for outstanding performance by a male actor in a drama series, where he sang and raved about Emma Thompson. According to the Los Angeles Times, the SAG Award "caps off a string of wins" for Breaking Bad, including an Emmy last year and a Golden Globe earlier this month.
Continue reading "SAG Awards for Breaking Bad, Bryan Cranston; Aaron Paul on Rewatching Breaking Bad" »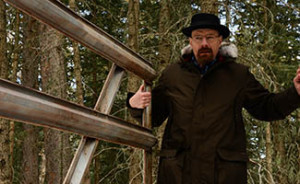 This week, the Golden Globes are a triumph for Breaking Bad, while Salon details what your favorite TV show can learn from Breaking Bad. Plus, there will potentially be lots of Breaking Bad cast members showing up on Better Call Saul. Read on for more:
• The Huffington Post reports that Breaking Bad and Bryan Cranston both went home with Golden Globes, for best television drama and best actor in a TV drama. Aaron Paul concludes Vince Gilligan's acceptance speech with a wildly appropriate "Yeah, bitch! Thank you!"
• The New York Times notes that Bryan Cranston "received a raucous standing ovation" when he won. Cranston was one of this year's winners who received his first Golden Globe ever, although it "seems unbelievable," according to The Huffington Post. Entertaiment Weekly observes that Breaking Bad is still eligible for the Emmy awards later this year, so "you probably haven't seen the last of the Bad cast onstage at an awards ceremony."
Continue reading "Breaking Bad Triumphs at Golden Globes; Salon Talks Lessons From Breaking Bad" »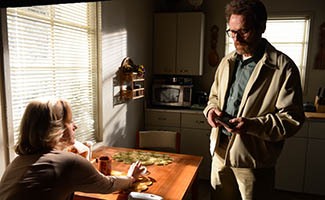 Today the Cinema Audio Society announced their nominees for the 50th Annual CAS Awards and Breaking Bad's sound team — Production Mixer Darryl L. Frank, Re-recording Mixers Jeff Perkins and Eric Justen and ADR Kathryn Madsen — has been honored with a nod in the Outstanding Achievement in Sound Mixing, Television Series – One Hour category.
The nomination, Breaking Bad's third, is for the team's work on the Series Finale, "Felina". Competing with them in the Television Series category are HBO's Boardwalk Empire and Game of Thrones, Showtime's Homeland and AMC's own The Walking Dead. (Click here to read more about The Walking Dead's nomination.)
The awards will be presented during a ceremony on Feb. 22 at the Millennium Biltmore Hotel in Los Angeles.