Press
This week, Time has Bryan Cranston's advice to Mad Men's Elisabeth Moss, while Giancarlo Esposito talks about Gus and Breaking Bad's ending to New Zealand's Stuff. Plus, Vince Gilligan gets his own Jeopardy category. Read on for more:
• Elisabeth Moss shares with Time the advice she got from Bryan Cranston about letting go of Peggy after playing her for so long — and says, "Basically I would do anything Bryan Cranston does."
• Giancarlo Esposito, talking to Stuff.co.nz, says of Breaking Bad's ending that "I thought it was deliciously appropriate for Walter to die the way he did."
• Vince Gilligan gets his very own Jeopardy category this week, and Uproxx has the questions and video of the episode.
Continue reading "Bryan Cranston Advises Elisabeth Moss; Giancarlo Esposito Talks Gus, Bad's Ending" »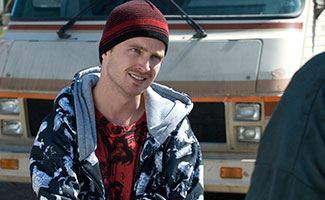 This week, Aaron Paul has a reunion with the Breaking Bad RV, while Anna Gunn tells The New York Times what she wants to happen to Skyler. Plus, Giancarlo Esposito is interviewed about Gus by The New Zealand Herald. Read on for more:
• The Mirror reports on Aaron Paul's reunion with Jesse and Walt's infamous R.V., noting that the actor gave the "worn-and-torn camper van a big hug."
• The New York Times interviews Anna Gunn, who says she likes to think that Skyler and Marie "ended up making peace with each other, and went off to a tropical island and opened a beach hotel."
• According to Variety, Anna Gunn talks about getting immersed in the Gracepoint story "because when the writing is that good you can lose yourself in it, and when you're going through grief for 13 hours a day sometimes it's hard to shed that at the end of the day."
Continue reading "Aaron Paul Reunites With the RV; Anna Gunn Talks Skyler, Marie With NY Times" »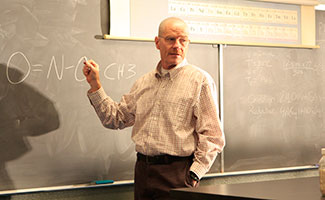 This week, Bryan Cranston books a role in a movie called The Infiltrator, while Breaking Bad shows up on Jeopardy. Plus, Walt is one of Us Weekly's most beloved TV characters. Read on for more:
• The Hollywood Reporter says that Bryan Cranston will star in The Infiltrator, a thriller to be directed by Brad Furman.
• According to the Albuquerque Journal, Breaking Bad shows up in a Jeopardy Final Jeopardy answer.
• Walt is No. 3 on Us Weekly's list of the 20 most beloved characters of the last 20 years because his "transformation is one of the most astounding in TV history."
Continue reading "Bryan Cranston To Star in The Infiltrator; Breaking Bad Appears on Jeopardy" »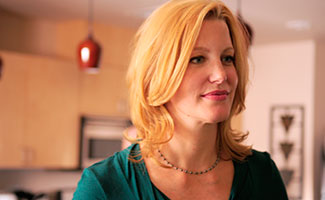 This week, Anna Gunn talks to Jimmy Kimmel about Breaking Bad's celebrity fans, while Bryan Cranston tweets about Gunn's new TV show. Plus, USA Today speaks with Gunn about her Gracepoint character vs. Skyler. Read on for more:
• On Jimmy Kimmel Live!, Anna Gunn talks about meeting Breaking Bad's celebrity fans, including Warren Buffett and Keith Richards.
• According to Digital Spy, Bryan Cranston weighs in on Anna Gunn's new TV series, tweeting, "I saw that new show Gracepoint. It's damn good. And the hot female detective looks like my ex-wife."
• USA Today interviews Anna Gunn, who says of her Gracepoint character, that "the audience gets to be in on her private moments and her internal emotions and thoughts. You really never got that with Skyler, because the storytelling was not about that."
Continue reading "Anna Gunn Talks Celebrity Fans on Jimmy Kimmel; Bryan Cranston Tweets to Gunn's Show" »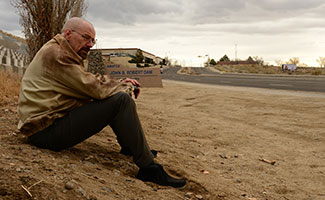 This week, Bryan Cranston has a Skype conversation with a young fan, while Anna Gunn talks to the Associated Press about Gracepoint and playing difficult roles. Plus, The Sydney Morning Herald thinks the series finale was one of the best ever. Read on for more:
• ABC News reports that Bryan Cranston recently Skyped with a young North Carolina man who was diagnosed with brain cancer last year and wanted to meet the actor — and has video of the conversation.
• Anna Gunn tells the Associated Press, "My job is to tell the story that the writer has given me, and tell the truth of the character they've written as well. If it's polarizing and if it makes people uncomfortable, upset, that's something you learn to let go of."
• The Sydney Morning Herald rates Breaking Bad's series finale one of the best ever, commenting that a "complex set of plot threads cross one another in a final knot which delivers one of the most stunning conclusions in television history."
Continue reading "Bryan Cranston Skypes With Cancer Patient Fan; AP Interviews Anna Gunn" »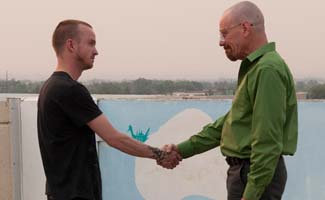 This week, Aaron Paul is cast in a new movie, while Bryan Cranston was a guest designer for Jesse Tyler Ferguson's fall collection. Plus, a Walt bobblehead gets blasted into space. Read on for more:
• According to Variety, Aaron Paul has joined the cast of The 9th Life of Louis Drax, a movie that will be directed by Alexandre Aja.
• GQ notes that Bryan Cranston was a guest designer for Tie the Knot, a non-profit LGBT advocacy organization run by Jesse Tyler Ferguson and his husband.
• A.V. Club reports that some Breaking Bad fans sent a Walt bobblehead into space, a six-hour journey that saw him travel 250 miles.
Continue reading "Aaron Paul Cast in New Movie; Bryan Cranston Guest Designs for Jesse Tyler Ferguson" »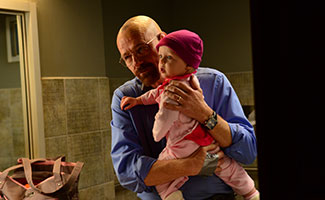 This week, Entertainment Weekly talks to Rian Johnson and Moira Walley-Beckett about the triumph of "Ozymandias," while Bryan Cranston does a faux one-man show ahead of baseball's post-season. Plus, Anna Gunn discusses the difference between Skyler and her Gracepoint character. Read on for more:
• Moira Walley-Beckett and Rian Johnson chat with Entertainment Weekly about Season 5, Episode 14, "Ozymandias," an "hour of punishing and mesmerizing television."
• "We could think of no finer use for Bryan Cranston's talents, post-Breaking Bad, than a video that is almost six minutes where he performs a fake one-man show to promote MLB's postseason," Sporting News says of the TBS promotion.
• Talking to Access Hollywood about her character on FOX's Gracepoint, Anna Gunn points out that "Skyler had to be kind of shut down a bit… but Ellie, she's an open book and she'll tell you what she thinks, good or bad, and she's got vulnerability but she's also really tough." OnMilwaukee.com describes Gracepoint as "by far one of the most promising new shows this fall," partly because of Gunn's presence, while TV Overmind calls Gracepoint a must-watch because "the magnificent Anna Gunn" is one of the stars.
Continue reading "EW Talks "Ozymandias" With Writer, Director; Bryan Cranston's One-Man Baseball Show" »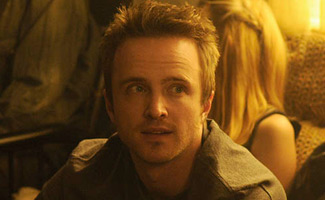 This week, Aaron Paul has been deemed Cosmopolitan's main celebrity crush, while RJ Mitte tells the New York Post what he took from Breaking Bad's set. Plus, Anna Gunn's recent Emmy win upped her Variety Vscore. Read on for more:
• Cosmopolitan proclaims that Aaron Paul has "officially superseded Ryan Gosling as our Main Celeb Crush."
• RJ Mitte reveals to the New York Post that his souvenir from the Breaking Bad set was Walt, Jr.'s crutches.
• Anna Gunn's Vscore (a method of analyzing celebrity star power) was on the rise after her Emmy win, according to Variety.
Continue reading "Aaron Paul is Cosmo's Main Celebrity Crush; What RJ Mitte Took From Bad's Set" »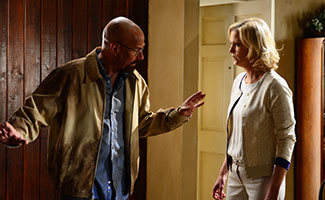 This week, TV Guide applauds Bryan Cranston's Emmy triumph, while The Washington Post thinks Anna Gunn's performance as Skyler changed television. Plus, Aaron Paul shows up on Jimmy Kimmel's show. Read on for more:
• TV Guide mega-raves, "While his win was a bit of a shock, I couldn't be happier that the TV Academy decided to honor Bryan Cranston one last time for his stunning work during Breaking Bad's homestretch."
• The Washington Post praises Anna Gunn's Emmy win because her performance as Skyler marks the end of a time when shows "could get away with writing anti-heroes' wives as flat, cartoonish characters, or when audiences could get away with worshiping difficult men without encountering strong opposition."
• TheWrap shares a video of Aaron Paul on Jimmy Kimmel Live talking about his pre-Emmys Breaking Bad scavenger hunt, while The Daily Caller features clips of Paul in the same interview discussing his birth on a bathroom floor and receiving a Run-D.M.C. outfit for his latest Emmy.
Continue reading "TV Guide Lauds Bryan Cranston's Emmy Win; Washington Post Praises Skyler" »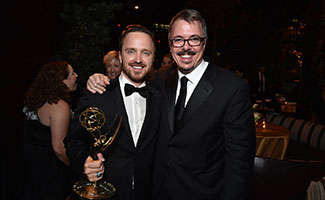 This week, Breaking Bad triumphs at the Emmys, while Aaron Paul tells Entertainment Weekly that the Breaking Bad Emmys sweep is a "damn good" goodbye. Plus, The Hollywood Reporter gathers acclaimed TV creators, Vince Gilligan among them, to talk about their time in television.
• The New York Times reports that Breaking Bad "scored big" at the Emmys, with its second consecutive best drama prize and wins for Bryan Cranston, Anna Gunn, Aaron Paul and Moira Walley-Beckett (for writing Season 5, Episode 14,"Ozymandias"). Vince Gilligan tells the Los Angeles Times that "when Aaron won and then when Anna won and Bryan won I thought, 'Well hell, we might have a real chance here tonight.'"
• Aaron Paul tells Entertainment Weekly that it's "an embarrassment of riches, being involved in something as special as Breaking Bad. This is probably one of the longest goodbyes in television history—and it's a damn good one."
• The Hollywood Reporter gathers 24 of TV's most acclaimed creators, such as Vince Gilligan, who offers this advice: "A good lesson I learned a while back was: pitch something you believe in. Even though it will be more heartbreaking when they say no, on the off chance they say yes, then you're stuck doing it."
Continue reading "Bad Triumphs at Emmys; Aaron Paul Talks with EW on Emmy Wins and Goodbyes" »