Press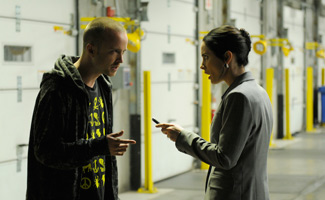 This week, Breaking Bad's Emmy nominations make lots of news, while Bryan Cranston is slated to star in a TV version of All the Way being produced by Steven Spielberg. Plus, Cranston leaves a farewell message in his dressing room for the next occupant. Read on for more:
• The Los Angeles Times calls Breaking Bad's best drama Emmy nomination "virtually a foregone conclusion."
• Deadline reports that Bryan Cranston will star in an HBO Films version of All the Way — for which he won a Tony for playing President Lyndon Johnson — being produced by Steven Spielberg.
• GoldDerby describes the best drama actor Emmy competition between Bryan Cranston and True Detective's Matthew McConaughey as the "ultimate Emmy heavyweight bout." Indiewire thinks it will be "Bryan Cranston all the way, for the final season."
Continue reading "Breaking Bad Emmy Nods Make News; Bryan Cranston To Star in TV Version of All the Way" »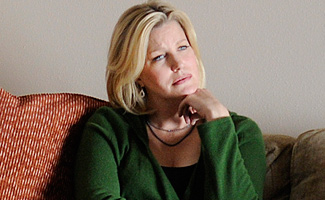 This week, Anna Gunn talks about her new play with The New York Times, while Bryan Cranston is on Forbes' list of the most powerful celebrities. Plus, The Telegraph calls Breaking Bad a "television masterpiece." Read on for more:
• Anna Gunn speaks with The New York Times about her new role this summer in an off-Broadway production of Sex With Strangers.
• Bryan Cranston makes his debut on Forbes' list of the 100 Most Powerful Celebrities, at No. 88.
• The Telegraph includes Breaking Bad ("a television masterpiece") on its list of the best TV shows currently available for streaming on Netflix UK.
Continue reading "Anna Gunn Speaks With NY Times; Bryan Cranston Appears on Forbes List" »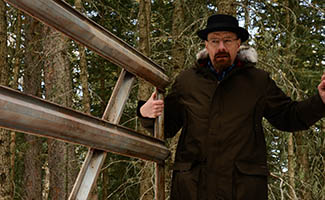 This week, BuzzFeed created a list of "34 Things You Probably Didn't Know About Breaking Bad," while NBC News and Gawker post the results of a study naming Breaking Bad the most binge-watched television show. Plus, Gold Derby analyzes the odds of Breaking Bad taking home Emmy Awards this year. Read on for more:
• BuzzFeed lists the "34 Things You Probably Didn't Know About Breaking Bad", which includes that Aaron Paul has never had any acting lessons and George R. R. Martin called Walter White "a bigger monster than anyone in Game of Thrones."
• Breaking Bad is the most binge-watched show according to NBC News and Gawker, beating out House of Cards and Game of Thrones for the top spot in "overdosed" television.
• Gold Derby says the odds are very good for Breaking Bad to sweep the Emmys this year and break the "final season curse", listing the series as one of it's top contenders.
Continue reading "BuzzFeed Lists 34 Breaking Bad Facts; NBC News Says Breaking Bad is Most Binged Show" »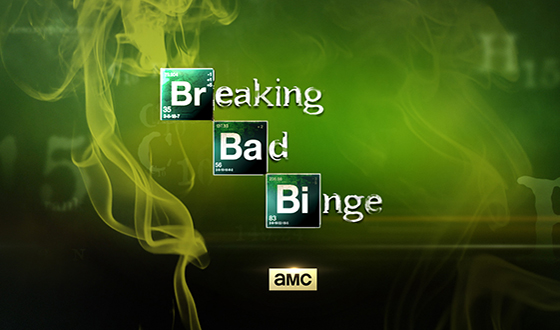 AMC announced today that a Breaking Bad Binge television event will begin on Sunday, August 10. Every episode from the Emmy Award-winning drama series will air in order on Sunday nights from 5PM to 1AM ET/PT beginning with the pilot and concluding on Sunday, October 5 with the series' record-breaking finale, "Felina." Each episode will kick-off with never-before-aired behind-the-scenes footage and interviews with the cast and crew, including an inside look at the making of each episode, and commentary from those who helped make Breaking Bad "one of the greatest dramas in TV history" (The Hollywood Reporter).
With millions of Breaking Bad viewers still engaged each week on social media, AMC will also give fans an even deeper dive into the Breaking Bad world with custom social graphics and content, including episode and season badges, character quote cards and iconic moments. Through a partnership with Facebook, the network will deliver a never-before-seen glimpse into the evolution of the Breaking Bad Facebook community, which consists of almost 10 million fans and still continues to grow each week. Together, AMC and Facebook will analyze over six years of posts, likes, shares and comments to bring the social stats to life and demonstrate how trends, such as the Walter White's (Bryan Cranston) alter ego "Heisenberg," took off on social media.
In addition, the Breaking Bad Binge will be complemented with new content on AMC.com. Using the Story Sync platform, the Breaking Bad Binge Companion will deliver an all-new interactive experience to fans of the show that tracks the story being told in each batch of episodes during the Binge marathon. Every Sunday night, AMC.com will release a new Companion with 40-50 pieces of content to accompany that Sunday's episodes. Content will include trivia questions, polls on fan-favorite through-lines throughout the series, graphics on the science of the show, freeze frames of key moments in each episode, memorable one-liners from the characters, video replays and webisodes.
AMC's Breaking Bad capped its historic run in September 2013, delivering a series-record 10.3 million viewers, including 6.7 million adults 18-49. Ratings for the final episode were up 300% over the previous season's finale, demonstrating the remarkable growth of the iconic series.
From acclaimed writer, producer, director Vince Gilligan, Breaking Bad is produced by Sony Pictures Television with Mark Johnson (Gran Via) and Michelle MacLaren as executive producers. Breaking Bad, which first premiered on AMC in January 2008, follows the story of a desperate man who turns to a life of crime to secure his family's financial future.  The series has garnered ten Emmy Award wins – including the 2013 Emmy Award for Outstanding Drama Series – two Peabodys, and been named to the American Film Institute's (AFI) list of the "Top 10 Programs of the Year" (2008, 2010, 2011, 2012, 2013). Breaking Bad stars three-time Emmy® Award-winner Bryan Cranston; two-time Emmy® winner Aaron Paul; Emmy Award-winner Anna Gunn; Dean Norris; Betsy Brandt; RJ Mitte and Bob Odenkirk.
The Breaking Bad Binge airs on Sundays starting Sunday, August 10 at 5PM/4c.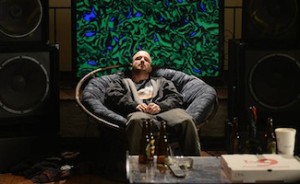 This week, TheWrap speaks with both Vince Gilligan and Aaron Paul, while Paul also has a chat with Reuters. Plus, Gilligan has been named a co-showrunner for Better Call Saul. Read on for more:
• TheWrap interviews Mad Men's Matthew Weiner and Vince Gilligan, who says to Weiner, "Man, the last year and a half before the end of Breaking Bad, I couldn't sleep at night. Hopefully you're not having it as bad as I had it."
• Aaron Paul tells Reuters he'd like to try directing and that he would have liked to helm a Breaking Bad episode, but "it deserves someone who really knew what they were doing." Talking to TheWrap, Paul says of the series finale that "killing Todd was awesome. I'm so happy that I had to kill Todd and that Todd didn't shoot Jesse in the back of the head to something."
• HitFix reports that AMC has renewed Better Call Saul for a Season 2 and that the spin-off will now air in early 2015 and will get Vince Gilligan as a co-showrunner.
Continue reading "Vince Gilligan Talks to TheWrap About Show Finales; Aaron Paul Chats With Reuters" »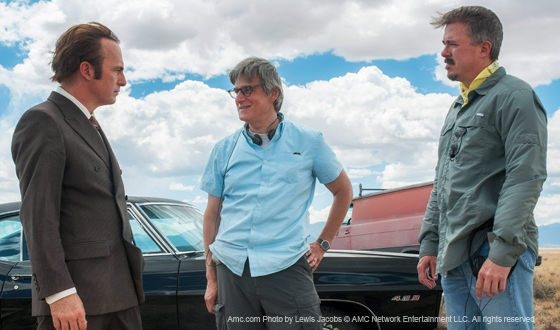 AMC today provided the first of several planned updates on the Breaking Bad prequel Better Call Saul, including the release of a first-look photo from the Albuquerque, New Mexico set where the widely-anticipated drama began production on its first 10-episode season earlier this month.
This update includes:
Continue reading "AMC Releases Details and First-Look Photo for Better Call Saul" »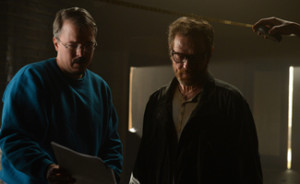 This week, Entertainment Weekly's list of the season's best TV scenes is topped by an "Ozymandias" sequence, while Vince Gilligan discusses with The Hollywood Reporter the special challenges of shooting the series finale. Plus, Variety spotlights Aaron Paul and the role that made him a star. Read on for more:
• Entertainment Weekly's No. 1 scene on TV this season took place in Season 5′s "Ozymandias" when Walt tried to get his family to run, noting, "You could argue that the whole series was building to this moment."
• Vince Gilligan talks to The Hollywood Reporter about the challenges of filming the shootout in the series finale, including having "only one take at this thing. What if a camera broke down or a light failed? We'd have been screwed."
• Variety spotlights actors, like Aaron Paul, who landed a supporting role that propelled them "into full-fledged stardom."
Continue reading "EW's Top TV Scene From Breaking Bad; Vince Gilligan on Shooting Series Finale" »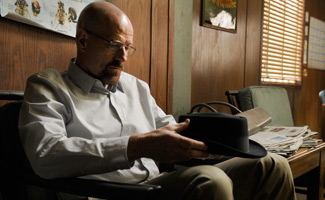 This week, Bryan Cranston adds to his awards haul with a Tony, while The Daily Beast interviews Dean Norris. Plus, Betsy Brandt tells The Hollywood Reporter about her most traumatic acting moment. Read on for more:
• Bryan Cranston, in his Broadway debut, wins the Tony Award for best lead actor in a play, according to the Associated Press. Bustle has a video of Cranston's "hilarious, yet moving" acceptance speech.
• Meanwhile, Bryan Cranston and Anna Gunn had a reunion at the ceremony, and Elle's alternative Tony Awards gives the Pendulous Prosthesis Award to the "sadly flapping earlobes" sported by Cranston in All the Way.
• RJ Mitte pays tribute on Made Man to his fictional father, Walter White, saying, "Most dads tell lame knock-knock jokes, but you, you are the one who knocks and for that we all thank you and wish you a Happy Father's Day." Time spotlights the tribute.
Continue reading "Bryan Cranston Triumphs at Tony Awards; RJ Mitte Pays a Father's Day Tribute to Walter White" »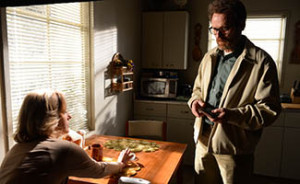 This week, CNN interviews Bryan Cranston, while Breaking Bad is at the top of Nielsen's Twitter ratings. Plus, Cranston wins a Drama Desk Award. Read on for more:
• Bryan Cranston speaks in-depth with CNN in three parts, about his various projects, his career path and, of course, Breaking Bad.
• Breaking Bad was the hottest TV show this season, according to Nielsen's Twitter ratings, The Wall Street Journal reports.
• USA Today and Variety report that Bryan Cranston won the Drama Desk Award for outstanding actor in a play for his performance as President Lyndon Johnson in All the Way on Broadway.
Continue reading "Bryan Cranston Talks to CNN; Breaking Bad Tops Nielsen Twitter Ratings" »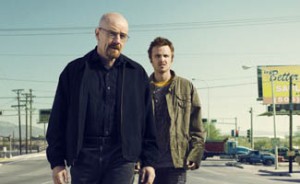 This week, Breaking Bad receives three TCA nominations, while Bryan Cranston chats with Variety about his versatile and busy career. Plus, Salon talks to the actor who played Spooge about his new book. Read on for more:
• TVLine reports that Breaking Bad has been honored with three nominations from the Television Critics Association — for program of the year, outstanding achievement in drama and individual achievement in drama (for Bryan Cranston).
• Variety profiles Bryan Cranston and says of the 58-year-old actor that he's "become one of Hollywood's hottest properties at an age that's considered, by showbiz standards at least, late in life."
• Salon interviews David Ury about his new book and his experience playing Spooge on Breaking Bad.
Continue reading "TCA Nods for Breaking Bad; Variety Interviews Bryan Cranston" »