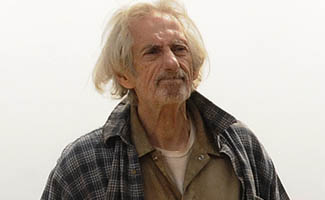 Veteran actor Larry Hankin, who plays Old Joe in AMC's Breaking Bad, explains what makes him such a good junkyard owner and describes what went into creating the infamous magnet scene in Season 5.
Q: You've been on some of the more iconic television series of the last twenty years: Seinfeld, Friends, Home Improvement, now Breaking Bad. Are you the secret to a show's success?
A: Here's the yin to that yang; yes I've been on these really great iconic shows, but I haven't been on more than two or three times! I've always wondered about that. I get invited to the party once and then, what happens? So maybe I'm not lucky. I'm just tripping out; I don't know how that happened that I'm on all these big shows — to me it's amazing.
Q: What's the secret to pulling these gigs?
A: A long time ago when I wasn't getting any jobs at all I had a very thick New York accent. I asked an agent, "What's going on, why aren't I getting any jobs?" He said there's only two ways to get a job: One, you walk in the door and they're looking for you — the job is yours to lose. Or two, they're not looking for you at all and you have to convince them to go a whole different direction. He said, "They're not looking for you, Hankin. You gotta convince them!" So that kind of calmed me down. It wasn't my fault, it's just that I'm a unique character. And then finally when they got used to me — now I'm a type. There's nothing I do differently now. I just walk in and get the job.
Q: Did the experience from your long career prepare you for everything on the set of Breaking Bad?
A: I have an ADD type of thing, ever since I was a kid. So learning lines for me is like climbing a mountain. I started out in Second City as an improviser, where I didn't have to learn lines, so it never came up. After the audition for Breaking Bad, the worst thing in the world happened, which would be the best thing for other actors: On set, they handed me the script and it was a page-long speech, all legalese — I was telling Hank why he couldn't get into the Winnebago and I was quoting law. I was thinking I would get fired from my favorite show in the whole world! You know about the script supervisor? She marks down all the mistakes you made each take. After we do one, I see her walking towards me, pencil poised. Every other word is circled on the script. We did it again and through some miracle, the director said, "Ok, moving on!"
Q: You had an integral part in one of the now more infamous of Breaking Bad sequences: the magnet. What was that like to shoot?