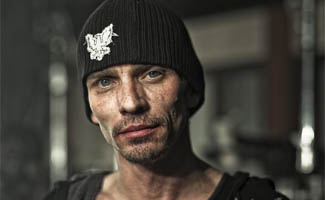 Charles Baker, who plays Skinny Pete on AMC's Breaking Bad, describes how he revealed his hidden musical talent on set and shares the one thing he has in common with his character.
Q: After five seasons, are you an expert at playing a drug addict?
A: [Laughs] It's challenging — that's what I love about doing Skinny Pete. However, when I get offers from people saying, "Hey play this druggie character in a show," I now say I want to do something new. I have a five-year-old daughter and a nine-month old son, and at some point I'd like them to be able to watch something I'm in before they're in college!
Q: Do you ever read what people write about the show and your character?
A: I do happen to read the internet message boards for Breaking Bad. After that episode in the beginning of Season 5 people were commenting, "Wow, turns out that guy is actually an actor." I wonder what they thought I was before! When I played that song, Solfeggietto in C minor, on the keyboard, that apparently threw a lot of people for a loop.
Q: How did one of your secret talents end up as one of your characters' as well?
A: I had heard one of the writers in a previous season say that they kind of listen to the actors off-camera to get clues about special talents or quirks they have. When we were shooting a Narcotics Anonymous scene a while back, the location was in an old church. During our break, I decided to take a minute to sit down and jam on the piano. Some of the writers were nearby and one of them heard and came by. They spent a season-and-a-half figuring out how they were going to be able to use it. They asked me what songs I could play and I sent them a list of songs. I practiced like a madman for the rest of the month!
Q: Do you think you and Skinny Pete have any overlap in your musical tastes?