Binge Marathon Sundays 5/4c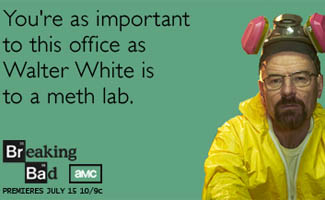 Breaking Bad fans wishing to stay in touch with their loved ones now have four new ways to do so courtesy of Someecards. Between now and July 22, the site is offering four free Breaking Bad-themed e-cards with messages like "You're the Jesse Pinkman to my Walter White" and "You're as Important to This Office as Walter White Is to a Meth Lab." The cards are shareable via email, Facebook, Twitter, and other social platforms. Start spreading the Bad today!

Breaking Bad Season 5 premieres this Sun., Jul. 15 at 10/9c on AMC.