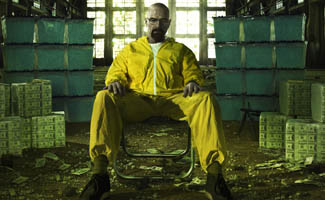 Show the world how excited you are for Breaking Bad's return by making use of these all-new Breaking Bad Season 5 Downloads. Choose from one of six desktop wallpapers — including the Season 5 poster (pictured right) and a group shot of the principal cast — eight instant messenger icons and two Facebook Timeline Cover images.
Click here to grab FREE Breaking Bad Season 5 downloads now.
Breaking Bad Season 5 premieres Sun., Jul. 15 at 10/9c on AMC.