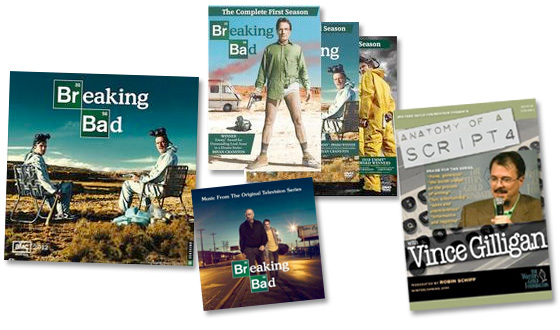 There are just a few shopping days left in the holiday season, and the stress of finding the perfect gift is building. Stuck for some last minute gift ideas? Why not incite a loved one to become addicted to Breaking Bad? Here are some holiday gift ideas to help you check off everyone on your shopping list:
Breaking Bad The Complete Seasons 1, 2, and 3 DVD Combo Pack
This comprehensive DVD set is the perfect way to introduce a loved one to the world of Walter White. Is there someone on your gift list who already has a partially completed Breaking Bad DVD collection? No worries — The Complete First Season, The Complete Second Season, and The Complete Third Season are all available for individual purchase.
Breaking Bad The Complete Fourth Season DVD Set
Season 4 has yet to hit stores, so you know your special Breaking Bad fan doesn't already own it. Pre-order Season 4 on Amazon.com, and you'll have the promise of a gift that's sure to please.
Breaking Bad The Complete Seasons 1, 2, 3, and 4 on iTunes
All four seasons of Breaking Bad are currently available for download on iTunes in both HD and standard definition. Plus, from now through Wed., Jan. 4, you can get all four seasons for less than $30 each (normally $34.99). Consider this your end-of-year bonus. Click here for more details.