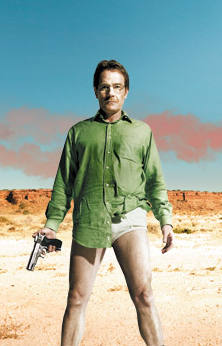 Were you one of the 65 million people who tuned in to watch the New York Giants defeat the Green Bay Packers to win the National Football Conference championship two weeks ago? Were you one of the 6.1 million that watched the Screen Actors Guild awards right through to the end last Sunday? If so, you may have missed the series that USA Today calls "riveting and remarkable."
Now you can catch up, and watch the first two episodes of Breaking Bad for free on amctv.com. Then tune in to AMC on Sundays at 10PM | 9C for all new episodes (We're giving you Super Bowl Sunday off, so you don't have to worry about the game running long this time!).
These videos are no longer available.