Binge Marathon Sundays 5/4c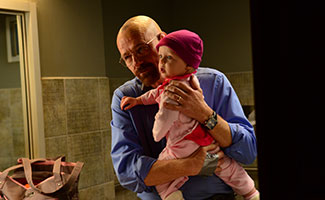 This week, Entertainment Weekly talks to Rian Johnson and Moira Walley-Beckett about the triumph of "Ozymandias," while Bryan Cranston does a faux one-man show ahead of baseball's post-season. Plus, Anna Gunn discusses the difference between Skyler and her Gracepoint character. Read on for more:
• Moira Walley-Beckett and Rian Johnson chat with Entertainment Weekly about Season 5, Episode 14, "Ozymandias," an "hour of punishing and mesmerizing television."
• "We could think of no finer use for Bryan Cranston's talents, post-Breaking Bad, than a video that is almost six minutes where he performs a fake one-man show to promote MLB's postseason," Sporting News says of the TBS promotion.
• Talking to Access Hollywood about her character on FOX's Gracepoint, Anna Gunn points out that "Skyler had to be kind of shut down a bit… but Ellie, she's an open book and she'll tell you what she thinks, good or bad, and she's got vulnerability but she's also really tough." OnMilwaukee.com describes Gracepoint as "by far one of the most promising new shows this fall," partly because of Gunn's presence, while TV Overmind calls Gracepoint a must-watch because "the magnificent Anna Gunn" is one of the stars.
Continue reading "EW Talks "Ozymandias" With Writer, Director; Bryan Cranston's One-Man Baseball Show" »