Binge Marathon Sundays 5/4c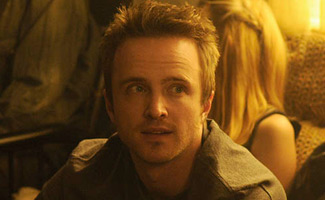 This week, Aaron Paul has been deemed Cosmopolitan's main celebrity crush, while RJ Mitte tells the New York Post what he took from Breaking Bad's set. Plus, Anna Gunn's recent Emmy win upped her Variety Vscore. Read on for more:
• Cosmopolitan proclaims that Aaron Paul has "officially superseded Ryan Gosling as our Main Celeb Crush."
• RJ Mitte reveals to the New York Post that his souvenir from the Breaking Bad set was Walt, Jr.'s crutches.
• Anna Gunn's Vscore (a method of analyzing celebrity star power) was on the rise after her Emmy win, according to Variety.
Continue reading "Aaron Paul is Cosmo's Main Celebrity Crush; What RJ Mitte Took From Bad's Set" »