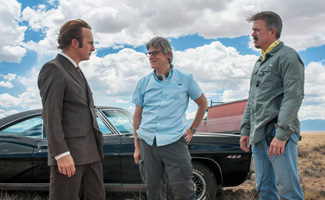 This week, E! Online gets a Better Call Saul tease from Bob Odenkirk, while The Connectivist is impressed by the publicity for the show. Plus, MStarz checks out Odenkirk's best moments as Saul. Read on for more:
• Bob Odenkirk tells E! Online, "Vince Gilligan and Peter Gould have brought what everyone loved about Breaking Bad to Better Call Saul, all those cliffhanger moments, the tension, it's all there and I think the fans are going to be super glad to have that back in their life."
• The Connectivist marvels, "With a cheesy website, teasers, and a fake billboard, AMC and creator Vince Gilligan are doing a masterful job of building anticipation" for Better Call Saul.
• In anticipation of Better Call Saul, MStarz selects Bob Odenkirk's top five moments on Breaking Bad as Saul Goodman.
Continue reading "Bob Odenkirk Teases Better Call Saul; Connectivist Praises Saul's Promotion" »