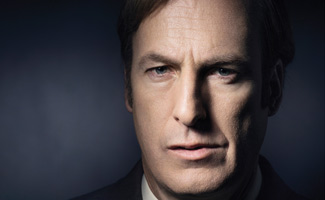 Bob Odenkirk, who plays Jimmy McGill on AMC's Better Call Saul, talks about his initial reaction to starring in a Breaking Bad prequel, what his former castmates think of the series, and whether he'd prefer to have Saul or Jimmy as his legal representation.
Q: What was your initial reaction when you were first approached about starring in a Breaking Bad prequel based on Saul?
A: I believe I nodded thoughtfully and mumbled, "Uhhh… sure." Seriously, I kept it extremely low-key. I basically just said, "If you (Vince Gilligan and Peter Gould) write it, then I'll do it," with little or no excitement. Why? Because I only wanted to do it if Vince and Peter wanted to do it for their own reasons, and not because they'd gotten my hopes up or anything like that. I knew that if they had their own organic drive to do the show, then that would make it the best possible version of the show, and so it came to be.
Q: You've compared Better Call Saul to "a superhero origin story." What were some of the things you were most hoping to learn about the story of how Jimmy McGill becomes Saul Goodman?
A: Everything. Seeing as how we knew nothing about him. All we knew in Breaking Bad was that Saul wasn't his name, and that his persona was something he'd intentionally built to attract a certain clientele (the "homeboys"). So, we had everything to learn. Let me tell you, the character that Vince and Peter have created here is much more interesting, sympathetic and fun than any version I could have dreamed up.
Q: You've previously said that Saul's combover was your idea. What other ideas did you contribute to the development of the Saul/Jimmy character?

Continue reading "Better Call Saul Q&A – Bob Odenkirk (Jimmy McGill/Saul Goodman)" »