Two-Night Premiere Event
Sun Feb 8 & Mon Feb 9 10/9c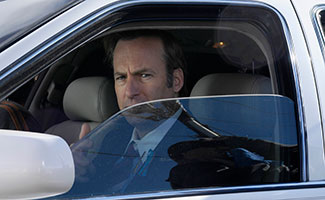 This week, USA Today, Rolling Stone, Time and others feature new art and teasers for Better Call Saul. Plus, Los Angeles Magazine checks out Saul's best Breaking Bad moments. Read on for more:
• USA Today highlights new Better Call Saul art, in which Saul "stands at a beaten-down pay phone – the receiver hanging lifelessly – amid the stark beauty of the New Mexico desert," and a teaser video featuring "a very dirty car going through a car wash" with a LWYRUP license plate.
• Rolling Stone spotlights the latest Better Call Saul teaser, noting, "Atticus Finch was a crusader for justice and Lt. Daniel Kaffee proved he could handle the truth — but neither has the mug to prove that they're the world's greatest lawyer." Time adds, "This brief teaser conveys a message Goodman himself would certainly endorse: the damaged goods on the bargain rack are preferable to their full-priced counterparts, intact as they may be."
• ScreenCrush takes a look at another teaser for Better Call Saul, calling it a "clever" new promo.
Continue reading "USA Today, Rolling Stone, Time Feature New Saul Art, Teasers" »