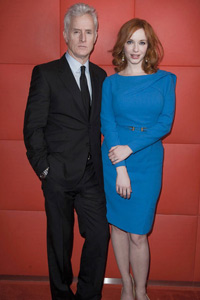 In this exclusive interview with amc.com, Mad Men stars John Slattery and Christina Hendricks discuss their latest collaboration, God's Pocket — what drew them to the material, how it compared to working on Mad Men and their fond memories of the film's star, Philip Seymour Hoffman.
Q: John, you adapted the movie from the book. What drew you to the material as a writer and director?
John Slattery: I just thought it was laid out like a film, with the book-ended narration by Richard Jenkins's character, Shelburn. I was taken with the specificity of each character, which kind of collectively created this world that was so vividly described. So I closed the book and literally thought, "This is a film." At the time, I tried to make it happen, really without knowing how to do that yet. Luckily, someone said, "No." Then, five years later someone reminded me about it — and it's probably a good thing it's taken me this long to get it made because in the interim I directed a bunch of episodes of Mad Men. I'd also written another screenplay, which didn't turn out very well. But at least I knew what that was like, so I had experience to realistically give this a try.


Q: And, Christina, what attracted you to God's Pocket, as an actress?
Continue reading "Q&A – John Slattery and Christina Hendricks Discuss Their New Film, God's Pocket" »