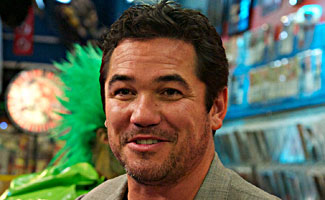 Dean Cain, star of Lois & Clark: The New Adventures of Superman, talks about his appearance on Comic Book Men as the guest of honor at Superman's 75th birthday party and his favorite version of Superman.
Q: Were you a Superman fan prior to Lois & Clark?
A: Well, I watched Super Friends as a kid and he was my favorite. He and Aquaman. I don't know why Aquaman. But those were my two favorite superheroes.
Q: Were you into comic books growing up?
A: I didn't really read comic books. It became much more so once I was cast as Superman. Actually, one of the first things I did with my son, when he was learning how to read was read him comic books. He loved looking at the art. He had seen the Superman stuff, so then we were looking at art work for something else and he liked it and took an interest and started reading the panels. So I just started getting him comic book after comic book. And now I can appreciate — as an adult, as a filmmaker, as an actor, and as a writer — seeing the way that these guys can craft these stories and create this art and give it a certain look and feel. It's amazing!
Q: Who plays the best Superman aside from yourself?
A: Without a doubt, my favorite was always Christopher Reeve. He was my Superman, growing up. He was the one I identified with the character and was the first one I saw as a live Superman. I based my Superman on the way that Christopher Reeve played Superman. But, I'd say the Clark Kent side was much more George Reeves. He was much more of a manly man, he was a cool Clark Kent. I played that side more like that… having that '50s style male-female banter with Teri Hatcher. And I have to say, I think Teri was the best Lois Lane ever!
Q: Kevin Smith credits you with revitalizing Superman, do you think the recent movies draw inspiration from your version of Superman?
Continue reading "Comic Book Men Q&A – Dean Cain" »