90-Minute Season Finale Sunday 9/8c

July 24-27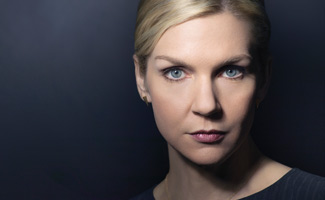 Rhea Seehorn, who plays Kim Wexler on AMC's Better Call Saul, talks about Kim's relationships with Jimmy and Howard and getting a pedicure from Bob Odenkirk.
Q: You've mentioned being a huge fan of Bob Odenkirk since his days on Mr. Show. How did you react when you found out you were going to have the opportunity to work with him?
A: I auditioned with him with the scene in Episode 103 where he wakes me up in the middle of the night. It was exciting. I was certainly nervous at first, but everybody in the room had an energy of "we can't wait for you to be great." I was overjoyed to get to work with him. I've been a huge fan of his, and I just think he's one of the funniest, smartest writers and, at that time, sketch performers. I started to see more and more of the depth and breadth of his work. That guy is amazing!
Q: How did you and Bob approach developing the rapport between Jimmy and Kim? There's obviously chemistry and a shared history between them, but that history is being revealed very slowly — does that make portraying their relationship harder?
A: It's a joy to play, because all of our amazing writers and directors are writing this relationship with deep intimacy, love and history. They're not making it this thing that you can label. It's not black and white, and I don't think the most interesting relationships are. I find that great. It's not hard to play what's there. Kim is very much a character where what she doesn't say is also what she says. I'm given space, and Bob is so great to rehearse with. We do the scenes a ton of different ways to find that organic roller coaster ride to take to all the places the scene will go.
Q: Kim also has an unusual relationship with her boss, Howard. He seems to view her as a protégée, but is also quick to give her the cold shoulder when she loses the Kettlemans as a client in Episode 107. How would you describe their relationship?
Continue reading "Better Call Saul Q&A – Rhea Seehorn (Kim Wexler)" »