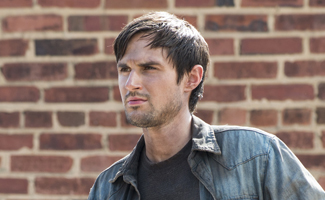 Andrew J. West, who plays Gareth on AMC's The Walking Dead, talks about his first day on set and his character's true nature.
Q: What did you know about Gareth before joining the cast of The Walking Dead? What surprised you the most?
A: I didn't even know Gareth's name when I first got cast. I got the opportunity to play a character that we are going to see evolve, starting with the Season 4 finale and over the course of Season 5. I was surprised at how multifaceted the character is and, as a fan of the show and audience member, how many mixed emotions I had in regards to the decisions he makes, what he does, his viewpoints and his philosophy on survival. All of that is extremely surprising.
Q: You actually didn't know you were reading for the part of Gareth during your audition. Who did you think you'd be playing?
A: It was very mysterious… When you audition for the show, you audition with material that was written just for the audition, not material from the actual show, to prevent spoilers. So, when I flew to Atlanta, I knew absolutely nothing about this character. I just knew that I wanted to be a part of the show, so I was willing to just jump in, in whatever capacity was needed. The audition material was so outside of anything that involves this world that it would be very hard to guess. I could tell that they were looking for a character who has many different sides and who's smart enough to be able to create a subterfuge where other people may not know what to make of him at first. I think that has gone a long way in contributing to Gareth's ability to survive for as long as he has.
Q: What was your first day on set like?
Continue reading "The Walking Dead Q&A – Andrew J. West (Gareth)" »