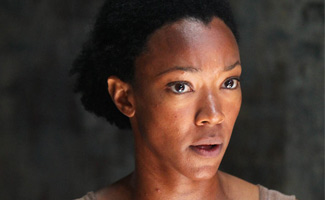 Sonequa Martin-Green, who plays Sasha on AMC's The Walking Dead, talks about her apocalypse weapon of choice and saying goodbye to Bob.
Q: How concerned are you about the fate of your character? Did you think you were a goner when Sasha got the virus?
A: [Laughs] This show is so interesting and is really a learning experience for all of us. It makes us all better actors, artists, people and professionals in general because you're forced to just live in the moment. You can't think too far ahead. It's such a blessing and you have to take it one day and one script at a time. That becomes ingrained in you and you're OK with what may happen because you're just grateful for what has come. It was funny dealing with the fans on Twitter who all thought I was going to die. If I said, "I'm hanging out on a lazy Sunday afternoon," they'd say, "Aww, is that because you don't have to go to work tomorrow?"
Q: Sasha has to say goodbye to Bob in Episode 503. Was this a tough episode to shoot?
A: It was the most challenging episode that I had ever shot, both physically and emotionally. It was a roller-coaster, but it was so rich. While it was really hard, it was also amazing. I'm grateful I got through it.
Q: Have you and Lawrence (Gillard Jr.)  gotten closer as Sasha and Bob's relationship deepened? Continue reading "The Walking Dead Q&A – Sonequa Martin-Green (Sasha)" »