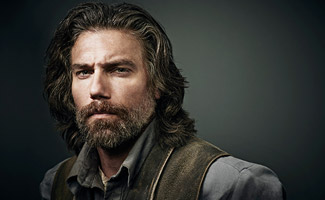 Anson Mount, who plays Cullen Bohannon on AMC's Hell on Wheels, talks about the challenges Cullen will face in Season 4 and the biggest lesson he's learned from playing the role.
Q: With three seasons now under your belt, has your approach to playing Cullen changed at all? 
A: Yes. My approach to Cullen has to change every season if you expect to have a character that's going to develop at all — a character that has the same conflicts or the same issues all the time is going to grow very boring. Walter White was described as a man who transforms from Mr. Chips to Scarface, and I thought that was brilliant. I'm not sure if I can define an arc as clearly as that for my character, but my touchstone word this year is "maturity." To Cullen, that means one thing towards the beginning of Season 4, and his approach towards that runs the risk of hamstringing him later in order to get through an interesting arc. I think it's interesting because, in a way, Bohannon and Durant will be crossing paths this season — Durant's going to the dark side, and Cullen is trying to pull himself out of the muck and do something that is beyond himself.
Q: Has it gotten easier or harder to play Cullen? Are you still discovering new things about him? Continue reading "Hell on Wheels Q&A – Anson Mount (Cullen Bohannon)" »