Returns October 12

July 24-27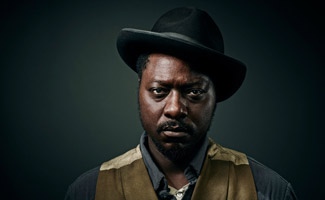 Dohn Norwood, who plays Psalms on AMC's Hell on Wheels, compares himself with his character and shares his techniques for staying focused while on set.
Q: What were you most looking forward to when you started filming Season 4?
A: Revisiting the character of Psalms, and further development of the character. When he was introduced, he was a Freedman, and you didn't think that there would be anything new or different from the other guys. Now, he's starting to see things differently as he becomes head of labor on the railroad. To see him go from being property to being in charge is a huge leap. It's a major arc: He went from being this angry, bitter guy who looked out for himself to looking out for others.
Q: You've been playing Psalms for four seasons now. In what ways are you most similar to Psalms? In what ways are you the most different?
A: We're similar in that he's a good storyteller and he looks out for others and his fellow man. Taking the time period into consideration, African Americans were very limited in the choices that they had, so I would imagine Psalms had a more tenacious personality. It's not that I'm not tenacious, but you had to do a lot more then. That was probably a drive that you had and didn't even know it. At that time, you had no idea if you would live to see the next day. You counted your blessings.
Q: You've had your share of fight scenes on the show. Do you enjoy doing them? Were you hoping there would be more this season? Continue reading "Hell on Wheels Q&A – Dohn Norwood (Psalms)" »