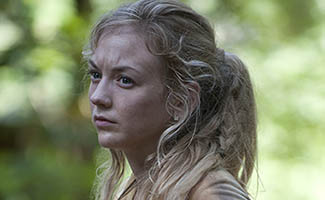 Actress Emily Kinney, who plays Beth Greene on AMC's The Walking Dead, talks about Beth's musical tastes and how the show seeps into her everyday life. 
Q: Let's talk about Beth's singing. Daryl's on the fence about it, but do you look forward to those scenes? 
A: It's a good way to give a glimpse into Beth's life, in a way. With the kind of music a person listens to, you feel like you really know somebody. When I first meet people, I send some songs to them. So I think having Beth sing on the show is a good way to let people feel like they know a bit of her inner life. This season I sing another Tom Waits song to Judith, "I Don't Wanna Grow Up." Beth is definitely a Tom Waits fan.
Q: Beyond Tom Waits, what might Beth's musical preferences be? 
A: I'm sure she's aware of Top 40 music because she's a teenager, but I'm sure she goes off and searches for something else, too. I've definitely thought that since she's from Georgia, there's some music from there in her collection. But I think her taste is a little more indie, too. I think she's influenced by whatever her mom was into — and that's why there's that "Parting Glass" style of song.
Q: Did you know her character was going to be on such a roller coaster ride this season? 
A: They don't tell you much, but I did know that Beth would have a boyfriend at the beginning of the season and she'd be trying out this different, more hardened way of dealing with it. She's trying on these attitudes, the way a lot of teenagers do, to find ways to deal with the loss around her. I also knew that she would get separated at some point, and I knew that she would form a really good bond with the person she got separated with. You don't get to hear a lot of Beth's voice in most of last season, but there was that point a few episodes ago where she was writing, and it's a voiceover of the whole ordeal and her thoughts on things. That was so great for me because before I was just filling it in with my own imagination.
Q: Has that storyline affected your own music that you write at all?