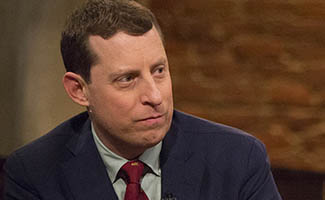 In Part II of amc.com's two-part fan interview with Scott Gimple, The Walking Dead Showrunner, Executive Producer and Writer talks about diverging from his source material and the possibility of celebrity zombies. Click here to read Part I of the interview.
Q: What factors go into your decision-making on whether to follow the comic or diverge from it? – Jan P
A: There are a few things going on with that. There's so much in our current timeline that doesn't match up with the comic when they were at this stage of the story. Plus, there were characters that get on the show like Daryl that weren't even in the comic. So right there there's a basis for things to be different. That said, what's cool is we can tell the comic stories sometimes kind of verbatim, sometimes in different ways, sometimes a sort of combination. It's something we have to do now, and I think it's something we can use to our advantage. I'd say one of the things I love doing on the show is taking things I love in the comic books and hitting them even harder. Robert Kirkman's given us an incredible roadmap — an incredible piece of music that we can do a lot of stuff to remix. We have to be like Steve Aoki.
Q: Is there a certain character you see yourself in the show? — EMR
A: That's too hard a question to answer. Because I have to write all of them, I have to see myself in all of them, and get into their heads. I'm very lucky to have a cool wife like Glenn.
Q: How would you describe Michonne and Carl's relationship in one word? – walkingdeadbutters
Continue reading "The Walking Dead Showrunner Scott Gimple Answers Fan Questions – Part II" »