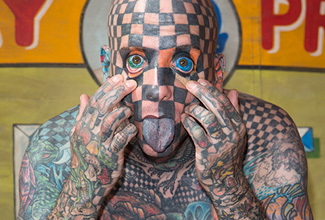 Matt Gone, Freakshow guest in Episode 203, discusses why he decided to cover 99% of his body with tattoos and which one he considers his favorite.
Q: What was your first tattoo and where did you get it?
A: My first tattoo was at fourteen. It's on my arm — I had a bat put there. But my mother couldn't stand it so a few weeks after, I had it professionally covered up.
Q: In Episode 203, it's mentioned that you began getting tattoos because of a birth defect. Can you elaborate on that?
A: Yes, [I have a lot of] surgical scars and I'm also missing muscles, missing a bicep, missing internal organs. I have seven major birth defects from something called Poland Syndrome and the torso tattooing hides the chest deformity and stomach surgeries. I try and hide all of my birth defects with the tattoos.
Q: Do you think you have an extreme tolerance for pain?
A: Compared to surgical pain, tattooing is nothing. It's nothing compared to the day to day pain I have for my medical conditions. I'm in more pain without the tattoos.