Season 7 Premieres
April 13 10/9c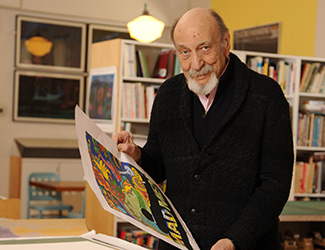 Iconic artist Milton Glaser designed the key art for Mad Men Season 7. In this interview with AMC, he reminisces about hanging out with Bob Dylan, the ad business of the late sixties, and his creative process.
Q: You're responsible for so many iconic images — the I Love New York logo, Bob Dylan's Greatest Hits album poster, the DC Comics logo. Is there a piece of work you're most fond of?

A: It's a lot like having a lot of children — it's very hard to pick the one that I love the most. But when I'm finished with a job, I'm finished with it. And it just sort of goes into the storage room, and I'm on to the next… Truthfully, I'm more interested in what I'm going to do than what I've already done.
Q: Were you a fan of the show before being asked to contribute art?
A: Yes! I watch it all the time. It was an environment that I grew up in. I had a lot of friends in the advertising business, and it was a growth of a particular moment in the advertising world… I used to work for ad agencies frequently — a lot more then than I do now. So I knew the world. And Mad Men is a really wonderful re-evocation of that time.
Q: Tell us about your process. Was it any different for this project?
Continue reading "Q&A – Milton Glaser (Designer of Mad Men's Season 7 Key Art)" »