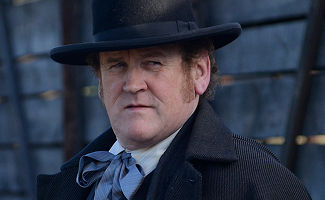 Colm Meaney, who plays Thomas Durant on AMC's Hell on Wheels, talks about surviving the "twists and turns" of Season 3 (and a shave from Anson Mount).
Q: After the events of Season 2, were you worried that Durant might have less of a presence in Season 3?

A: I thought Durant could possibly never be seen again after we shot the end of Season 2. [Laughs]… I think that's the interesting thing about a good drama show, is that there are many possibilities and things can go in any direction… The Swede certainly looked like he was dead, when he went off that bridge. How do you survive that? So I think it's good writing. It's good to see those surprising twists and turns.
Q: How much of Durant's schemes are you told in advance?
A: This season, I sat down with Mark [Richard] and John [Wirth], and he more or less said to me in broad terms, this is the arc we see for Durant this season, and that it's about him trying to claw his way back to Hell on Wheels. He starts out in jail and is marginalized from the front lines, but he starts to fight back from Episode 1.
Q: Have you ever been surprised by how Durant manages to get himself out of a bind?

A: Durant is a little bit of a Houdini, all right. [Laughs] He's very resourceful. That's one of the things I like about him. He thinks quickly. He thinks on his feet. He can adjust and he can pivot very quickly, and this is a great attribute in business and in the situation that he's in. I think it's become a quite amusing and very interesting character trait.
Q: There's a scene in Episode 308 where Cullen gives Durant a straight razor shave. What was it like to shoot that?