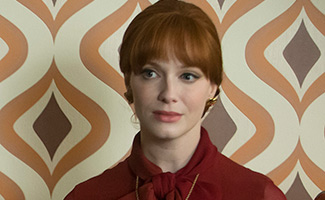 Christina Hendricks, who plays Joan Harris on AMC's Mad Men, talks about Bob Benson's short shorts and the scene that best sums up her character.
Q: Is there a Joan line or scene that you feel like best sums up her character?
A: I think a scene that sums up where Joan is at now is that beautiful tableau in the Season 6 Finale when they all move out of the offices upstairs, and it's all the partners looking out on the horizon. She's standing there with the big boys in the middle of all of them, and she's standing where she should be.
Q: Once, Joan might have been seen as a traditionalist, but she's used some highly nontraditional methods to advance her career. Are you still surprised by any decisions the character makes?
A: Not really, and I'd been given advance warning about the [Jaguar] storyline about two years before, so I wasn't surprised. I'm not really surprised when anyone does anything. It takes a lot to shock me. [Laughs] To me, it's very human and very real to make difficult choices.
Q: Whose story line besides your own are you most looking forward to knowing the resolution of?
Continue reading "Q&A – Christina Hendricks (Joan Harris)" »