Returns in 2015 for the
Final Episodes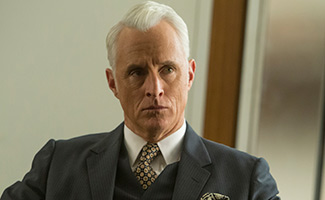 John Slattery, who plays Roger Sterling on AMC's Mad Men, talks about the trick to juggling on-camera and his theory on what the show is all about.
Q: You juggle, Ken tap dances; any other hidden talents lurking within the cast of Mad Men that haven't made it to the screen?
A: I'm sure [Jon] Hamm has a whole raft of talents. He's one of those guys that can do anything… Juggling is pretty easy. It looks harder than it is. The hard thing about it is doing it when the camera is turned on and not screwing it up long enough to say the line… Aaron Staton's tap-dancing, that was really impressive. Tap dancing with the cane and the eye patch. [Laughs] That's not easy. He was dancing with one leg and one eye.
Q: You directed "A Tale of Two Cities," the episode at a pool party in the Hollywood hills. What was the most memorable part of directing that episode?
A: It was raining torrentially. It was literally three solid days of rain, so what you see there is actually kind of a miracle… Whenever it would stop raining, we'd run outside the house and shoot whatever we could and made it look like it was a beautiful day in Hollywood. It was actually a really s—-y day in Encino. [Laughs]… There were 50 or 60 extras, and I was acting in it at the same time. It was a lot…
Q: Yet you laugh about it…
A: The whole thing made me laugh. The writing was so funny, from the plane ride out there to Rich Sommer's character pulling up in the car, was to me just hilarious, and Danny Strong… We also got to use a Steadicam for the first time in the show's history. We've never done that. And we pitched the idea to Matthew Weiner because Don had that whole trippy hash scene where he sees Megan and then they go walking and then he bumps into the soldier and all that.
Q: Roger had a great monologue last season about life being a series of doorways to nowhere. What were your thoughts when you read that scene?